Actionable Hacks on How to Increase WooCommerce Sales
Your customers love sales as much as you do. While coming across discounted prices on their preferred items, your loyal buyers will place orders without hesitation and spread the word about your hot deals. If your online store runs on WooCommerce, you shouldn't have any difficulties setting up discounted prices on selected categories or items. The eCommerce platform also lets you prepare and plan your sales to increase WooCommerce sales and provide your customers with more lucrative deals.
In this article, we will discuss actionable hacks on how to run sales on your WooCommerce site. We'll also speak about different types of deals that you can create and the ways to promote them.
Things to Consider Before Launching Your WooCommerce Sale
One of the crucial aspects and the biggest advantages of WooCommerce is that it supports all types of sales that can come to your mind. More importantly, the eCommerce platform lets you track your data when the sale is over, which can be especially useful to you while improving your future promotions. Customers love discounts and special deals offered by their favorite brands and retailers. A sale encourages new customers to visit your site. It also invites your loyal buyers to return to your web store to check out special deals.
To ensure that your promotions run smoothly and deliver a worthwhile experience to everyone involved, you need to plan your future campaign thoroughly. You need to define its length, start and finish dates, deals you want to promote, conditions, etc.
Many companies run sales close to some big events and holidays. It's a good approach to running promo campaigns, but it's not the only way to go. You can run several promotions over the year while mixing up the duration of each discount. For example, you may run a week-long campaign that a flash overnight sale will replace.
The duration and time when your sale will take place mainly depend on the type of promotion you plan. It's important to consider the types of products you will sell and the goal you pursue. For example, if you want to clear out excess stock, a flash sale will come in handy for you. If you look forward to building brand loyalty with existing customers, providing discounts on membership and subscriptions plans available on your site should be a win-win solution.
You should also think about the ways you will promote your sale on and off your site. Use the power of social media to spread the word about your campaign. Put catchy banners on the homepage. Highlight the deals in the email newsletter. You can also create a dedicated FAQ and landing page to provide your customers with the needed information about your deal.
To increase WooCommerce sales, you can take advantage of using WordPress extensions and plugins available in the community. You can also take advantage of using your website's settings that let you provide your customers with more lucrative deals.
Increase WooCommerce Sales with Different Types of Promotions
When you finish planning your WooCommerce sale, it's time to move to more specific steps. We will discuss three different types of promotions that you can set up and run on your eCommerce site without much effort.
Selling Product at Discounts
It's a classic promotion type, as part of which you lower the price of all items on your site or apply discounts to selected items or categories. While opting for this type of promotion, you display the regular price crossed out with the discounted price displayed right next to it.
Discounted prices may be displayed differently on your web store, depending on the chosen WooCommerce theme. However, the main functionality and the idea remain the same. While editing a product on your site, you can navigate the General tab and edit the Sale price field next to the regular one. You can also use the schedule to specify when the discounted price will be active. The functionality will be especially useful for holiday-based promos.

If you look forward to applying discounts to the entire category of products, you can quickly apply changes using plugins like Woo Product Category Discount. The extension lets you set a percentage or a fixed sale price to a chosen category of products or a tag. Using this plugin, you can save much time while managing promo campaigns on your site. It will be especially useful to eCommerce stores with hundreds or thousands of products in their inventories.
Coupon Codes
Using coupon codes is another classic marketing tool to let returning and potential customers grab additional offers or discounts on their orders. Most customers are familiar with the technique. Most coupon codes let customers get a discount on their orders. Usually, coupon codes are not used in combination with other offers.
WooCommerce stores are integrated with coupon management features by default. Navigate WooCommerce > Coupons to access them.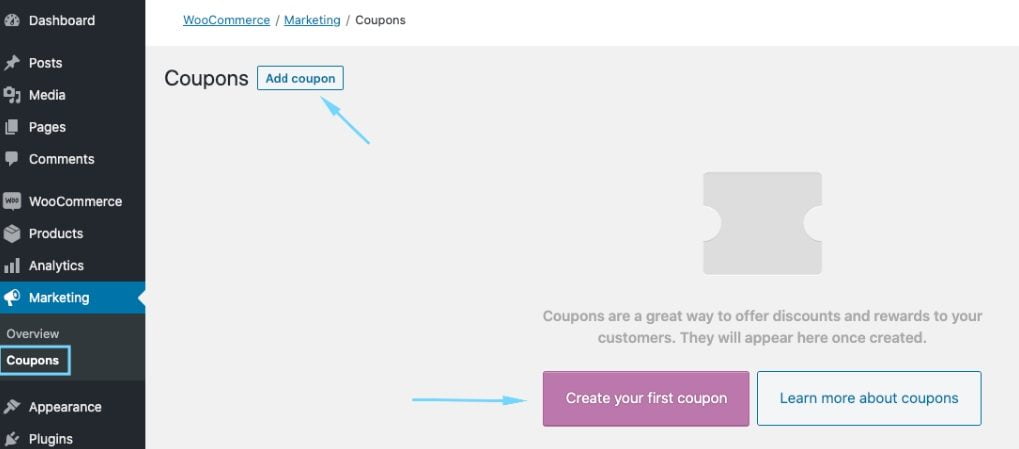 When you create a coupon code, you can specify the code people will need to use to apply the deal. You can also set the discount the coupon will apply (whether it's a fixed or percentage reduction).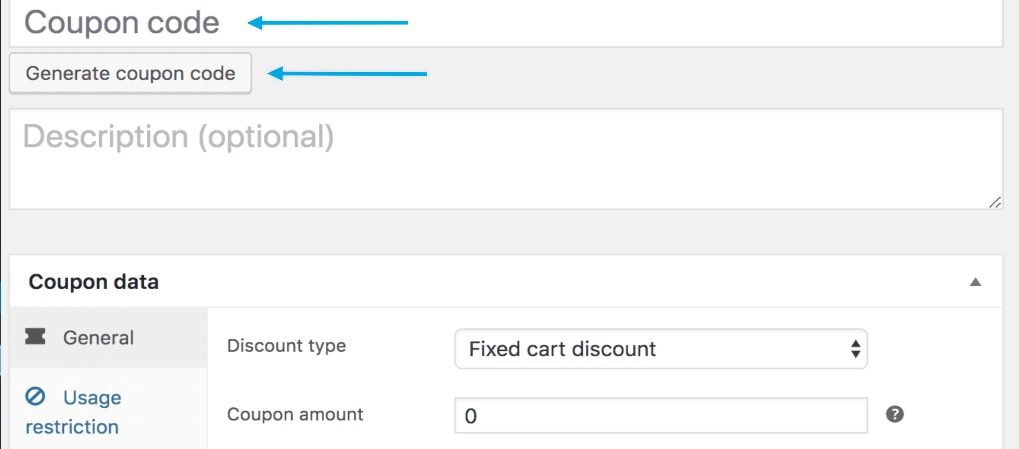 One of the most important coupon code settings is the usage restrictions and limits that determine who and when can use the code.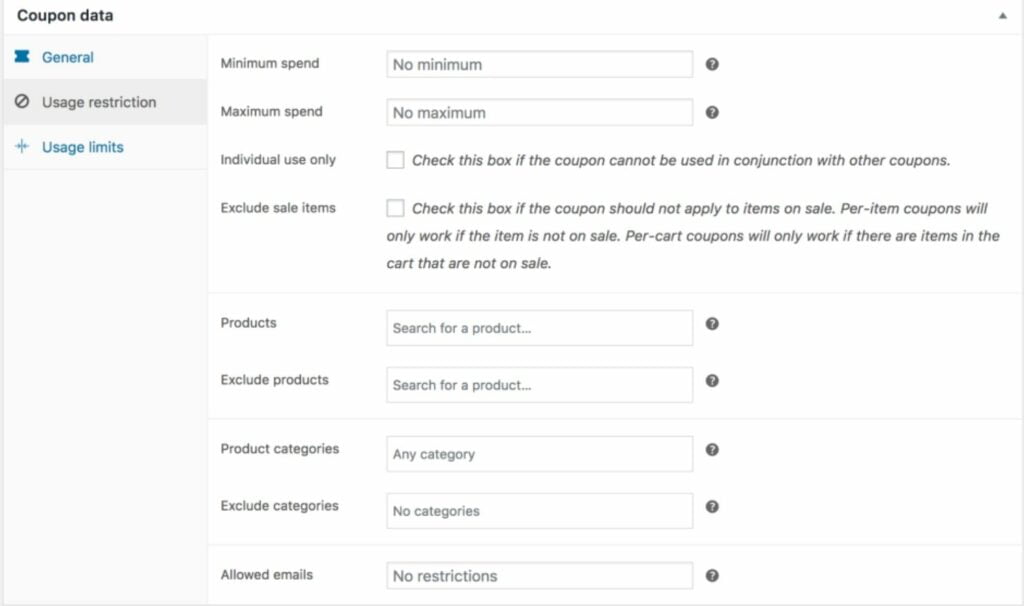 When you finish setting up the coupon code's settings, you can market it to your customers. You can include it in your big marketing campaigns or send it to specific groups of customers. For example, you can create a coupon code with a percentage discount on your store's selected products, which you will email to your new customers. You can also add coupon codes to the shopping cart abandonment emails to return clients to your store.
Free Shipping
Free shipping is one of the most important incentives that help you engage more customers and increase WooCommerce sales. It's clear why. Shipping costs can significantly inflate the final price of an order. When a company covers shipping costs, they convince and motivate buyers to close the deals.
WooCommerce lets you create a free shipping offer in two different ways.
One of them is using the coupon code method.
You can also set up free shipping for selected time zones.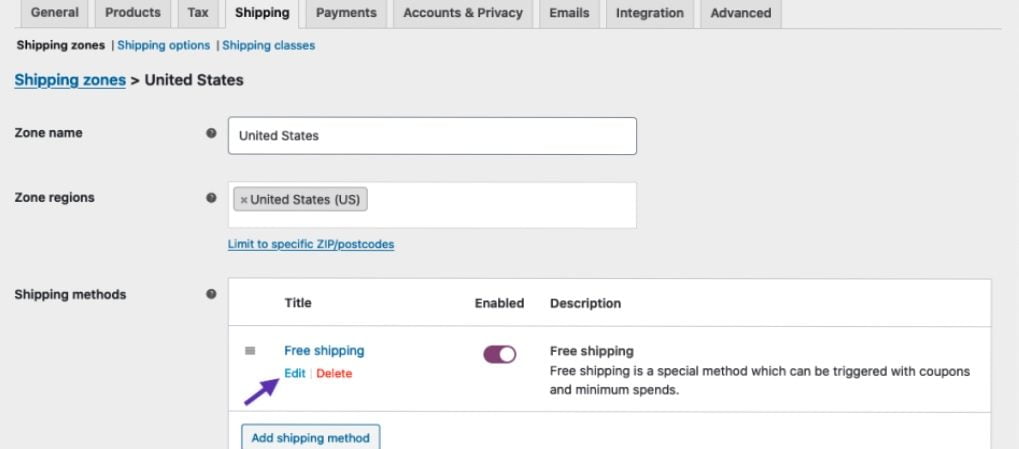 Your store can offer free shipping on all orders starting from a certain amount. You can offer free shipping on all orders for a limited time. Whatever method you choose, you can decide how the free shipping worlds and how your customers can use it.
What next?
When the promo campaign finishes, it's time to analyze the results and improve your marketing strategy to increase WooCommerce sales during your future campaigns.
Google Analytics is one of the most effective extensions that provide detailed information about your customers' behavior and buying habits. Consider the stats on how many users showed interest in your sale versus the number of customers who closed the deal on your site. Check the timing and users' browsing session duration during the latest sale versus a similar campaign run at a different time of the year. Check the frequency at which people place orders on your site. Maybe you should make sales less frequent?
All these findings keep you more informed about your customers' behavior and help you prepare for future campaigns to increase WooCommerce sales.