IT Monks Is Now a DesignRush Accredited Agency
We're proud to announce that IT Monks has been recognized as one of the Best New York WordPress Web Designers in 2023 by DesignRush Marketplace. We are honored to be recognized as a DesignRush accredited agency among the 100 best WordPress Web Agencies.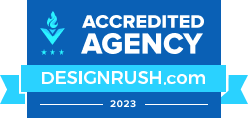 Upon careful evaluation and analysis of our performance with some of the most renowned brands in the United States, the marketplace has recognized us as one of the most reputable agencies in New York.
We take pride in our ability to deliver customized and innovative web design solutions that cater to our clients' unique needs. Our team works tirelessly to stay ahead of the curve, keeping up with the latest technological advancements and industry trends.
Our reputation as the top WordPress agency in New York is a testament to our unwavering commitment to delivering exceptional client results. We strive to provide web design and development services that exceed our clients' expectations and help them achieve their business goals.
We are honored to receive this recognition and will continue to work diligently to maintain our reputation as a reliable WordPress agency that solves our clients' business needs.
You can find our portfolio here.
About DesignRush
DesignRush is a B2B marketplace that bridges the gap between businesses and leading full-service agencies, web design firms, digital marketing companies, and cutting-edge technology providers. This platform enables brands to connect with proficient service providers who can offer them comprehensive solutions to their business needs.
DesignRush ensures businesses can find qualified partners with a proven track record of delivering high-quality services that meet their requirements. Whether developing a website, crafting a digital marketing strategy, or integrating innovative technologies, DesignRush ensures that its clients are matched with the best providers in the market.
Get in Contact With Us
We're your partners to digital success! Contact the IT Monks team to discuss your project.