10+ Free and Premium WooCommerce Email Customizer Plugins
WooCommerce offers splendid opportunities to business owners. It lets you create online stores of any size and belonging to any niche. Whatever kind of changes you'd like to apply to your eCommerce project, you can easily do it using the supported functionality and the pre-loaded features in the platform. Communicating with the online community and keeping them engaged with your special deals is made possible due to a well-thought-out email marketing campaign and branded emails, which you can create and manage with WooCommerce email customizer plugins.
WordPress doesn't provide a wide selection of email templates for your online marketing campaigns. The default design of email templates doesn't look as impressive as you wish, so it's very likely that you will need to install third-party plugins and extensions to customize emails according to your company's needs.
With the help of WooCommerce email customizer plugins listed below in this article, you can geded customers' messagess to build impressive email templates for your engaging campaigns. Different plugins include different functionality. Check out their features before installing a plugin on your site.
In the collection below, we've listed both free and premium WooCommerce email customizer plugins. Most of the freebies also include premium versions, to which you can upgrade whenever you need.
Best Woocommerce Email Customizer Plugins
Price: free
The free WooCommerce email customizer plugin lets you personalize every part of your branded emails according to your liking. It's a handy tool for every business that looks forward to establishing a better brand identity and keeping more customers engaged with your promo materials. Decorator WooCommerce Email Customizer plugin lets you create outstanding designs that will impress every user who opens your newsletter.
The plugin includes many useful customization options, which you can use for creating better email designs. It lets you double-check all elements of your email before hitting the "Send" button. Besides, you can check the results of your work in the Preview section.
It's easy to use the Decorator WooCommerce Email Customizer plugin and the admin page includes a bunch of email settings that you can modify the way you wish.
Features:
Easy and effortless email customization with Native WordPress customizer;
Live preview of the customization for the emails;
Customize every element of the email using sliders and color-picker – no coding required;
Additional customization using custom CSS.
Price: $30
The Email TemplateCustomizer plugin is a handy solution for creating fully personalized WooCommerce email templates. It features an array of components that let you create awesome branded emails in the intuitive drag-and-drop mode. The plugin lets you create a test email that you can immediately check in the preview mode and customize with a few mouse clicks.
Features:
Easily drag and drop elements to build and customize emails;
Unlimited rows can be added to the email template;
The preview mode works on the desktop and mobile;
Send email tests;
Make emails more attractive with banners, logos, featured images, etc.;
Responsive and works perfectly on all devices.
Price: $136 for yearly access, and $480 for lifetime access
The plugin is a handy solution for customizing the default transactional WooCommerce email templates. It doesn't require any coding skills to modify the design and layout structure of email templates. There is the Live Preview functionality available, which lets you double-check the results of your work before sending emails to your customers.
The plugin lets you choose any of the pre-designed email templates that you can use as the foundation for your WooCommerce transactional emails. It is easy to personalize the designs while working with pre-designed sections and everything from the body and heading to subtitle texts of the email.
Features:
Live preview your WooCommerce emails;
Import pre-built email designs to get started;
Customize emails to match your brand style;
Customize heading, subtitle, and body Text;
Send test emails for real email inbox testing;
Export and import your settings with ease.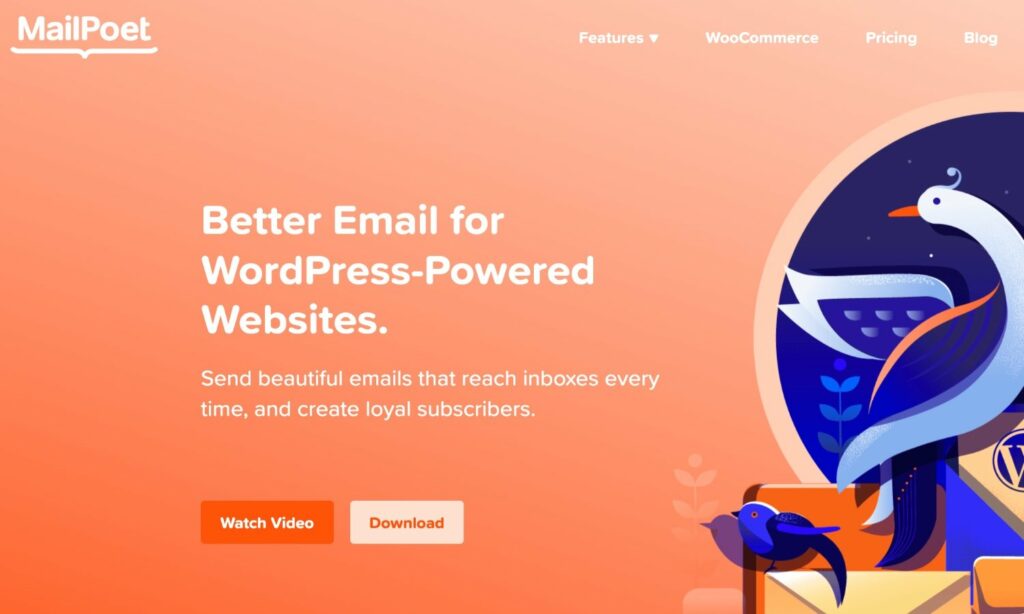 Price: free up to 1,000 subscribers
MailPoet is a handy email automation solution for businesses looking forward to reach more customers and improve their marketing efforts. It lets you easily create fully personalized emails that will match your brand identity. Keep your subscribers informed about your latest posts every day, week, or month, and bring them back to your website.
MailPoet lets you choose your preferred option from multiple pre-designed email templates, thus letting you focus on your content rather than styling. Moreover, they let you send your emails to subscribers' inboxes while eliminating the spam folder.
Features:
Choose from over 50 pre-designed templates;
Integrated drag & drop email designer;
GDPR Compliant;
Automated WooCommerce emails;
Has its own SMTP service.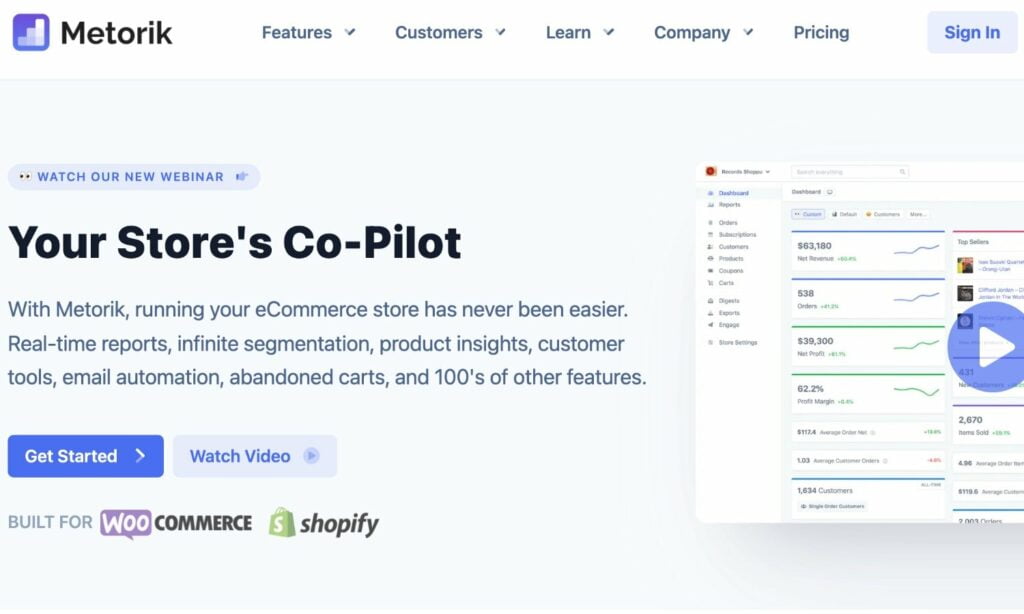 Price: $50/mo
Metorik is the email automation service that fully integrates with your WooCommerce store. With its help, you can send automated emails to your customers 24/7. The service lets you create a custom-made automation process that will target different segments of your customers. Metorik offers a wide choice of features, ranging from a dashboard to generate reports based on your customers' behavior. You may feel free to choose any of the pre-designed email templates and adjust their designs according to your own preferences.
Metorik also lets you send personalized emails to customers who haven't visited your web store for a while.
Pros
Full WooCommerce integration;
Sends automated emails to customers;
Lets you tailor rules for your email automation;
Offers a variety of ready-made email templates;
Composing a quick email.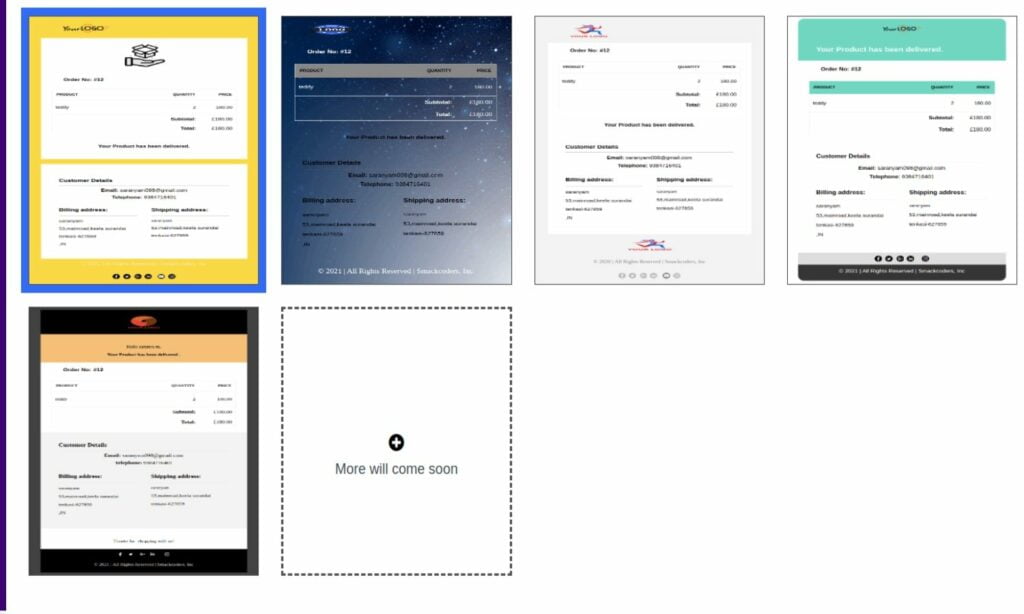 Price: $99.9/year
Email Personalizer WooCommerce plugin lets you replace default WooCommerce emails with custom email templates. With the help of the plugin, you add a custom "Product Delivered" status using customized email templates. You may feel free to adjust how your templates will look using the built-in customization tools and intuitive drag-and-drop functionality.
Features:
Craft unique email template for new user registration, reset password and customer note;
Preview the email template before it reaches your customer's inbox;
Simple drag & drop to design email templates;
Separate templates for different needs;
New order template notifications to customers.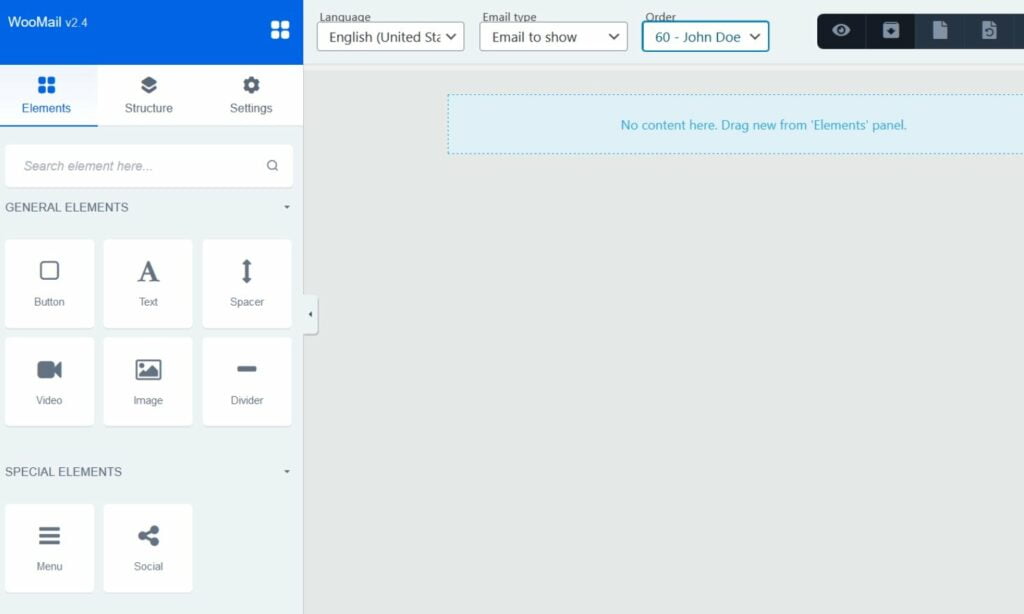 Price: $39
Woomail WooCommerce plugin lets you easily adjust the design and texts of your emails according to your liking. The intuitive drag-and-drop editor enables you to update your emails with the desired look and feel. 10 premade templates are at your disposal. Feel free to use any of them to send branded and fully personalized emails to your customers.
There are pre-made designs available for refunded orders, customer notes, password resets, new accounts, refunded orders, completed orders, and a variety of other emails. You can edit the chosen designs in the visual mode, preview the changes, and send test emails to your inbox. The plugin will come in handy to WooCommerce store owners who have little to no coding skills. There is no need to hire a designer to make professional templates that will appeal to your audience.
Features:
Pre-built email templates;
There are no coding skills required;
10 email templates/blocks;
Customizing the styling, colors, header & footer format, add custom links, link to your social networks;
Preview & send/resend emails (New Order, Invoice, etc) from existing WooCommerce Orders.
Price: $65 for a single site; $90 for up to 5 sites; $180 for up to 20 sites.
The WooCommerce email customizer plugin lets you create customized contact form notifications, WordPress core emails, BuddyPress emails, etc. It doesn't take much time to update your emails with the desired look and feel code-free. The intuitive interface looks familiar to users with little to no coding skills because it shares many navigation features similar to Gutenberg.
The plugin will come in handy for well-established brands and new businesses looking for an intuitive and easy-to-learn solution for creating customized emails featuring your branded colors, fonts, logos, header and footer sections, and other elements.
Features:
Templates that have already been built are available;
Preview options for desktop and mobile devices;
Change colors, fonts and alignment;
Custom image or text header;
Create your own content with Drag&Drop Mailbuilder;
Edit products table;
Add attachments;
Choose email subject and sender.
Price: $59
YayMail is a great example of easy-to-use WooCommerce email customizer plugins that make it simple to personalize designs and content of your WooCommerce emails. The plugin offers 20+ blocks for customizing different aspects of your WooCommerce emails, including background color, text size, font family, padding, column width, alignment, and other options are available for each block.
There are both free and premium versions of the plugin available. With the pro version, you get full customizability for 11 default WooCommerce email templates. YayMail is also compatible with other WordPress plugins. It helps you show hooks, tables, custom fields, attributes, email meta field and other variables in your outgoing transactional emails.
Features:
Edit content and design with ease;
Drag-and-drop interface;
Shortcodes for displaying dynamic data;
Live preview and send a test email;
YayMail addons.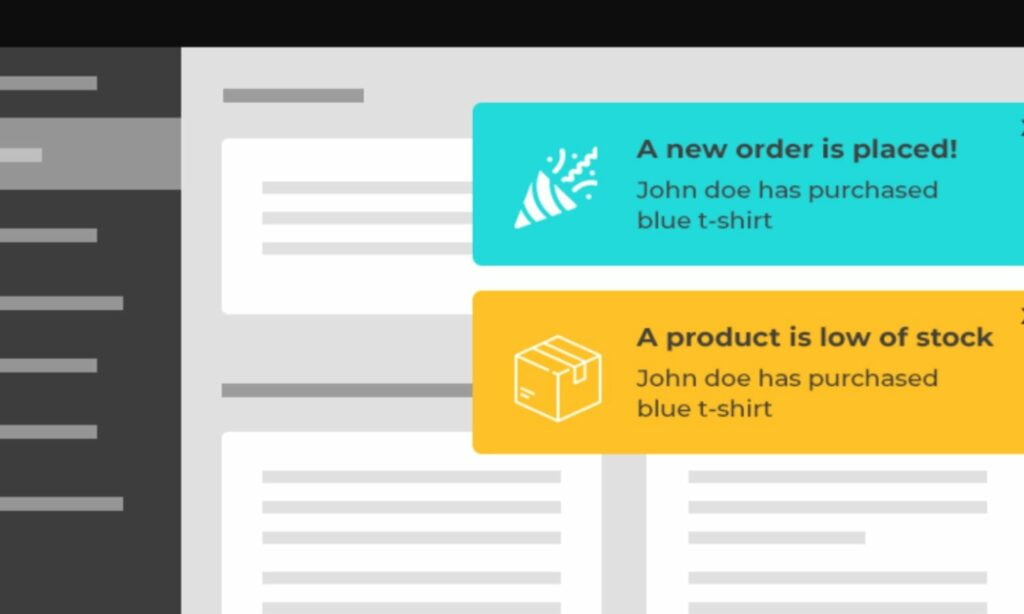 Price: €79,99/year for a single site; €239,99/year for up to 6 sites.
Take full control of the email designs that your customers will receive after signing up on your site. The plugin offers advanced customization options for your standard WooCommerce emails, including registration emails, order confirmation emails, and others. Feel free to use a simple interface and advanced customization options to update your branded emails with your company's logo, branded colors, and typography.
Features:
Multiple emails for your WooCommerce store;
Reveals desktop notifications related to your store;
There are a variety of advanced styles available;
Enable notifications only for some groups of users;
WPML-compatible;
Customize the notification icon and sound.
Bottom Line
We hope that this collection of the top-recommended WooCommerce email customizer plugins will come in handy to you while looking for the best email modification email for your online store. If you need help to decide which of the solutions highlighted in this compilation are best suited for your WooCommerce site, let's take a look at the following highlights:
If you are looking for the best solution that will help you redesign the default design of your web store's emails, the WooCommerce email customizer should be the best choice for you.
Building personalized emails in the drag-and-drop builder and taking better control over the total look and feel of your template are made easier with the WooMail plugin.
Yaymail offers a truly comprehensive drag-and-drop interface that can be handled by non-techies quite easily. Use WooCommerce addons to manage all notifications and templates in a single window. The plugin also supports many other WooCommerce extensions, including WooCommerce Subscription, WooCommerce Custom Order Status, Admin Order, etc.
While choosing the best WooCommerce email customizer plugins for your web stores, make a list of the most important features for your store and focus on them during your decision-making.
Taking care of creating branded emails is vital for improving your business's credibility and luring your customers. While changing the boring default designs of WooCommerce emails to the design featuring your custom logo, branded colors, typography, header, and footer sections, you can make your emails stand out. Making a positive first impression is easy while sending customized welcome emails to your audience and keeping them updated on their order status and delivery information with the help of well-crafted emails.
Consider using any of these free and premium WooCommerce email customizer plugins to grow your store and keep your audience always engaged with your company's updates.