WooCommerce Marketing: How to Reach Relevant Audience with Your Store
To achieve the maximum efficiency with your WooCommerce marketing initiatives, it's vital to know who buys your offers to know whom you can target. A smart online targeting strategy is especially important for businesses interested in promoting their products online and driving more sales. Once you know your target audience, you get a clear understanding of how to devise effective marketing strategies and choose the right approaches to drive in more buyers.
There are many WooCommerce marketing techniques that different sites opt for. The choice of the right approaches that will work on your project is individual and depends on such factors as your site's topic, the price range of your offers, the flexibility of your team, the frequency of promotional campaigns, etc.
Still, a clear understanding of your audience helps you pick the most actionable strategies for your site. Let's take a look at the proven tips on how you can identify your target audience and reach out to them.
Begin with WooCommerce Marketing Research
Before taking your first steps in the niche, you need to learn the rules and tendencies that rule the market. The best way to do it is to come up with a list of questions related to your business, your major competitors, and the products or services you provide. Smallbiztrends.com provides a comprehensive list of market research questions, including inquiries related to pricing and value, product and service, online visibility, reputation, etc. As soon as you find answers to the questions, you'll get an idea about your target audience and a buyer persona.
Besides, you can also run a Google search and find customers who may be interested in your offers. You may check the communities and social media groups they follow, check their interests, hobbies, jobs, profiles, average income, etc.
Work on Buyer Persona
Every business has imagery and description representing their ideal customer. Buyer personas are created based on the information that brands attain as a result of the market research.
A customer or buyer persona is an imaginary representation of a brand's ideal customer. Brands create these personas on behalf of their market research and user data.
Take a look at the following example of a buyer persona shared by alexa.com.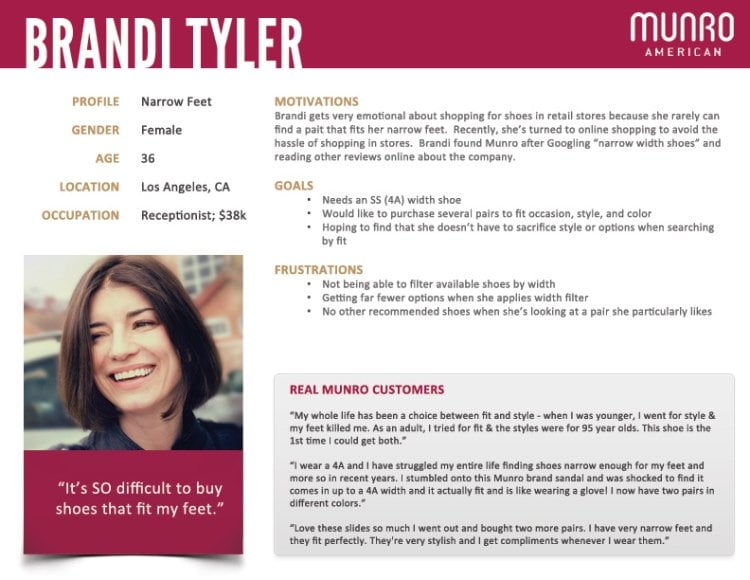 As you can see, the buyer persona includes very detailed information about a prospective customer. There is also a picture of how marketers imagine their perfect customer may look like. Working on customer personas, brands may know how their potential customer looks like, what are their desires and needs.
While working on the customer persona, start working with broader categories and narrowing them down to something more specific. To begin with, consider the age group to which your offers may seem to be appealing. If your business is related to selling gender-specific products, focus on this detail as you build a buyer's persona. It's also vital to include such information as education, languages spoken, interesting topics/websites, etc.
It will work even better for your brand if you create several customer personas and give them real human names. Customer personas may be changed if you realize they do not fit the image of your buyer.
Competitor Analysis
While checking how your competitors are performing, you can easily devise your ideal target customer persona. The respective analysis helps you find out who the target customers of your major competitors are. There are many online tools that you may use for this purpose. One of the most popular solutions is Alexa. With its help, you can get insights into your competitors' users and conclude buyers' characteristics that you can target yourself.
With Alexa, you can research your major competitors and understand their customers' behavior.
Alexa will help you research your competitors to understand their customer behavior. Many extra features let you dig deeper into discovering your competitors' primary business outcomes. For example, you can discover how your competitors manage to keep their customers using the audience overlap tool. You can also check the analysis of the leading websites in the world matching your niche and get insights into the generic patterns of eCommerce customers' behavior.
Estimate the Interest Surrounding Your Offers
After you've done the marketing research, you need to get an idea about the customers' interest in your products worldwide. It's when Google tools come into play. With the help of Google Trends and Google AdWords Keyword Planner, you can have an idea of the current trends locally and all around the globe. Google AdWords Keyword Planner gives you a clear idea about the number of searches users make on the chosen keyword. The tool will also help you come up with a selection of relevant keywords that your WooCommerce store may target for.
Besides these two solutions, you can also opt for any other keyword selection tool. Using one, you can better research the market, see what your competitors target for, and build your strategy. Some of the most popular tools for keywords research include Ahrefs, Serpstat, SEMrush, etc.
Make Your Research More Specific
When you make up a list of keywords that your business may target for, you have a broader idea about your standing in the market and the customer demographics to whom your products will be appealing. The more specific market research gives you a better idea of your buyers' psychographics.
Before moving further, take your time to analyze your competitors. Besides checking the keywords, they rank for, look at how they present their products, and respond to different marketing events. Learning from examples of other brands, you can build a successful marketing strategy.
Customer Demographics
If we refer back to creating customer personas, you may consider working on three examples of buyer personas belonging to different age groups. As a rule, most online stores have buyers from three age groups. You won't lose if you follow their example and target three generations.
The classification can be put like this:
Generation Z, i.e. younger audience that can influence their parents to purchase something on your web store.
Millennials, young adults who are active Internet users and can make purchases by themselves.
Generation X, people of 35 and older who have real purchase potential.
Customer Interests
The next step in learning your potential customers is by understanding their interests. How to get such insights? It's easier than you think. You can take a closer look at users' browsing patterns on your web store and the content they reach on your site. To gain this information and run research, you need to have a reasonable number of customers in your store. If your customer base is low, it would be enough to start learning your customers' browsing patterns.
Purchase History
To understand your WooCommerce site's relevant audience, you may research individual buyers' purchase history on your web store. Based on the products and services that your customers order from you, you can get better insights into their buying potential and focus on the aspects that drive conversions on your site.
Using WooCommerce Customer History plugin, you can see what orders individual customers placed on your site. It lets you observe which screens your customers visit before they complete a purchase. You can also check insights about users' browsing habits, which helps you realize what pages drive the most significant number of conversions and affect customers' buying decisions.
As soon as you find out what patterns guide your customers' shopping behavior, you can successfully work on your buyer persona.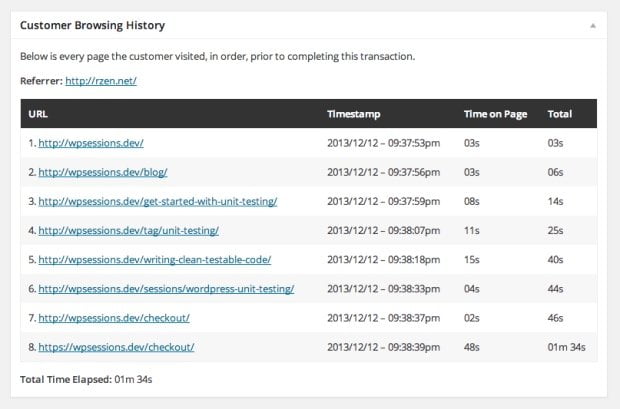 Social Media Forums
You can get a lot of insights while researching social media forums that are related to the topic of your WooCommerce site. To gain these insights, you can look for topics on Quora, Facebook groups, Twitter handles, etc. You will see what issues people commonly face when looking for or working with a particular product type. You can also track customers' interests in novelties in your niche. On seeing this, you can understand the specific interests of your prospective buyers.
Reviews
Looking through customer reviews can help you learn yout customer personas and come up with issues that should be fixed to drive more conversions.
The value of customer reviews shouldn't be underestimated. When a person looks for a specific item on your WooCommerce store, they are more likely to choose the product that includes reviews. The majority of eCommerce customers make their purchase decisions based on the feedback shared by fellow shoppers.
Moreover, customer reviews give you feedback about your products. They also serve as a direct communication tool with your audience, giving you more awareness about your actual customer personas.
Run Polls and Surveys
In addition to looking through customer reviews, you can figure out your ideal buyer persona while running polls and surveys on your website. One of the easiest ways to integrate your website's respective functionality is to use SurveyMonkey on your WooCommerce store. The extension lets you create engaging surveys on your web store and better understand your customers' interests.
Google Analytics Insights
The last but not the least useful tip is to identify your customers' personas using Google Analytics. However, the tool won't give you immediate insights right after you launch your web store. It takes some time to collect data about user behavior on your site. However, the wait is worth it. The tool will provide you valuable insights about your customers' demographics, interests, preferred content, and other details.
Best Google Analytics Plugins for WooCommerce
Using Google Analytics tools is one of the best ways to understand your buyer persona and reach out to the right audience. There are many extensions that you can integrate into your store for better WooCommerce marketing. Let's review them so that you will be able to pick the best option for your store.
Price: free; premium subscription plans start at $99.50/year.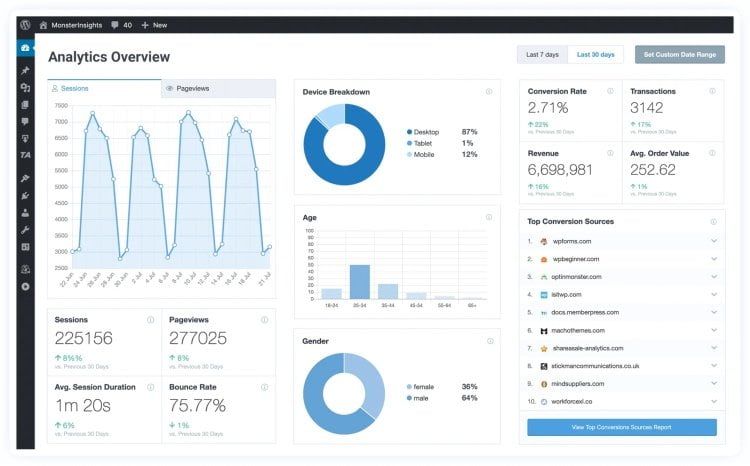 MonsterInsights is a powerful Google Analytics plugin. It's the preferred extension for building a successful WooCommerce marketing strategy that many successful eCommerce business owners opt for.
Highlighted features:
Provides detailed reports about your visitors country, gender, device, and more.
You can find out how your customers reached your website, i.e. what keywords they used to find your web store.
You can also check what pages people visited on your site and what actions they took there.
The plugin is easy to install. It is also optimized to be compatible with most WordPress themes.
The advanced tracking enables you to collect data about your customers' behavior from any device.
Check how many times a specific file was downloaded with the file download tracking functionality.
Using the Forms addon, you can track how users react to forms on your website. It includes data about form views, submissions, and the form conversion rate.
By connecting Google Analytics eCommerce tracking with WooCommerce, you can see such essentials as your web store's conversion rate, average order value, and transactions.
Price: free; premium plans start at $30.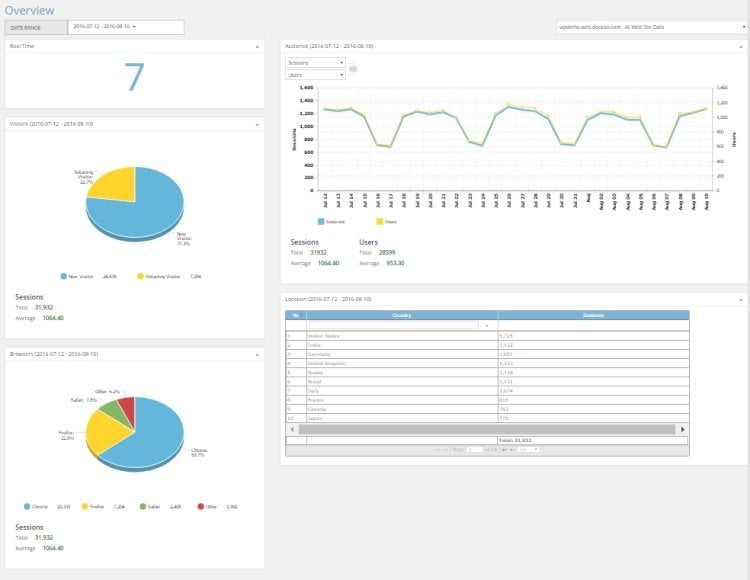 Using Google Analytics by 10Web, you can set goals for your WooCommerce marketing project right within your admin area and watch the performance stats right away.
Highlighted features:
Includes eCommerce tracking.
Lets you set up custom notifications on specific triggers on your web store.
Watch reports in a single usable dashboard.
Integrates with Google Adsense and Google Ads.
Price: free; premium versions start at $79/year.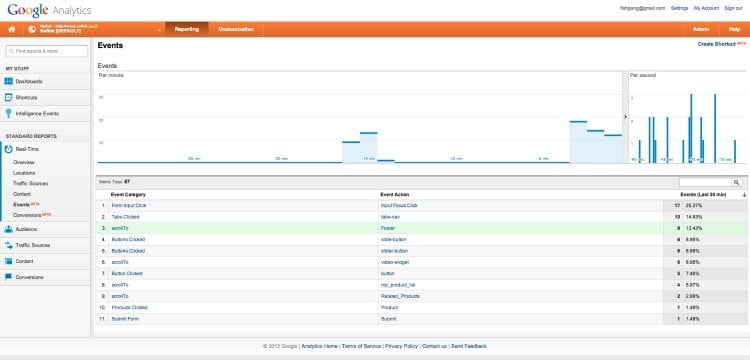 As the name suggests, WP Google Analytics Events plugin is perfectly suited to let you track certain events on your WooCommerce marketing project without the need to manage coding tasks. Though it's not as multi-functional as MonsterInsights, it still offers a basic set of features that let you track customer behavior.
Highlighted features:
Use events to compare the performance of your CTAs.
Track links, page navigation, and contact form submissions.
If you upgrade to the plugin's premium version, you'll also get extra features like YouTube and Vimeo tracking.
Price: free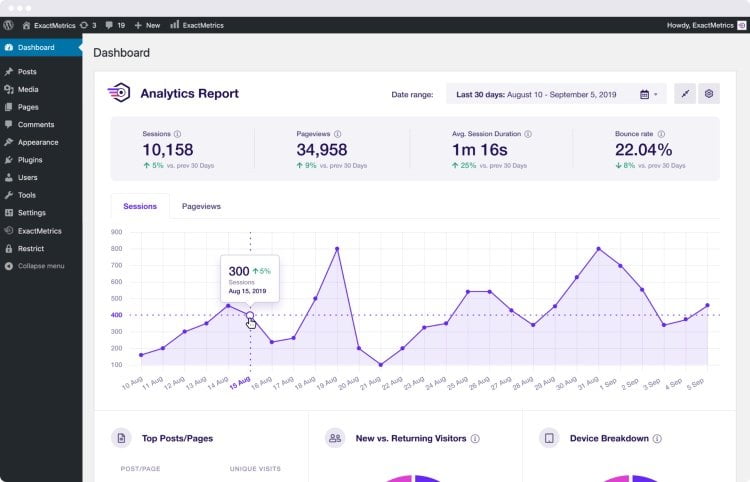 ExactMetrics is one more popular Google Analytics plugin, which will provide you with deeper insights about your web store's performance and buyers' behavior. It's a perfect choice for you if you are looking for an extension that will help you keep an eye on the number of downloads, affiliate links, emails, and other data on your site.
Highlighted features:
Track user behavior using a simple dashboard that integrated into your website's admin area. Watch stats related to page views, organic searches, traffic from social media platforms, bounce rate, etc.
Check real-time stats about the number of visitors to your website and traffic sources.
View detailed reports about each page of your site.
There also an option to enable tracking for Accelerated Mobile Pages.
Price: free; premium plans start at $39.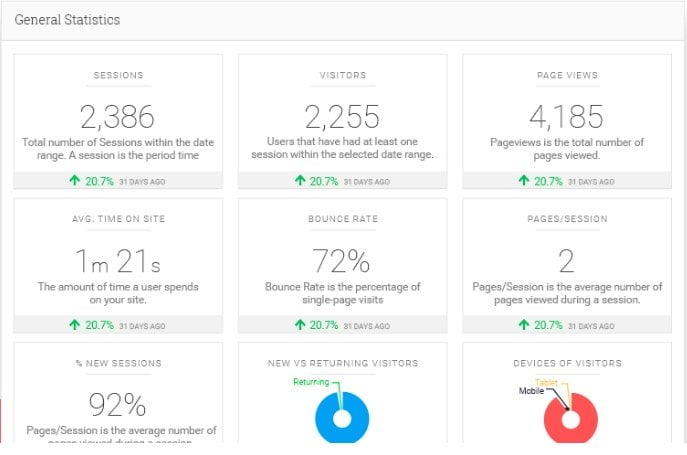 Analytify will appeal to everyone looking for a free Google Analytics plugin that is easy-to-use, features a simple installation process, and provides enough data to track your WooCommerce marketing stats.
Highlighted features:
The extension lets you watch stats right from the WordPress admin area. It reveals real-time statistics for individual web pages and blog posts.
If needed, you can enhance the work of the plugin with more addons.
To track sales stats on your website, you may use eCommerce tracking for WooCommerce.
There is also an option to set up automatic reports with the general stats of your site.
Price: free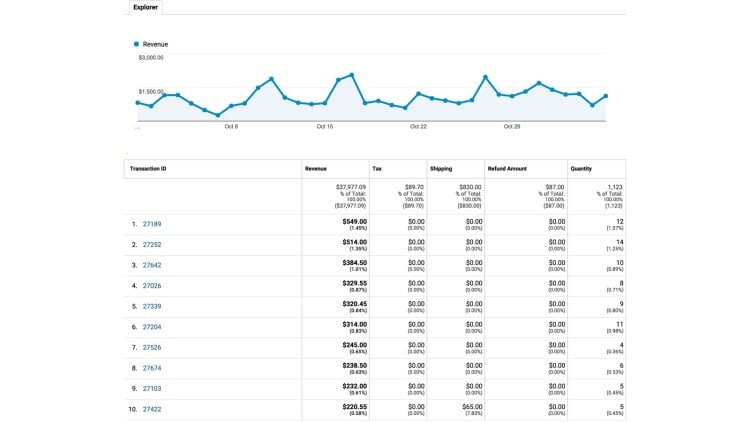 Here comes a free Google Analytics plugin that will help you track the performance of your WooCommerce store. Besides many advantages and its freemium availability, the extension features certain limitations. Before choosing it as a tracking tool for your project, check its compatibility with your theme. The plugin isn't fully compatible with custom and child themes for WordPress.
Highlighted features:
Adds Google Analytics functionality to your website,which lets you better track user behavior.
The plugin supports 4 types of behavior and performance reports – shopping, checkout, product, and sales.
It lets you track stats related to product clicks, impressions, and add to cart events on your product page, category page, featured product section, and more.
Price: free; premium version starts at $15.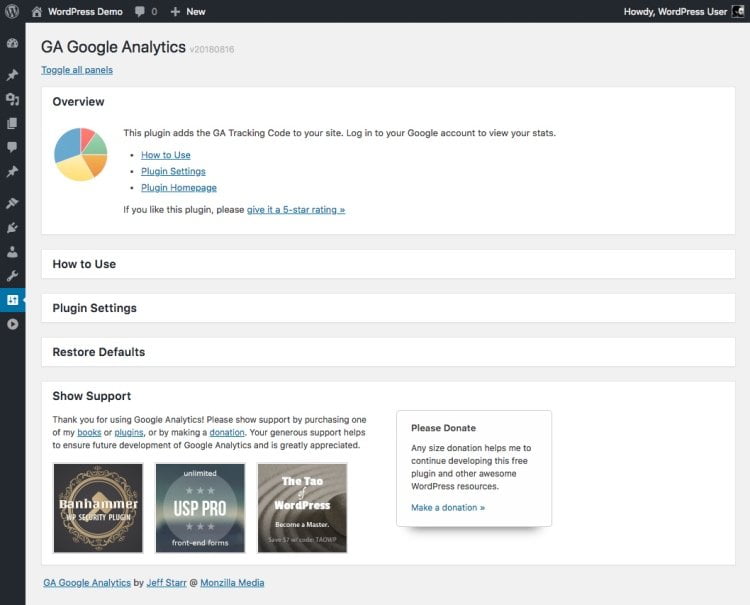 The free version of the GA Google Analytics plugin adds customer tracking features to your eCommerce site, though somewhat limited. The extension is lightweight and GDPR compliant. It's easy to install and use. Once activated, you can use the plugin to enable Google Analytics tracking on all pages of your WooCommerce site, thus letting you achieve better results with your WooCommerce marketing.
Highlighted features:
Doesn't display stats within a dashboard on your site. To track the performance of your WooCommerce store, you need to visit your Google Analytics account.
The plugin lets you customize the tracking code.
It also lets you get the right data on your site's performance while disabling tracking of admin-level users.
Bottom Line
When you get an eCommerce project online, it's vital to know your target audience to build an effective online marketing strategy. Some techniques and tools let you find out who your ideal buyer persona is and track your website's current stats to apply quick fixes.
It may take some time to build an effective WooCommerce marketing campaign. However, the effort is worth it. Once you figure out what groups of customers to target and what people expect to find on your website, you can give them what they want. With the adequately defined customer personas, you will notice higher user engagement stats, better open rates for your emails, and positive feedback from your website visitors.