How to Choose WooCommerce Payment Gateways – Factors & Plugins Discussed
The primary objective of running any WooCommerce website is to generate sales and bring more income to your company. Whatever industry your business belongs to, choosing the right WooCommerce payment gateways plays a major role in reducing shopping cart abandonment for your store. With that said, if you look forward to starting selling products or services on your website, you need to decide which WooCommerce payment gateway should be the best choice for you. This article aims to provide some background on payment gateways for WooCommerce, the factors that should impact your decision-making, and a list of the most recommended WooCommerce payment gateway plugins.
What Is a WooCommerce Payment Gateway?
A payment gateway is a platform that handles online transactions and helps you receive payments. When a client orders something on your website, he or she sends the credit/debit card information at the end of the checkout. These details are later on communicated to the retailer and the bank. Instead of going through all the legal and financial procedures required to process the money on your own, you can sign up for a third-party payment gateway that will handle everything for you.
WooCommerce payment gateways take care of processing your clients' credit/debit card numbers, expiration dates, and other personal details required to process the payment. Another purpose of WooCommerce payment gateways is to accept or deny transactions with your WooCommerce store account before the money is sent into your bank account. To let you process payments on your online store, you need to have accounts for both an online store account and a payment gateway.
How Does It Work?
You sign up for an account with your preferred WooCommerce payment gateway.
You connect your WooCommerce payment gateway account to your personal or corporate bank account.
Next, you connect the payment gateway to your WooCommerce store. The majority of WooCommerce payment gateways allow you to connect them to your online store.
Now, you are ready to start collecting payments on your eCommerce website. Once a customer adds a product to the shopping cart, the WooCommerce payment gateway opens a secure link for a person to successfully complete the payment.
How to Choose the Best WooCommerce Payment Gateways
The following requirements should come in handy for you when choosing the best payment gateway for a WooCommerce store.
Transaction fees. Most WooCommerce payment gateways charge a fee for every transaction made on your website. The number of fees being imposed on your web store is determined by your business location, the type of credit/debit card used by the customer, the chosen payment gateway, etc. When it comes to deciding how to pay the transaction fees, you can pass it on to your clients or offer a lower transaction charge than your competitors. 
Additional fees. Besides transaction fees, it's also important to find out whether third-party WooCommerce payment gateways will charge you any additional fees, like payments for account maintenance, bank withdrawals, etc. 
Payment methods. The more payment methods the third-party payment gateway supports the better because specific groups of customers will only be able to complete their payments only using their preferred payment methods. 
What countries and currencies are covered by the payment gateway? When choosing the best payment gateway for your WooCommerce store, it's important to ensure whether the chosen payment gateways support your target counties and support transactions in selected currencies. 
Security is another factor that deserves your special attention when you choose the best WooCommerce payment gateway for your project. If the payment gateway is not secure, you expose your business and your clients to the risk of data loss and other problems.
If you run a membership website or provide subscription-based services, it's important to ensure the chosen payment gateway supports recurring payments.
3 Best WooCommerce Payment Gateways
With all that said, let's consider the three most popular, reliable, and safe payment gateways that you can use on your WooCommerce website.
Fees:
4% tax on each transaction plus 0.25¢ for European cards
9% tax on each transaction plus 0.25¢ for non-European cards
Stripe is one of the most popular payment gateways for WooCommerce. It accepts credit card payments on your online store. Stripe is a great choice for everyone looking forward to implementing custom WooCommerce payment gateways. It lets customers pay for their orders with all the major credit and debit cards, as well as Apple Pay, Google Pay, and AliPay. 
Stripe works in 40 countries and supports about 135 currencies. It doesn't charge you any setup or annual fees. It also supports recurring payments.
The white-label mode is another reason why businesses prefer Stripe. It keeps your customers on your website rather than redirecting them to any kind of third-party services or online resources.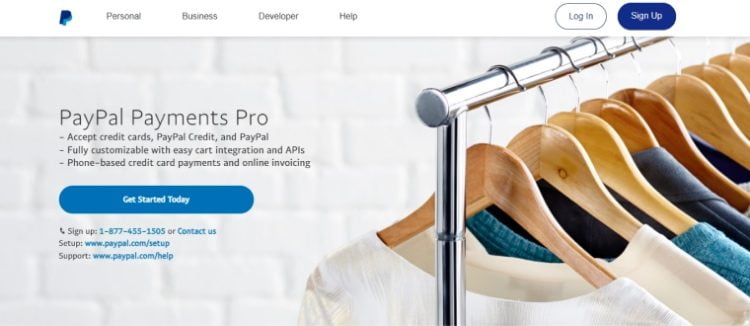 Fees
9% + 30¢ per transaction for local payments.
9% transaction fee for international payments.
PayPal is one of the first services that comes to our mind when we discuss online payments. It's one of the safest WooCommerce payment gateways, providing total buyer and seller protection. It's a one-stop online payment gateway that allows users to shop online without worrying about any pieces of their data being lost or attacked. It supports more than 20 currencies and works in more than 200 countries.
PayPal offers a convenient dashboard, letting you access all the needed information with a few clicks. It lets you export any kind of data you require in the PDF, CSV, TAB, or QuickBooks formats.
Unlike Stripe, PayPal doesn't support recurring payments and involves a monthly charge. The transaction fee varies by country.

Fees
2.9% + $0.30 per transaction for U.S.-issued cards.
Those who use cards issued outside the United States will be charged an additional 1% fee.
If you are looking for a free WooCommerce payment gateway, WooCommerce Payments should be the best choice for you. It's a secure platform for customers to complete their transactions without bouncing back. Unlike the two previously mentioned payment gateways, WooCommerce Payments is currently available only to US merchants selling products and services in US dollars. WooCommerce Payments provides a more convenient and seamless checkout experience.
Which WooCommerce Payment Gateways Should You Choose?
The choice of the best WooCommerce payment gateway for your business depends on your location and the countries of your target audience, the currency that you are going to work with, what kind of products or services you provide, etc. In a perfect scenario, online stores offer several payment methods from which their customers can choose. Growing demand for using cryptocurrencies may give you a push for adding crypto payment gateways for your online store.