Things to Know for Running WordPress Multi-User Blog
Running a multi-user blog is the thing that may seem to be convenient for many. However, when you decide to share access to your dashboard with other users, you should expect to face a set of challenges. On a WordPress multi-user blog, you need to take care of the thorough planning of the editorial work, create a content plan, decide when writers will share their blog posts, and make sure that your web project performs as intended.
It seems like there is a lot of work involved in running a multi-user website. In fact, yes. But things get easier when you install some beneficial plugins to your WordPress blog. So, what things should you consider when you run a multi-user WordPress blog and how to make writers on your website the most productive? Let's find out.
Steps to Set Up a WordPress Multi-User Blog
Running a WordPress multi-user blog is one of the best ways for your project to stay competitive and bring your editorial calendar to a whole new level. Depending on how many writers you have, you can even update the blog with new articles daily. Setting up a multi-user blog is as easy as taking a few quick steps that we explain below.
Add new authors to your WordPress site
First of all, to start a multi-user blog, you need to add new authors via your WordPress dashboard. To add a new author, open your blog's admin area and navigate Users > Ad New, and fill in the required details.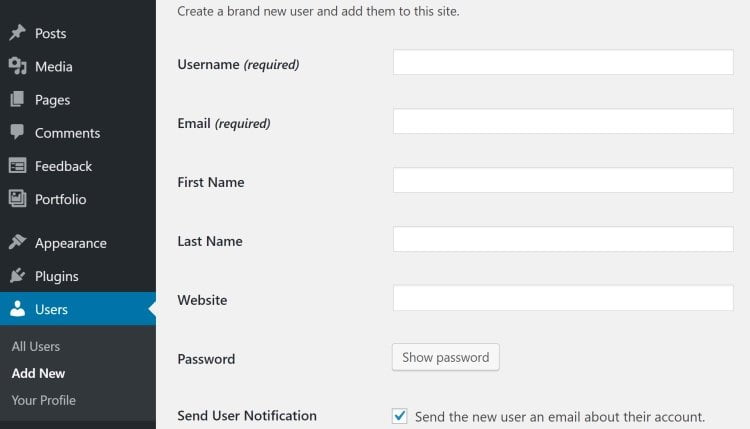 To add a new user, specify his or her username, email address, first and last name, website (if they have it), generate a password, and let new author access your website's dashboard and start writing for your blog. As you can see, most of the fields are relatively straightforward. The thing that requires your special attention is the choice of passwords. Like we have already discussed in our earlier publications, you should opt for a strong password that contains both lower case and upper case letters, and numbers with symbols. To add an extra security level to your WordPress multi-user blog, you can also enable two-factor authentication for new authors.
Set Authors' Roles
When it comes to managing a WordPress multi-user blog, it's essential to define user roles when adding new authors to your website. As far as we speak about the content part of your WordPress blog, there are two most common user roles that you can assign:
Author. As the name implies, this user role allows a person to create, edit, publish and delete their articles. Still, they cannot do the same with other authors' publications.
Contributor. Such users have fewer powers than Authors. People with the Contributor role can write and publish their articles. Still, they are not allowed to edit and delete them once publications appear on your WordPress blog.
Setting up user roles on your website is essential to avoid the mess with your published content. You may have dozens of Contributors who create content for your blog. However, a few users with Author roles can help you take better control of your content calendar.
Our advice is to assign Contributor roles to new writers. It will help you take better control of your website. If you have a big team, you may assign the Author roles to those you'd like to be admins on your website and have more permission.
Add Writers' Bio Photos
Instead of uploading photos to every user profile, there is a more straightforward way you may choose. All modern-day WordPress blogs are developed to be compatible with Gravatar. A popular service of globally recognized avatars lets writers upload images displayed in bio sections below their publications. In comments, they leave on blogs and forums that also support the service.
The registration is as simple as simply entering your valid email address, confirming signup, and uploading an image that or an icon that you'd like to be displayed in the bio part.
Once a writer set up his or her Gravatar account, you can reveal their profile picture on your blog while simply adding the email they used for Gravatar.
Add Biographies
It's set as a default setting on WordPress blogs that you can add writers' bios next to their profile pictures. Biographies commonly show up as small pieces of text they appear at the beginning or end of each article. The bio section can also include links to writers' social media pages and their personal websites.
Share a List of Your Blog's Writers
One more step that you can take to boost your website's usability is displaying a list of writers who contribute to your blog. It is convenient for several reasons:
Users can navigate to the articles shared by their favorite writers;
Writers can share links to the collections of posts using the custom URL address;
You can bring a better structure to your WordPress multi-user blog.
Adding a list of your blog's writers gets easier using the Author Avatar Lists plugin. With its help, you can update your WordPress blog with a widget that reveals writers' avatars.
To start using it, install and activate the plugin like you usually work with any other WordPress extension. Then, navigate to Appearance > Widgets and find New Avatars widget there. Drag and drop it to your preferred location.
All you need to do next is to adjust three main elements:
widget title,
the roles that will appear,
what information to display aside from avatars.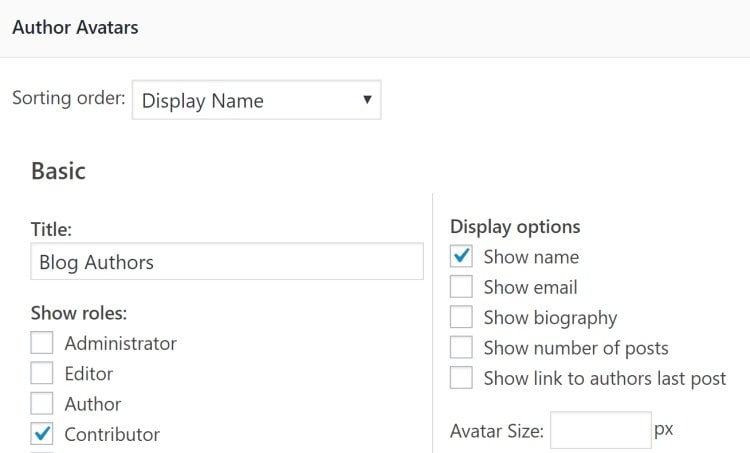 Save and publish it once done.
Track User Activity with WordPress Blogs
As an administrator of your WordPress multi-user blog, you need to know what your fellow contributors are doing on your web resource. For a better picture, you may consider installing WordPress plugins that track user activity on your site.
This is not a bad thing to do. In fact, there are many reasons why site administrators need to track user activity.
First of all, it lets them detect security threats from unauthorized logins and spam accounts.
Running a WordPress multi-user blog, you need to track how contributors interact with your content.
WordPress user activity plugins let you keep contributors accountable for the actions they take on your website. You are informed whenever someone creates a new blog post or page, edits or deletes it. In case of an error on your site, the audit tool lets revert back to the old settings and understand why a certain issue occurred.
Unfortunately, user tracking tools are not included in WordPress as default settings. You need to install third-party plugins to see what exactly every contributor is doing on your website. Below, you can take a look at a list of the leading WordPress plugins that record and report activity on your web resource, and let you track the stats right from the administrator panel.
HubSpot provides analytics tools and CRM options that let your business seamlessly capture and track user behavior on your site. To start tracking user behavior, embed HubSpot forms to your existing WordPress forms. Using the plugin, you will keep an eye on your contacts' page views, email interactions, chat conversations, and more. You can track user activity in real-time or check stats in the WordPress dashboard.
The plugin features both free and premium versions. Using the free version of the plugin, you get the records of WordPress activities related to updates of your blog, content creation, comments, site settings, etc. You will also get email notifications for specific user logins and integrations with other plugins on your WordPress site, including Yoast, WooCommerce, and other.
Chose a premium version of the plugin, you get a bunch of additional features, including:
additional log sorting and filtering options,
the ability to export your log,
password protection for your log,
extended customization of the log's appearance,
additional integration options, etc.
If you are looking for a free and well-supported activity log WordPress plugin, then take a look at the features this extension provides. The Activity Log tool records any sort of modifications applied to blog posts, website pages, custom post types, media files, themes, plugins, etc. There is an option to receive custom email notifications whenever a certain event takes place on your website. The Activity Log plugin works with WooCommerce and bbPress websites, letting you keep an eye on user activities to prevent unauthorized login or theme installations.
Simple History is another free online tracking tool on this list. It reveals a history of logged events in your WordPress dashboard. Logged events include changes applied to your blog posts, pages, attachments, comments, plugins, widgets, menus, and other elements of your website. Thanks to the advanced search and filtering options, the activity log is easy to parse.
Here comes one of the most popular WordPress activity tracking tools, with over 100,000 active installs. Using the free version of the plugin, you will be informed when new users log into your site, when people set up new passwords, manage their profile settings, activate or deactivate plugins, etc.
There is also a premium version of the plugin available. Opting for this one, you will get real-time email and SMS notifications of the activities that are taking place on your site.
Using the Stream WordPress plugin, you get a real-time view of your website's chronological activities. As an administrator of your WordPress multi-user blog, you can filter activities based on user roles, IP address, actions, etc. You can also view live reporting, get notifications via email and webhookds. The plugin is free and integrates its tracking features with WooCommerce, Yoast SEO, Gravity Forms, bbPress, and other popular WordPress extensions.
Sucuri is a free WordPress plugin that's focused on cybersecurity issues. It offers tight control over your WordPress multi-user blog. Once it detects any sort of suspicious activity, it automatically sends you alerts to your email address. Additionally, the plugin scans your website for security issues, vulnerabilities, malware, and authorized edits. You will get instructions on how to manage your website to prevent security issues from happening.
Bottom Line
Running a WordPress multi-user blog is easier than it seems. Follow the instructions that we explained above and make sure you assign the right role to every writer who shares content on your WordPress blog. With a growing team of writers, you can update your WordPress blog more often, which allows you to gain more robust positions in the market.