5 Reasons Why Your Company Needs a Custom Business Website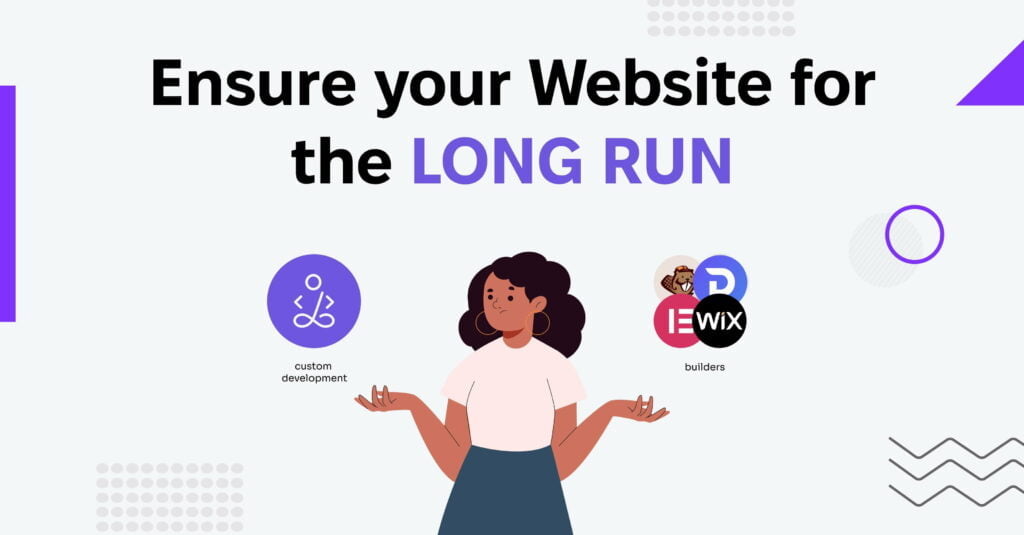 Every project needs a website. Building a custom website is one of the best solutions for your long-term business. There are many reasons why a custom business website is better than launching your project on a low-cost, premade template. Let's discuss them in greater detail.
Custom Business Website Importance
Opting for a pre-made website template and adding your business name may seem easy and cost-effective. Still, it is not necessarily the wisest choice. Why invest your money in a website that fails to bring any real benefits to your company?
Recent studies indicate that 38% of website visitors will leave a website if it appears unappealing, while 39% will click the "close" button if it takes too long to load. These seemingly minor issues can have a significant impact on your business. Imagine the potential loss of customers due to a poorly designed and malfunctioning website.
Rather than squandering your funds, consider the benefits of a custom business website. By opting for a personalized approach to web design, you can effectively distinguish yourself from the competition. This article will delve into five reasons for custom business website development tailored to your company's unique needs.
Enhance Your Company's Image with a Branded Custom Business Website
Every business has a unique brand that differentiates them from its competitors. This brand is reflected in various aspects, including the logo, color scheme, company name, and mission statement. Custom web design lets you showcase your brand through your website's design and style choices.
With custom design, you can represent your brand consistently across every page. High-quality images and well-written content can also help convey your brand message effectively. Otherwise, your website may look like someone else's, making it challenging for customers to differentiate you from the competition.
Discussing the message you're trying to convey with your designers is essential. Your brand message will impact the site's colors, graphics, layout, and navigation.
Are you aiming for professional, fun, friendly, or something in between? With custom business website development, you can integrate your brand seamlessly throughout the site, and you're in control. In contrast, purchasing a template can cause you to miss the mark on your branding.
Adapt and Grow Your Business with a Custom Website that Evolves
Using a pre-made website template can cause trouble making necessary updates, such as editing text or adding new visuals. This can result in presenting your customers with outdated or incorrect information.
As your business grows, you will need a website that can scale, and custom web design can provide that flexibility. With a custom-built website, you can make changes as often as you like, allowing your website to evolve with your business. This is important for staying current with industry trends and remain competitive.
Boost Visibility and Reach with an SEO-Optimized Custom Business Website
With more than 50% of website traffic coming through search engines like Google, it's essential to leverage SEO to reach potential customers effectively. You can attract new customers to your site by making it more searchable.
Investing in custom web development ensures that your site content is optimized for specific keywords. This will give you more control over your site when it appears in a search. It can be an excellent opportunity to market your business to people already interested in your product or service. You can use persuasive copy and compelling call-to-action language to generate a sale.
Design elements like videos and photos can also impact your SEO. You'll need to optimize these elements with the right keywords to get a higher ranking. With custom SEO, you can rise above the competition and attract customers before they even have a chance to consider your competitors.
Provide an Exceptional User Experience with Your Custom Business Website
Mobile optimization has become crucial in the modern age. Responsive web design allows visitors to view your website on smaller screens; with it, users may be able to read your content and use your site.
Search engines also prioritize mobile-optimized sites when determining rankings for SEO. With a mobile-friendly site, you may rank higher than your competitors.
Mobile optimization is one of the many ways to improve your website's user experience. Better user experience leads to longer stays on your site and more opportunities for visitors to purchase.
Factors like page speed, navigation, mobile optimization, and readability contribute to the overall user experience. If your website is not designed with user experience in mind, visitors may quickly lose interest and leave. The better the user experience, the more efficient your site will be.
Each business has unique customers with distinct needs. With custom business website development, you can tailor your site to your specific audience, ensuring it meets their needs and exceeds their expectations.
Ensure Security and Reliability for Your Custom Business Website
Security is crucial, whether online or offline. Customers know the importance of "HTTPS" in the URL to ensure safety. Google warns users about websites that do not have SSL installed, as they are more vulnerable to cyber threats. Furthermore, Google considers the SSL certificate and security measures when ranking sites, favoring websites prioritizing user safety.
With custom web development, you can ensure that your website provides a safe online experience for your users. Outsourcing your web development to a trusted company can provide additional security measures. You can rely on their knowledge and expertise in a security breach to find a quick and effective solution.
Build a Custom Business Website
Investing in a custom website may seem a significant expense, but the benefits and long-term value of a custom-built website are unmatched. The IT Monks team has worked with many business owners. We are committed to providing every client with approachable and professional services.
Contact us for a free consultation to learn more about our work and discuss how to build a custom business website for your company.