Free and Premium WordPress Themes – What's The Best Choice for My Website?
There is an ongoing debate between free and premium WordPress themes. Are those free or paid solutions that will be the perfect choice for your future web project? The WordPress community offers a rich abundance of ready-made designs matching every category. The possibility to launch blogs and websites at no cost lures many of us. However, what if you need more than the functionality included in a freebie? Then premium WordPress themes come into play. Luckily, there are many different designs available for free and paid download.
So, the question is – are those free or paid WordPress themes that are perfectly suited for my website? Let's compare and get an answer.
Free WordPress Themes. Main Reasons to Use Them
I think nobody would argue that one of the main reasons to choose free WordPress themes is that their download doesn't cost you a single cent. In the WordPress directory, you can come across a growing collection of thousands of free WordPress themes matching different styles and topics.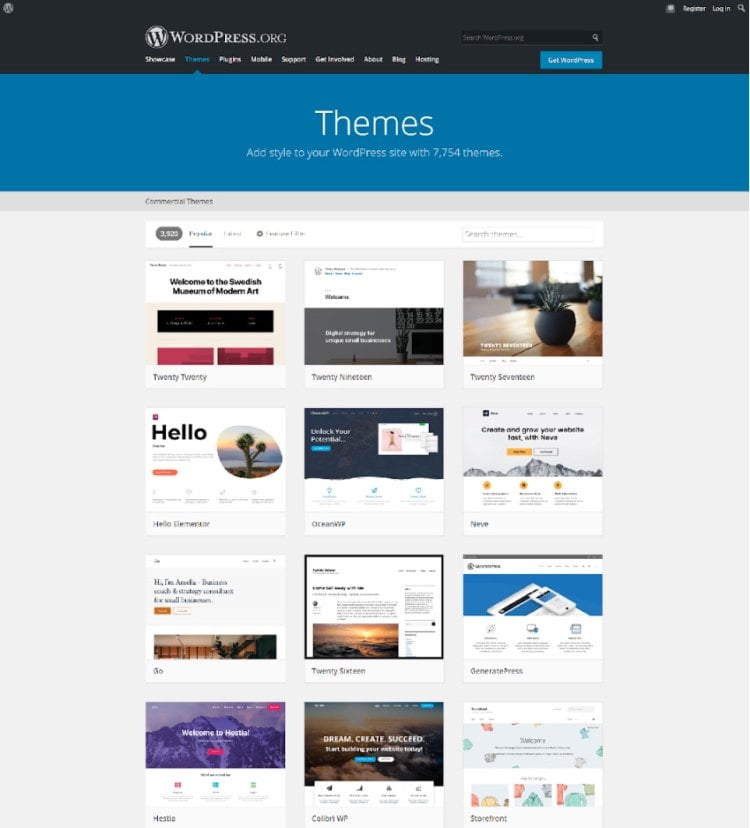 Free WordPress themes are the optimal choice for those who are just starting and are not ready to invest in premium website designs. Freebies can be used for all purposes, including blogs, online portfolios, business sites, and even eCommerce projects.
A free WordPress theme will be the best choice for everyone who:
Plans the launch of a personal blog or a startup project;
Is not very much worried about the unique web design;
Feels okay with the basic functionality of a free theme;
Is ready to work with the chosen design all by himself.
There are many reasons why free WordPress themes are an excellent choice to start from. Let's enumerate some of the key benefits.
They are free to use. You do not need to spend a single dollar to download a free WordPress theme. As a rule, such web designs include all necessary pieces of functionality that you need to launch a small to large-sized web project out-of-the-box. Most of the free WordPress themes can be found right through your website's dashboard. You can preview each of them and pick designs that match your personal or business expectations.
All freebies from the official WordPress directory are officially tested and approved, which means that your web page built on their basis will match all new web requirements. WordPress freebies are optimized to meet the most expected quality requirements, like GPL compatibility, safety features, free PHP, and JS notices, using all the core WordPress functions and hooks.
Simple designs provide for better performance of your website. You should have noticed that free WordPress themes feature simple classic designs. Building a website based on such themes means that your web resource will stand out with better speeds that are not affected by any heavy web design elements.
Major Downsides of Free WordPress Themes
There are always two sides to a coin. Alongside the many advantages of using WordPress freebies, several holdups are also considered when opting for a free WordPress theme.
Using freebies doesn't guarantee that your website will have a unique design. There are many other users like you who choose the same freebie to bring their projects online. The more times a freebie is installed, the less likely your web page will have a unique look and feel.
Freebies have limited features and don't offer any extra functionality to find inside premium web themes.
Different from premium web themes, freebies are rarely updated, which means that your website won't be protected from malware and security breaches.
Whenever you need professional assistance in customizing the chosen freebie, you won't get any support from the theme's authors. You can still seek assistance on forums, social media groups, or pay web developers for the required services.
Major Reasons to Go Premium
Every business aims to look unique on the web. Using premium WordPress themes as the foundation for your online project grows the chances that you will achieve a compelling and versatile web presence. If your goal is to make your web page look professional and striking, then premium web designs will help you build a remarkable web presence.
Premium WordPress themes include advanced customization features that let you create unique layouts, add galleries, and sliders to your site's pages, feature animations, and specific widgets whenever needed.
As a rule, developers of premium WordPress themes release their designs and set of pre-installed plugins and extensions that let a specific web work to its full potential. For example, this can be a drag-and-drop builder, advanced galleries and contact forms, payment systems, etc. Whenever you pay for a theme, you expect to get a full pack of tools and features that will help you bring the desired look and feel to your web project.
A premium WordPress theme is the best choice for you in the following cases:
If you are going to launch a business or corporate website;
If you are going to expand the functionality of your eCommerce project with advanced functionality;
If you want your website to be one-of-a-kind;
If you want your website to support many features and premium functionality;
If you need to be sure that a premium support team will always come for help.
With that being said, lets' highlight the key advantages of using premium WordPress themes.
Advanced customization options. Compared to free WordPress themes that include the basic sets of functionality needed to personalize your website, premium web designs offer more customization options. Paid themes give you the freedom to build a design of your dreams without the need to look for third-party extensions somewhere on the web.
Professional customer support. When you buy a freebie, all you get with your theme is a documentation folder and the possibility to chat with the volunteers on forums and public groups. Using a premium WordPress theme, you can rely on professional help from its developers' team. Most of the premium web designs that include high-quality assistance via chat or ticketing systems by the authors of the theme.
Unique professional designs. As it's been already mentioned above, using a freebie, you will hardly manage to update your website with a unique look. Premium WordPress themes come in different styles and offer a lot of space for customization. Using a premium web design, you have fewer chances that your website will have a sibling. Paid web designs grow the chances that your online project will look unique and stand out from the competition.
Regular updates. It's a rare thing for a freebie to get an update. Premium WordPress themes are frequently updated, making your website always up-to-date. Moreover, such updates deliver more designs and styles, which you can import to your website. Your website will become more secure and mobile-friendly.
Premium WordPress Themes Downsides
There is no doubt in the fact that premium WordPress themes offer more advantages than drawbacks. However, the sky is the limit, and people will always find some space to improve premium designs.
Cost. This is the main difference. People are charged a monthly fee or one-time payment to download a premium web design.
Limit on the number of installations. Paying for a single site license, a user can install the selected premium web design on only one website. To use the same theme on two or more web projects, you need to choose another license (e.g. some marketplaces offer developer licenses) or pay for the single site license every time you decide to install the same theme on a new site.
More features suggest more learning. It's good that premium WordPress themes include many features and tools that you can import to your website. However, the availability of more parts means that you should spend more time learning how everything works. It can be one of the primary reasons for a delay in your website's launch.
Bottom Line
Is it a freebie or a premium WordPress theme that will be the best choice for you? The answer depends on your expectations and business demands. Both free and premium WordPress themes have their pros and cons. After you oppose them and compare the features, you can decide on the optimal choice for your web resource. 
If you still cannot decide if it's a free or a premium WordPress theme that's the perfect choice for you, try to give honest answers to such questions:
What's your budget?
What are your primary business needs?
Are the basic features of freebies enough for you, or would you better opt for more advanced functionality?
Can you work with the theme by yourself, or you will need professional assistance?
As soon as you have clear answers to these questions, it would help if you had an idea about the perfect choice of a ready-made WordPress theme for you. Different themes are made differently. So, it's essential to make sure that you will work with the chosen design worry-free.