Halloween Business Ideas for Transforming Websites with Seasonal Discounts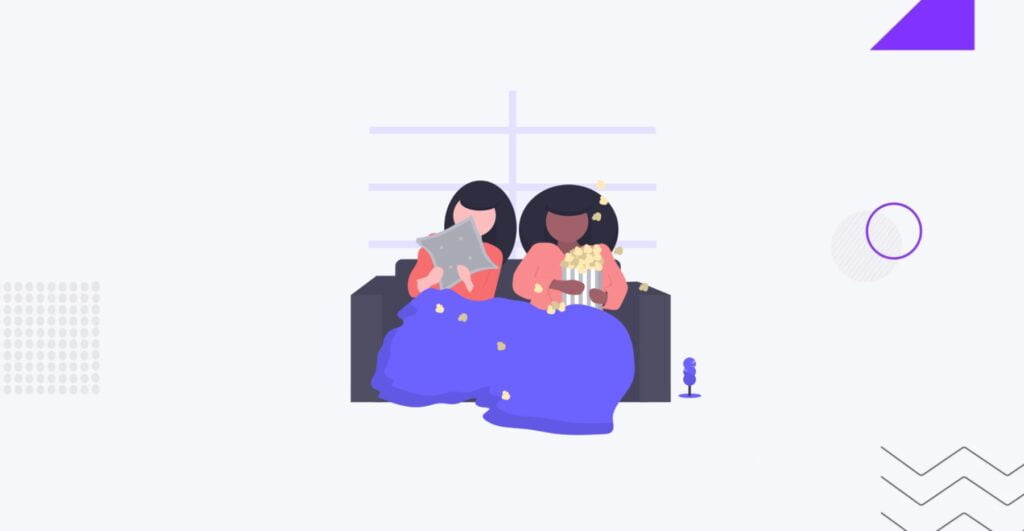 As the spookiest time of the year approaches, businesses everywhere seek ways to tap into the Halloween spirit and attract more customers. One effective strategy is to transform your website with seasonal discounts and promotions that create a festive atmosphere and entice your audience to purchase. This blog post will explore some Halloween business ideas to help you revamp your website and boost sales during this frightfully fun season.
Why should you focus on Halloween marketing?
It's not just about costumes and candy – the $10 billion industry offers engagement, brand awareness, and increased sales. In 2022, 67% of consumers celebrated Halloween, spending an average of $225 per person, with Gen-Z being the highest spending demographic. Additionally, 60% of Halloween spending is on costumes. Halloween is a season, not just a one-night event, and here's why you should focus on it:
Engagement. Take advantage of people's Halloween excitement and engage them with your brand.
Seasonality. Align your brand with the festive vibes and incorporate seasonal trends like spooky decor or themed goods.
Brand awareness. Stand out with a killer Halloween campaign that people will remember.
Sales boost. Offer limited-time deals or flash sales specific to Halloween to encourage purchases.
Community building. Host a Halloween event, either virtual or in-person, to involve the community with your brand.
Halloween brings numerous opportunities for your business to thrive. So, start planning your Halloween marketing strategy and witness the rise in your sales metrics.
Halloween Business Ideas for Transforming Websites
Halloween presents a prime opportunity to boost your business as customers are more inclined to make significant purchases during this festive season. The National Retail Federation (NRF) predicts that Halloween spending will hit an all-time high of $12.2 billion this year, surpassing last year's record of $10.6 billion. To capitalize on this, it is crucial to strategize omnichannel marketing campaigns across various platforms to maximize your revenue during Halloween. Here are 10 Halloween business ideas for transforming websites, boosting user engagement, and driving more sales this spooky season.
1. Dress Up Your Website
Like people decorate their homes with spooky decorations, you can give your website a Halloween makeover. Add Halloween-themed banners, spooky Halloween animations, Halloween website backgrounds, and icons to create an immersive experience for your visitors. Don't forget to incorporate your logo and branding elements into the Halloween theme to maintain consistency.
For example, Starbucks once brought Halloween decoration to their website by updating the logo design.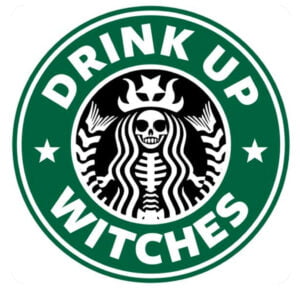 2. Offer Halloween Discounts
Nothing grabs attention like a good discount. Create special Halloween discount codes or coupons for customers when purchasing on your website. Consider offering buy-one-get-one-free deals, percentage discounts, or free shipping promotions. Be sure to highlight seasonal discounts prominently on your homepage and product pages.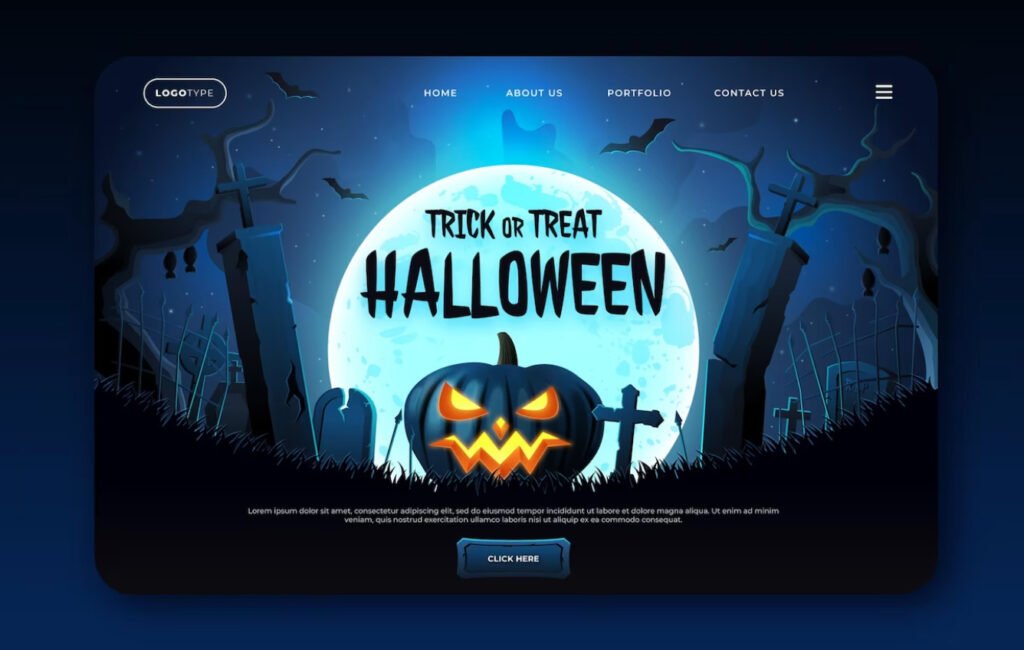 3. Create Halloween Bundles
Another great way to attract customers is by offering Halloween-themed product bundles. For example, if you sell cosmetics, you could create a bundle with Halloween-inspired makeup products. If you run an online clothing store, consider assembling a bundle with costumes and accessories. Combining related items into bundles provides value to your customers and increases the average order value.
4. Run Halloween Contests or Giveaways
Engage your audience by hosting Halloween-themed contests or giveaways on your website. Encourage participants to share their Halloween-related stories, costumes, or artwork to win a prize. This will generate excitement among your existing customers and attract new ones through social media shares and word-of-mouth.
5. Create Halloween Landing Pages
Design dedicated landing pages that showcase your Halloween promotions and products. These pages can include product descriptions, images, customer reviews, and any other information that helps potential customers decide. Optimize these landing pages for search engines by including relevant keywords and meta tags to increase their visibility.
6. Add Halloween-Inspired Content
In addition to revamping your website's design, create Halloween-themed blog posts, videos, or podcasts to engage your audience. Share DIY costume ideas, spooky stories, or Halloween recipes relevant to your business. This content entertains your visitors and positions your brand as a go-to resource for all things Halloween.
7. Collaborate with Influencers
Partner with influencers or bloggers with a strong presence in the Halloween niche. They can help promote your business and its Halloween offers to their audience, increasing your reach and credibility. Collaborate on content such as reviews, tutorials, or haul videos that feature your products and provide value to their followers.
8. Leverage Social Media
Promote your Halloween offers on social media platforms like Facebook, Instagram, Twitter, and Pinterest. Create eye-catching visuals and use relevant hashtags to reach a wider audience. Encourage user-generated content by asking your followers to share their Halloween experiences or tag your brand in their posts.
9. Optimize for Mobile
Remember to optimize your website for mobile devices, as more and more people use their smartphones and tablets for online shopping. Ensure your website is mobile-friendly, loads quickly, and offers a seamless user experience across different devices. This will help you reach a larger audience and increase your chances of making sales.
10. Analyze and Adapt
After implementing your Halloween business ideas, analyze the results to see what worked and what didn't. Monitor website traffic, conversion rates, and customer feedback to gain insights into customers' preferences and behaviors. Use this information to make data-driven decisions and refine your strategies for future Halloween marketing campaigns.
Conclusion
Transforming your website with Halloween-themed discounts and promotions is a great way to attract more customers and boost your sales during this festive season. By implementing these Halloween business ideas, you can create a memorable online experience for your audience and position your brand as a go-to destination for Halloween shopping. Embrace the Halloween spirit, get creative, and watch your website conversions soar. Happy haunting!
If you are looking for professional website transformation, especially a custom website launch, IT Monks web design agency is always ready to help. With our expertise and creativity, we can bring your business ideas to life and create a website that truly stands out. Contact IT Monks today to discuss the details of your business's projects and take your website to the next level. Take advantage of the opportunity to make this Halloween season unforgettable for your customers.