How to Reduce WooCommerce Shopping Cart Abandonment
Cart abandonment is common for eCommerce businesses. Why do customers add items to their shopping carts and leave without placing an order? This article discusses why online shoppers abandon shopping carts and what steps businesses should take to reduce WooCommerce shopping cart abandonment.
Why Should You Care about Shopping Cart Abandonment?
An abandoned shopping cart equals a loss of potential revenue. The higher the shopping cart abandonment rate, the bigger your eCommerce business loses. According to the FinancesOnline report, abandoned shopping carts resulted in $4.6 trillion in lost income among online retailers worldwide in 2021. Of these retailers, eCommerce brands lost $18 billion.
Statista learned customers' shopping behavior and noticed a significant spike in shopping cart abandonment rates between 2006 and 2020 – from 59.8% to 69.7%.
Considering these figures, it's clear that shopping cart abandonment significantly reduces the revenue rates of eCommerce businesses. Suppose you want to ensure your online store won't experience issues caused by the abandoned cart during this busy shopping season. In that case, you should know why customers abandon shopping carts and what steps you should take to minimize WooCommerce shopping cart abandonment rates.
Why Online Shoppers Abandon Carts
Reasons differ. The good news is that eCommerce websites can control most factors influencing customers' behavior. For example, a user may be just window shopping, accidentally closing the browser window, or simply getting distracted by a phone call or something else. Identifying the key reasons for WooCommerce shopping cart abandonment allows you to minimize them and welcome more users to finish their browsing session with a purchase.
Having examined data from real WooCommerce stores, we've compiled a list of the major reasons for WooCommerce shopping cart abandonment. Let's check them out.
Unexpected Extra Charges
Money always matters. It's the major factor affecting customers' buying decisions. An average customer compares several products before making the final choice. Suppose a customer selects a product or service that meets their financial expectations and suddenly notices additional charges will be applied to their order (which do not match their budget). In that case, they are very likely to abandon the shopping cart. What extra charges are we talking about? It includes shipping costs, taxes, international customs duty, etc.
The best way to prevent this is to be 100% honest with your clients and speak about all extra charges that can be added to their order somewhere in the shipping policy or other pages of your website.
No Guest Checkout
The most common mistake many eCommerce mistakes make is asking users to sign up to place an order. Forcing users to create an account is an extra step in the checkout process. Many simply want to make their first-time purchase without registration.
Strictly 24% of cart abandonments occur because no guest checkout is available. Fixing this issue lets you significantly improve conversion rates on your website.
Unoptimized eCommerce Checkout
A modern user is always in a hurry. When it comes to online shopping, they need to find the needed items as soon as possible and complete the checkout with a few clicks. One of the major reasons for WooCommerce shopping cart abandonment is the checkout process that takes too long to complete. A lengthy and complicated checkout containing many unnecessary details makes customers less likely to follow through.
Payment Security
Security concerns also play a significant role in customers' decision-making. Suppose an eCommerce website lacks an SSL certificate, contains evident design flaws, low-quality images, or has an outdated design layout. In that case, users will likely find it difficult to trust your brand.
Shipping-Related Issues
Shipping has always been a significant concern in eCommerce. Limited shipping methods and slow or expensive delivery play a major role in cart abandonment. Companies can easily reduce WooCommerce shopping cart abandonment while offering fast delivery and shipping costs at the bare minimum.
Website Performance
Website performance issues will make customers think twice before completing the order. You must pay special attention to the checkout page code and loading speed. It's also a good idea to check out what competitors offer.
Now that we have discussed the major reasons for WooCommerce shopping cart abandonment let's consider several actionable tips on minimizing shopping cart problems and reducing cart abandonment rates.
How to Reduce Cart Abandonment
Earlier in this post, we highlighted some recommendations for reducing shopping cart abandonment. Let's now focus on several other simple tips on how to reduce shopping cart abandonment during the busy holiday shopping season, and not only.
Offer a range of payment methods
Offering a variety of payment methods is the factor that helps you close more sales during the busy shopping season. Providing users with a selection of payment methods is a great way to minimize the number of customers who leave without an order. Advertising a quick and effortless checkout is another way to make your brand more recognized and trusted.
Set up cart recovery emails
Email marketing campaigns (and cart recovery emails, in particular) can help businesses remind customers about the items they left in the shopping cart and take users directly to your website and the checkout page.
Let's consider the following example of the shopping cart recovery email sent by the Dote mobile mall.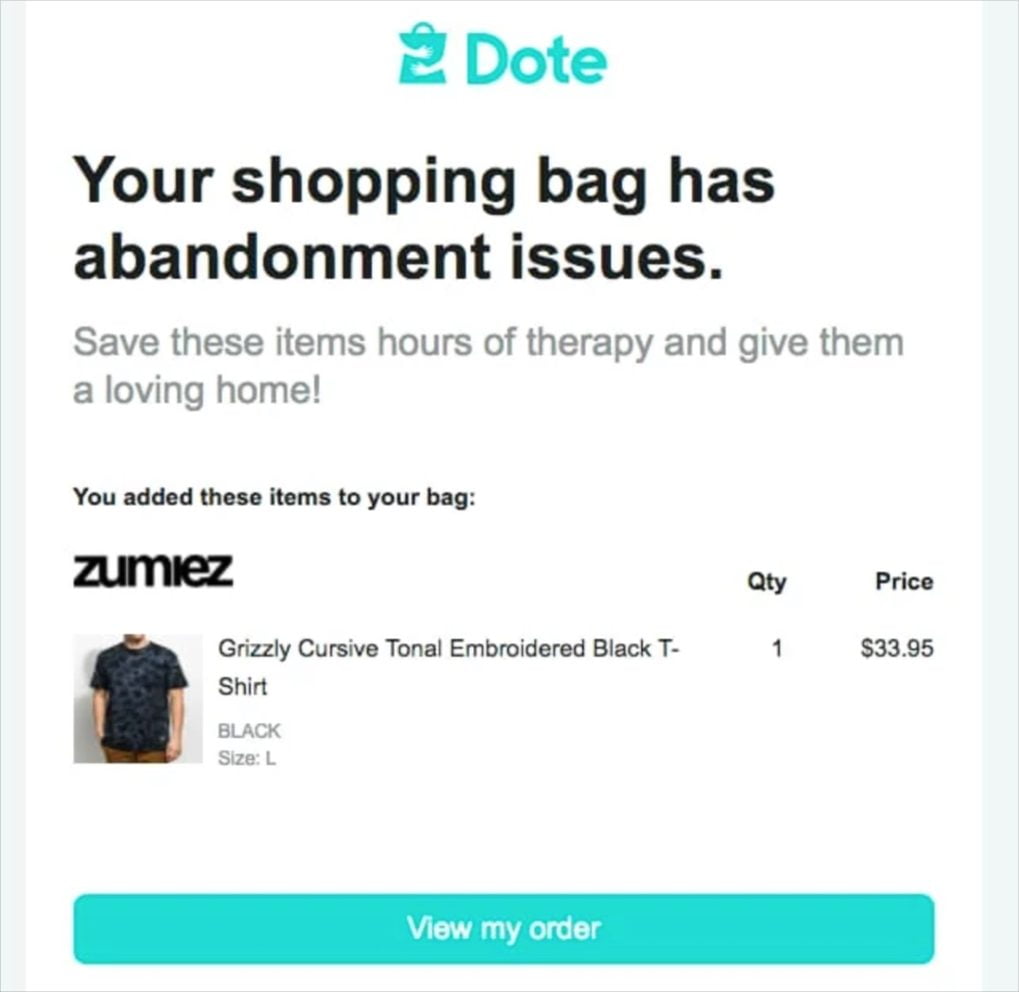 The company chose a humorous approach to writing the email copy and compelled users to return and complete their orders. Remember that texts should align with your brand and appeal to your visitors to become brand enthusiasts so they can continue shopping from your eCommerce website.
Several things make this recovery email an excellent example for your to follow:
Friendly and humorous writing adds an emotional touch to the copy, encouraging users to return to your website and complete an order.
Showing details about the products left in the abandoned cart should remind customers of what captured their attention.
A clear call-to-action leads the customers to the shopping cart to let them complete the order.
In general, the email has a simple and comprehensive design with a clear message that users can follow to complete the purchase.
Optimize your checkout for mobile
Unless your checkout page is optimized for mobile devices, you could notice many cart abandonments from mobile users. Other approaches to minimizing cart abandonment for customers who are on the move include making fields more accessible, keeping the information readable, making further steps in the checkout process more comprehensive to your customers, and minimizing the amount of information you need to capture.
Ensure the payment gateway runs smoothly
Slow and unreliable payment gateways lead to an increased shopping cart abandonment rate. The payment gateway is the heart that pumps money into your business, and you must avoid taking the risk of it running slow or with any errors.
A payment gateway should have as little downtime as possible and 24/7/365 customer support to provide you with qualified help whenever anything goes wrong.
Final thoughts
You should take proper care of the WooCommerce shopping cart abandonment rates all year round, not only when the holiday sales season comes. Ensure that your customers only need to apply a little effort to complete their purchase and nothing distracts them during the process. Also, by showing how much you care about every client, you can significantly increase the sign-up rates on your website, welcoming more users to come to your website to buy your goods over and over again.
Contact
Feel free to reach out! We are excited to begin our collaboration!
Send a Project Brief
Fill out and send a form. Our Advisor Team will contact you promptly!