WeChat & WordPress Integration. Hows and Whys Explained
WeChat is the app that has become a part of the daily life of Chinese people. Like we cannot imagine our life without using Instagram, WeChat is the app that all Chinese people have on their phones. It's clear why! The app is multi-functional and handles everything, from chatting with friends to making payments and managing daily spending, sharing locations, buying tickets, competing with friends while playing video games, and more. What about WeChat & WordPress integration? How much is it relevant to your business? Let's see.
WeChat WordPress Integration – Is It Relevant for Your Site?
If you are looking for a quick answer – it is yes. WeChat is one of the vital elements of your website, especially if you look forward to spreading your business reach and attracting more users. WeChat features many web-based functions, including a web browser, online payment functionality, the Moments feature that works similar to social sharing options and live chat.
WeChat is a multi-functional app that can entertain the web audience and come in handy for business matters. The multi-faceted functionality of the app makes it appealing to a large community of web users. Every customer can find something familiar in the app. So if you want to expand your customer reach, integrating your WordPress site with WeChat is the right way to go. Moreover, if you target the Chinese market, it's indispensable to do WeChat & WordPress integration. Such users will use the WeChat app to visit your site, especially if you post your blog post links to the WeChat platform.
While noting on your website that it is WeChat-friendly, you literally shout out to Chinese businesses and customers that you are open for cooperation. It means that your site supports functionality that is common for WeChat users. It's not a secret that China is one of the major targets for many businesses worldwide. Your site may be written in English, but integrating it with the feature familiar to Chinese customers is always a win-win solution.
WeChat WordPress Integration Suggestions
The first and foremost thing that you should mind before starting the WeChat WordPress integration is that the app has its own native mobile browser. The way your website will be displayed in the WeChat browser may be completely different from how your site was originally designed. The reason is simple – while sharing links to the pages and posts on your site to WeChat groups, people will not leave the app and continue browsing your site in the WeChat mobile web browser interface. To make your site look familiar to your audience, adjusting its visual interface to fit the WeChat browser is a good idea.
There are many ways to use WeChat to the benefit of your brand. The app lets you reach potential Chinese customers interested in your products or services with the help of WeChat Groups and Messaging features.
You can also start accepting WeChat payments on your site using the WeChat pay option. It will be really convenient for users to sign in to your site using the WeChat login option.
Let's go through the major ways of integrating your WordPress site with WeChat.
WeChat Mini Programs for WordPress and WooCommerce
WeChat Mini Programs are "sub-applications" within the WeChat ecosystem. They enable to provide advanced features to users such as e-commerce, task management, coupons, etc. One of the most popular examples of large eCommerce brands using WeChat mini programs is JD.com. The second-largest B2C eCommerce platform in China uses the app to sell directly to the WeChat users without navigating anywhere else.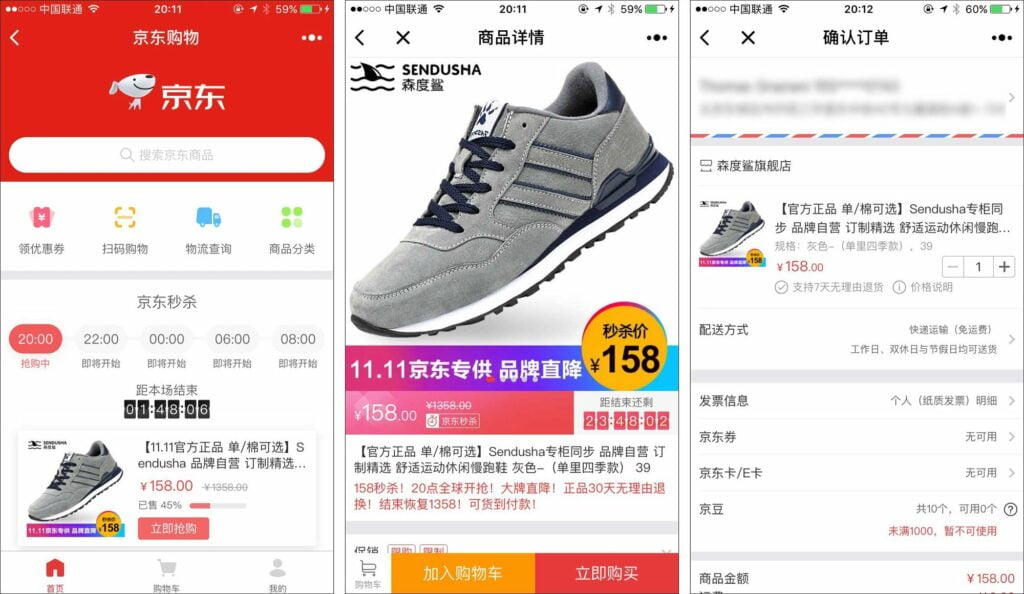 A user should access the WeChat Mini Program to swipe down on WeChat and reach a list of saved or recently used Mini Programs.
Using the WeChat Mini program is a beneficial solution for brands and eCommerce sites looking for an opportunity to market their offers to a wider audience and reach the Chinese market. Creating a WeChat Mini Program for your WordPress site will be quicker and easier when using a dedicated plugin like Mini Program API. To use Mini Programs, your site's REST API should be restructured. The Mini Program API plugin will take care of the restructuration for you. 
One more thing to mind is that you will need an official Account to open your business in the fastest and effortless way. If your business is not based in China, you might be limited in accepting payments because the Mini Programs do not support such transactions.
If you have a Chinese business license and your company can accept payments on your WeChat Official Account, you may consider using the WooCommerce WeChat Mini Program plugin. Check out the following video to see how you can convert your WooCommerce store into the WeChat Mini Program. 
WeChat WordPress Login
The social login option is one of the most preferred functionalities among web users. It makes things easier and faster. When you need to log in to a web resource, you do not need to fill in long and nasty registration forms. You can complete the sign-in with a single click by choosing the preferable social media channel to complete the login.
Integrating your WordPress site with a WeChat Login form is an absolute must-have if you are selling to Chinese customers. It significantly facilitates the sign-in process and makes it more likely that people will stay on your site, check your offers, and place orders.
The WeChat WordPress login integration is made simple using dedicated WordPress plugins. To let your customers log in to your site in seconds, you need to start off by creating a WeChat Official Account. It lets you easily verify your account details using the WeChat API.
Next, you need to install a social login plugin that supports the WeChat Login option. Miniorange WordPress Social Login plugin is one of the most popular solutions for this purpose. It supports a single-sign-on option and lets your customers login with WeChat.
Use the following instructions to set up the Miniorange on your WordPress site.
Step 1: WordPress Wechat Social Login Configuration
To set up Wechat social login, navigate miniOrange Social Login Plugin → click on Wechat Login Icon: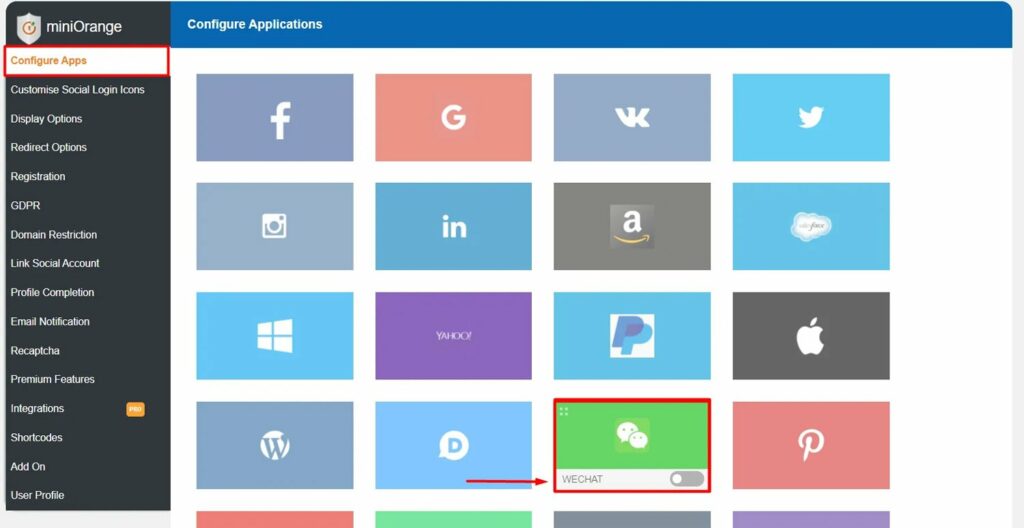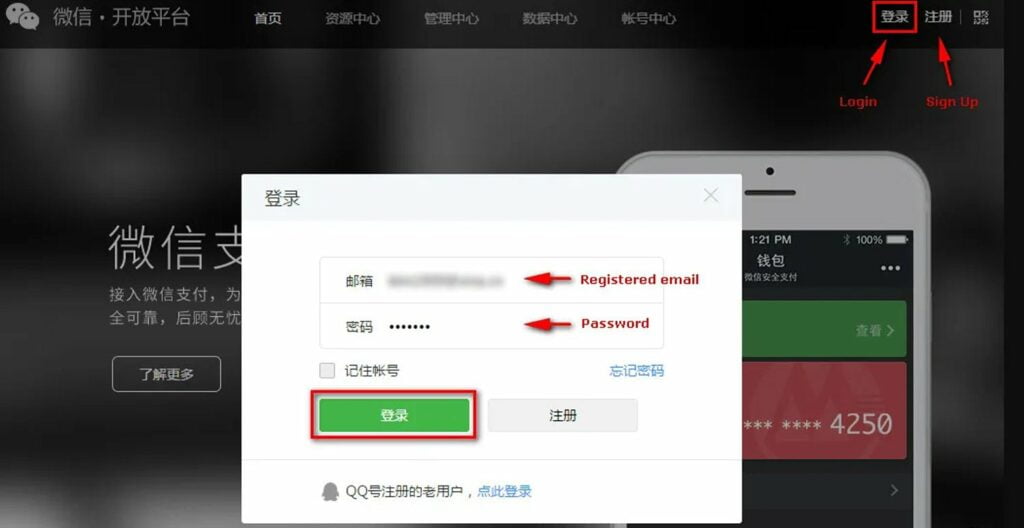 On the Applications page, click "create a new app."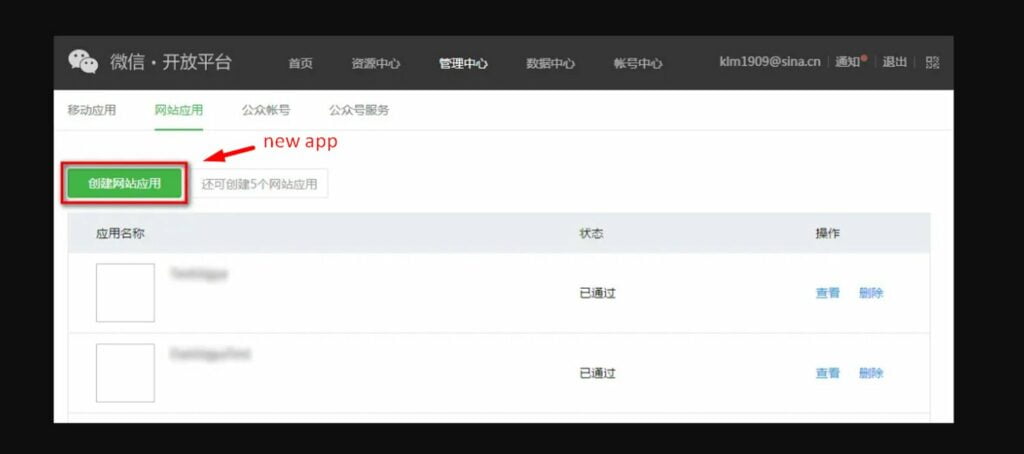 Specify the application name and description and upload two icons sized 28×28 pixels and 108×108 pixels in PNG format, up to 300 KB. When done, click "Next."
Copy and paste the "Authorized Callback URL" in the plugin instructions.
Download the WeChat registration form. Fill in your details and sign.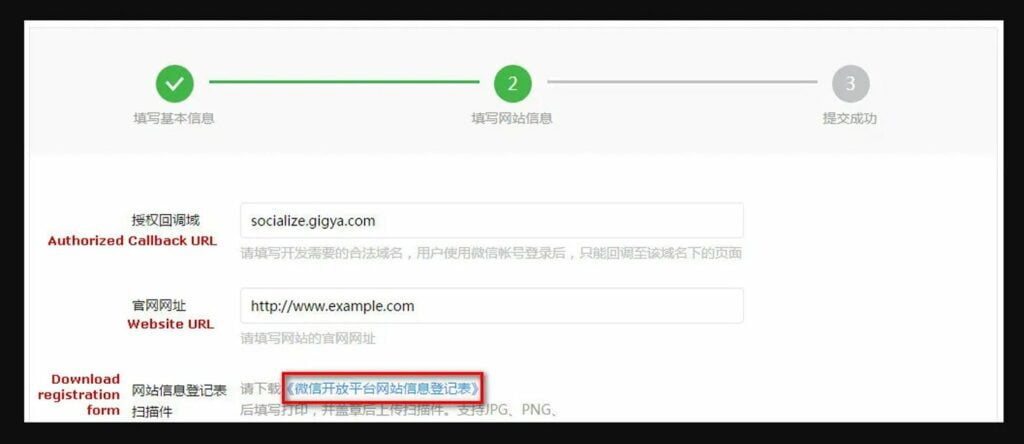 On the application creation page, click "Browse" and add the signed WeChat registration form. Click Submit.

Next Copy the CLIENT ID and CLIENT SECRET from the App Settings and Paste them into the fields above.
Copy your Client ID and Client Secret and save it on your miniOrange Social Login Plugin Configuration.
You have successfully completed your Wechat App configurations.
Step 2: Set credentials
Copy and paste the Client Id and Client Secret into the fields in Instructions.
Then click on Save & Test Configuration button.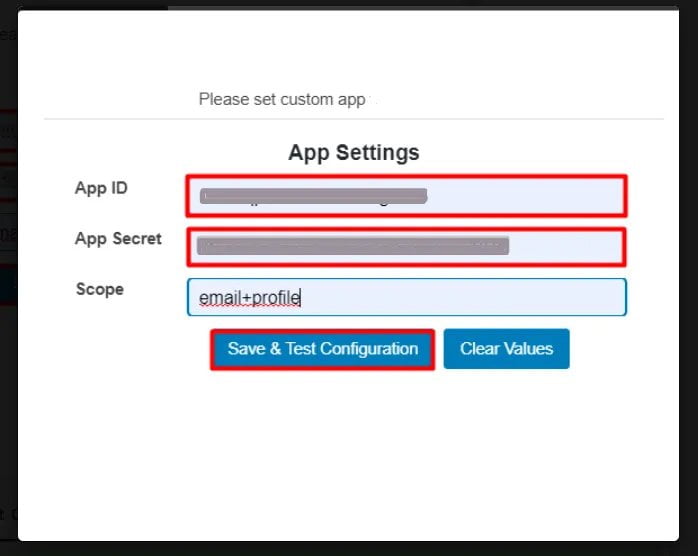 If your custom app is properly set up, you will see a "Succes" notification. Here you will get your ID, username and other Wechat App details.
That's it. You have successfully set up the Miniorange on your WordPress site.
Accepting WeChat Payments
Adding the WeChat Pay option to your WordPress or WooCommerce site is one of the sure-fire ways to appeal to Chinese customers. On WordPress, you can start accepting WeChat payments with Stripe or a Chinese-mainland registered WeChat Official Merchant Account. With this option in place, you can appeal to a wider community of Chisene customers, whether you use WooCommerce, MemberPress, or any other eCommerce solution. For example, if your web store is integrated with Stripe, your checkout flow can generate a WeChat Pay QR Code that WeChat users can scan to complete their payments.
Some time ago, WeChat Pay was used only by Chinese businesses. However, since other popular payment gateways partnered with Tencent, the function became available for international businesses as well. 
If you can register your business in China, you can start accepting WeChat payments with a WeChat Official Account as a Domestic Merchant. To complete the verification, you will need to provide your Chinese business license.
If you can register your business in China, you can accept WeChat Pay payments by creating a WeChat Official Account as a Domestic Merchant. This requires a Chinese business license for verification. Then, you can request WeChat Pay to be activated on your account.
Don't give up if you cannot register your business in China. WeChat lets you create an official overseas account with a non-Chinese entry. It will provide you with a selection of other services that are available for integration. You can also add the China Payments Plugin to your WordPress or WooCommerce site. The extension provides you with an embeddable payment form that lets you accept Chinese customers' WeChat Pay and Alipay payments.
Using Stripe to accept WeChat payments is one of the most popular solutions for non-Chinese businesses. Just ensure that your Stripe account is eligible for WeChat Pay in the Stripe Dashboard.
In a word, to integrate your WordPress site with WeChat Pay, take the following steps:
Install "WeChatPay for WooCommerce" WordPress plugin just like any other WordPress plugin.
Activate.
Setup your weChat application id, merchant id, key, throuth Woocommerce -> Settings -> Payment Gateways -> WeChatPay.
You can apply wechat payment through https://pay.weixin.qq.com/wxzf_guide/index.shtml
If the main currency of your store is not the Chinese Yuan, please also set the exchange rate so that weChat can convert the price to the Chinese Yuan.
WeChat Messaging
As an owner of a WeChat Official Account and certain web development experience, you can integrate your WordPress site with the WeChat Live chat app. Although there are no plugins dedicated to complete this integration, it's a great marketing opportunity for your business. You can send updates and links to your posts/pages in group chats and direct messages. It's a great opportunity to retain customers and target someone new. Depending on your business's goals, the integration makes sit possible for you to drive more traffic to your site and boost conversion rates.
Bottom Line
There is an amazingly wide range of opportunities and tools to market your business to a wider online community and reach more users. WeChat WordPress integration is one of such innovative and useful solutions that make your site more appealing in the Chinese market. It's especially useful for eCommerce projects that want to expand their customer base. Adding WeChat Pay, WeChat Login, WeChat Mini Programs, and communicating with your audience using WeChat live chat are the options that not so many businesses can boast. While integrating any of these into your site, you will definitely stand out from the competition. Take some time to set up everything correctly and enjoy the rewards on your site.