Drive Maximum Revenue with WooCommerce Product Page Optimization
Do you have an idea of how your eCommerce website should be presented? What about product pages? To drive the maximum revenue from your web store, you need to work on WooCommerce product page optimization.
WooCommerce has become the preferred eCommerce tool for many companies worldwide. According to BuiltWith's stats, about 2 million eCommerce websites use WooCommerce checkout, i.e. 12% usage on the entire Internet.
The growing demand for using WooCommerce for online commerce is easy to explain. This is an excellent tool that makes it possible for you to create stunning eCommerce pages quickly. Different from Shopify that requires specific coding skills to be handled, WooCommerce is easy to use. It lets even a beginner create and manage a multi-functional web store without someone else's help.
---
Reveal Product Attributes & Variations
When looking for something online, people run detailed research of the market before deciding to buy a product. Online stores need to pay more attention to how their product pages are organized and how the information is presented. If there aren't enough details displayed on a product page, customers will likely leave for another eCommerce site that offers enough information.
We do not want this to happen on your website. When you add a new product to your web store, make sure that the product features a title, description, categories, tags, and all product details that your customers will look forward to finding on your page. Also, pay attention to the attributes and variations while working on a new WooCommerce product page optimization. The latter two are easy to see in the Product data section of the product page.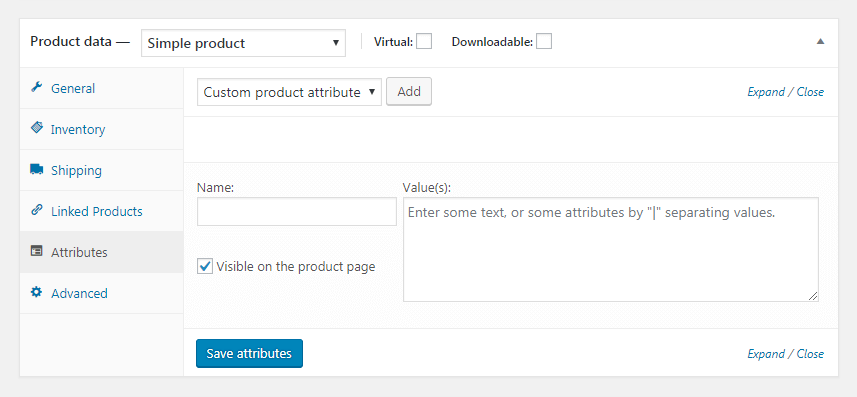 · Product attributes are short descriptions of their primary characteristics (like colors and material).
· Item variations display information about all available colors, forms, or sizes of a specific product.
---
Take Care of Quality Product Images
Looking through the visual content is one of the best ways for your customer to understand if your offer meets his expectations and whether it's the right item he is looking for. Product images are the most crucial deciding factor for a customer. If you want to improve your web store's sales rates, you need to pay special attention to the visual demonstration of your offers.
Product images should let customers view items from different angles. Every product should have the primary photo that will be displayed on the product category page.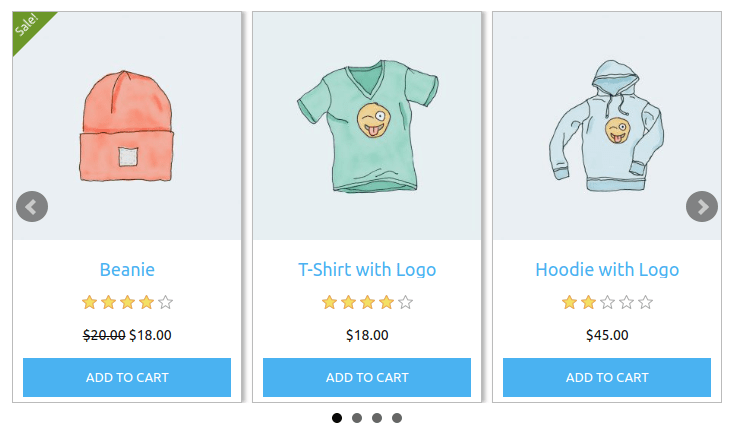 It's always a good idea to display more than one image on the product page. By doing so, you let your customers view your items from different angles and in multiple styles. Using product image galleries, you let your potential customers get a complete idea of your product looks and how it can improve their lives.
---
Write Good Product Description
A good product description should be made of two sections – one short and another more detailed one. The goal of a brief product description is to introduce customers to your offer and capture their attention. The longer section should feature more in-depth information about the items that you sell. The longer section should also provide more relevant facts about the product's description. This is also where you can play with SEO and your WooCommerce product page optimization for better visibility in search engines.
---
Display Related Products
The 'related products' section is one more crucial factor that lets you drive more sales. This is a proven technique for everyone looking to up-sell and cross-sell on the WooCommerce site.
Choosing up to three related items is the optimal choice for companies looking forward to providing buyers with a selection of alternatives based on their search history. WooCommerce also lets you manually create lists of related items for different products sold on your site. You can also try to up-sell and cross-sell to see which technique works best for your audience.
· Up-sell – is the recommendation of items of higher quality and price.
· Cross-sell – is the recommendation of complementary items that customers may be interested in after buying a specific item on your website.
---
Enable Customer Reviews
Displaying user reviews on your product page is one of the best techniques to drive more sales. As a rule, people trust reviews lest by fellow buyers more than the most professional and well-written marketing text. User reviews are influential. They let your potential customers know if the product worked as expected, if buyers had any issues with it, or it completely satisfied their demands.
To enable product reviews in WooCommerce, navigate WooCommerce > Settings > Products. You may check to enable product reviews and star ratings on your product pages. You can also decide what type of users will be allowed to publish product reviews on your website. You can check "verified owners' to post reviews only of logged-in users and those who bought something on your website.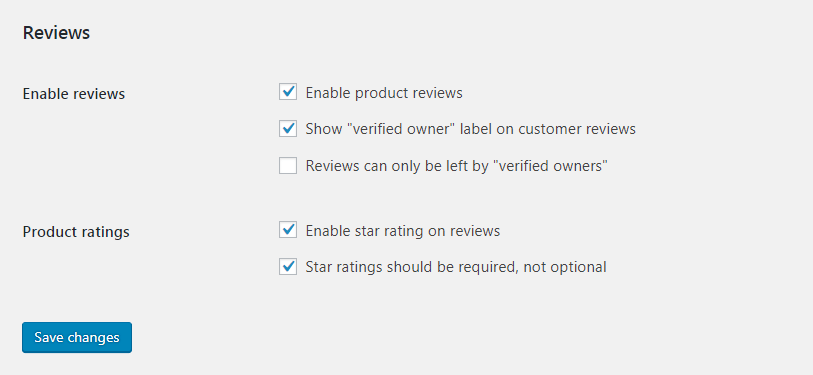 ---
Provide Online Support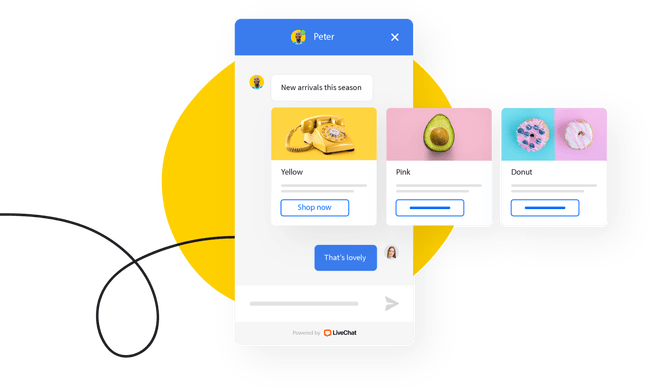 An eCommerce website should feature live chat. When looking through the inventory of items that you sell, you customers may have questions and help in the decision-making. That's you and your team who know your products perfectly and recommend buyers on the best choice. A customer may feel lost and desperate when he or she cannot get hold of your site's features or understand something from the product description text. Your eCommerce website should include the live chat functionality where you can deliver the proper support to keep him with you.
The mistake than many online stores make is featuring contact forms only without including the option for buyers to communicate with your customer support representatives in real-time. It may take some time for you to check the email inbox and reply to every request. Online customers are impatient. They need to get answers to their questions right away. The time they spend waiting for you to reply may cause you a lost opportunity to keep a customer with you.
Many live chat plugins are compatible with WooCommerce:
It's up to you to decide what tool to add to your web store. Before you add a new plugin to your web store, make sure that's regularly updated, safe and reliable. Make sure that it's compatible with your current WooCommerce version and will integrate into your site seamlessly.
---
Payment Gateway Options
Your eCommerce website should offer plenty of payment gateway options. You never know what payment method your customers will choose. So, the more you include in your website, the better it is for your revenue.
There are many reasons why customers leave in the middle of the checkout process. Apart from asking them to fill in long nasty forms, the lack of payment gateways may be one reason why customers decide to leave for a competitor's website.
WooCommerce provides a streamlined checkout process by default, letting customers place orders through PayPal, Stripe, direct bank transfers, and offline payments. However, this is not always enough.This is a good idea to include alternative payment gateway options. The WooCommerce extension store features a selection of 100+ payment gateways. Some of them are free to use. Some others require a one-time payment. Before you choose, research the market to find out what payment gateways other websites in your industry choose.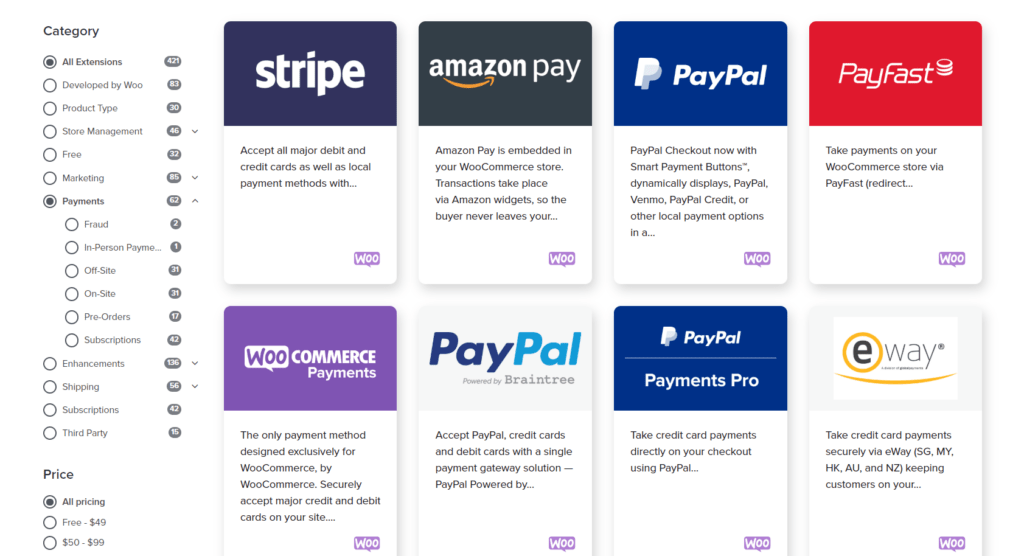 ---
Final Words
WooCommerce is easy-to-use and feature-rich, making it the preferred eCommerce solution for users of all skill levels. However, if you want to run a successful web store, you need to know how to work on WooCommerce product page optimization. Using the tips explained below, you can make the pages of your eCommerce pages more accessible and appealing to potential buyers. Check these strategies in action and let us know your results!