WooCommerce Product Table Plugins to Ease Customers' Purchase Journey
WooCommerce offers many handy features and an impressive interface, making your customers' journey seamless and enjoyable. However, when it comes to improving users' online shopping experience on wholesale stores, WooCommerce might lack the essential features. When a customer already knows the product details and simply wants to add multiple items in varied quantities to the shopping cart, WooCommerce product table plugins come into play. The respective functionality lets you easily create product tables on your e-commerce site, which should significantly facilitate your customers' purchase journey. Which WooCommerce product table plugins are the most useful for your online store? Let's see.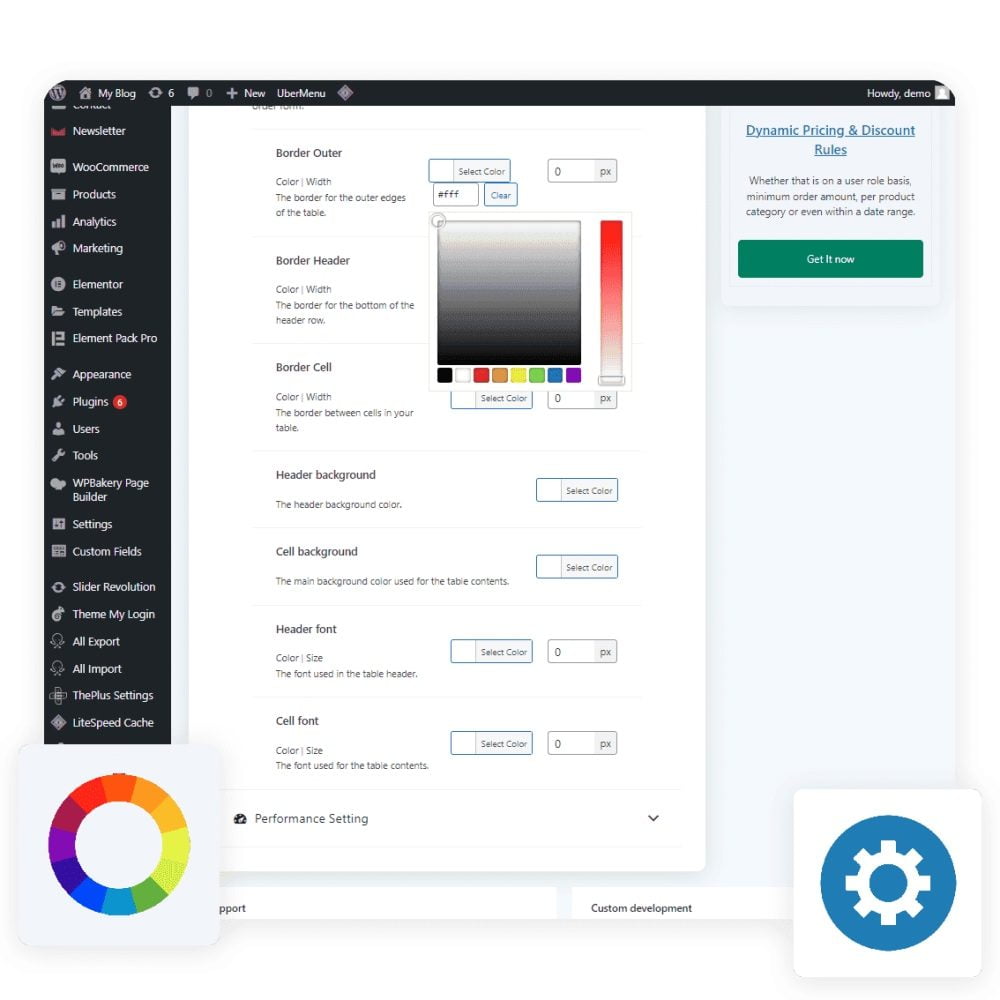 Price: subscriptions start at $8.25 / mo (billed annually)
It's one of the most popular WooCommerce product table plugins. There are many reasons why this plugin should come in handy for you. One of the major reasons WooCommerce Product Table comes first on this list is that it features the drag-and-drop functionality that is quite easy to manage for beginners and those e-commerce website owners who have little to no coding skills. By installing the plugin on your web store, you get your entire product catalog available in a single place.
Create product tables, restaurant menus, or wholesale order forms;
Add an unlimited number of products to product tables;
Create product tables in the drag and drop columns;
Show or hide multiple columns with a click;
Responsive form layout;
Compatibility with Elementor, Advanced Custom Fields, and other popular plugins and themes.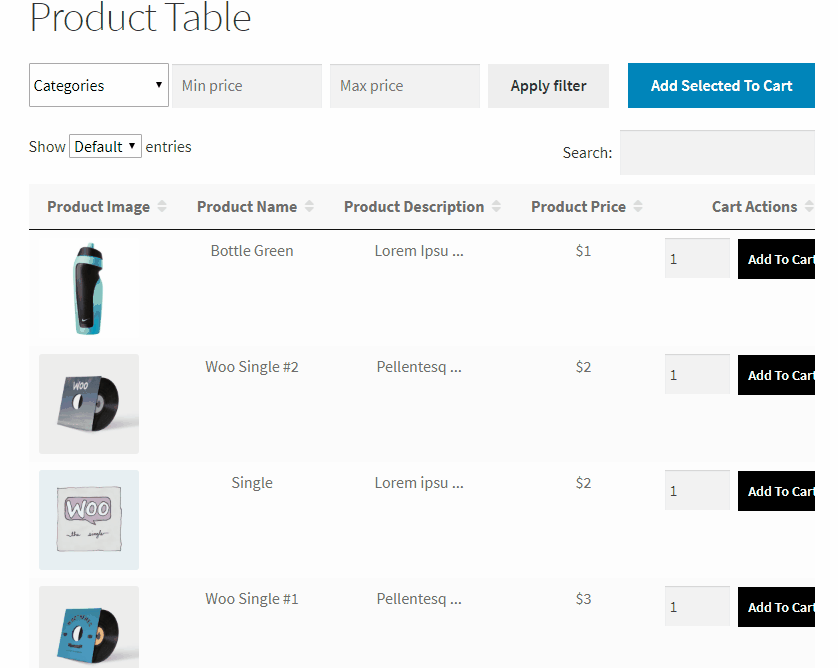 Price: $49
Product Tables for WooCommerce is one of the most comprehensive plugins available in the WooCommerce marketplace. It allows you to selectively include variable products in the product tables on your web store. You also get a bunch of handy customization options, which allow you to modify the table layout and navigation options as per your specific needs. Your customers will be provided with a seamless online shopping experience as they use the advanced product filters provided by the Product Tables for WooCommerce plugin.
Create fully customizable product tables;
Add advanced filters to let customers sort products by categories, price, variation attributes, etc.;
Selectively add products to the product tales;
Provide customers with a one-page checkout experience;
Let customers add multiple products during the checkout;
Display product variations with drop-down menu;
Use shortcodes to display the product tables at different locations on your WooCommerce site.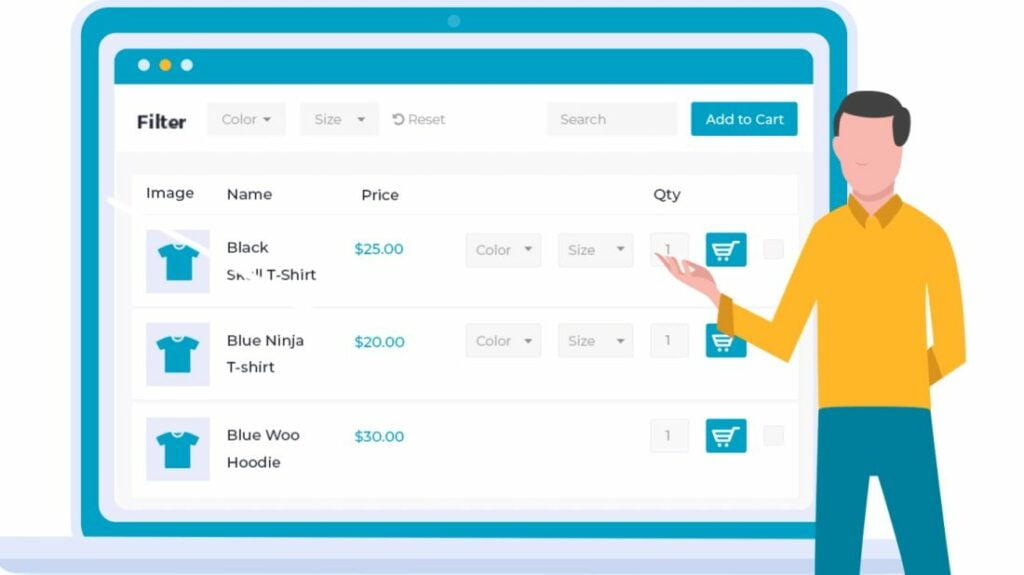 Price: starts at $99 per 1 site
It's one of the most popular WooCommerce product table plugins, with the help of which you can also create customized contact forms. The plugin lets your customers easily search for the needed products and add them to the shopping cart easily from the same product page. The WooCommerce product tables are fully editable and can be placed anywhere on your site. The intuitive and user-friendly interface of the plugin makes it easy for you to adjust product tables in a number of ways.  
Great choice for websites of restaurants, grocery stores, and wholesale stores;
Product tables that let customers order multiple products from a single page;
Use seach and filtering options to let your customers easily find the products they need;
Selectively include or exclude products in the table;
Ajax-based interface lets you list unlimited products in product tables.
​​Price: $49
The plugin lets you create simple yet usable product tables that look great on all screen sizes and devices. Create product tables that feature such options as search fields, sorting, pagination, filters, etc. Using shortcodes, you can display product tables on any page or post on your website. The drag-and-drop interface is pretty easy to manage even if you do not have any advanced coding skills. 
Advanced searching options with categories, tags, etc.;
Determine the pagination when there are multiple pages;
Add custom fields to display additional product information;
Manually choose what products should be displaayed on the table.
Price: $49
The plugin replaces the default select product fields with custom variations. It also lets customers download your product variation information in Excel, CSV, or PDF formats, so that they can use those details later on. When shopping online, customers can add multiple variations to the shopping cart.  
Real-time search filters;
Use data tables to display prodyct variations;
Ajax-based search form;
Multiple customization options.
These are several of the top-trending ​​WooCommerce product table plugins that should help you improve your customers' shopping journey on your e-commerce site. Hopefully, these will fit your online project and help you improve user experience and grow sale rates on your website.