Best Free WordPress Plugins for WooCommerce Shopping Cart
WordPress has evolved into a powerful content management system that lets you do more than only share new articles on your blog. Thanks to the evolution of WooCommerce, a growing number of businesses start running their eCommerce projects on WordPress. What's the main purpose of a web store? It's to promote your offers to sell more items and services to your audience. The best way to drive more sales on your site is by ensuring that you use a simple yet functional WooCommerce shopping cart plugin.
There is a growing number of eCommerce-related WordPress plugins. Today, finding an extension that lets you build an eCommerce site from scratch or integrate your web project with specific functions is no longer an issue. The possibility of adding a fully customized shopping cart is one of such procedures.
Shopping carts are integral parts of eCommerce platforms. The WooCommerce community has made it impressively easy for anyone to get started with conversion-oriented websites. To let you build your online store with WordPress, we offer you to take a look at the following set of WooCommerce shopping cart plugins. Keep on reading to check out some of the best shopping cart plugins that are suited for both large and small businesses. Let's briefly review their main features and help you pick the best extension that will match your eCommerce requirements.
Best WooCommerce Shopping Cart Plugins
As the plugin's name suggests, it adds a button to your site's navigation menu. This free WooCommerce plugin requires no technical or coding skills to be handled. The extension is beginner and user-friendly. There is also a premium version of the plugin available. So, whenever you wish to unlock this WordPress extension's full power, you can always go pro.
Using the free version of the WopCommerce Menu Cart plugin, you can display the cart icon in the menu bar only when there are some items in it. You can also adjust it to remain always accessible while applying the needed changes in CSS. You can also float it left or right, as well as decide if you'd like to show the price or item or both.
Highlighted features:
Display cart icon, or only items/prices;
Display items only, price only, or both;
Display always, or only when there are items in the cart;
Float left, float right, or use your menu's default settings;
Customize your own CSS
Stripe Checkout is a free plugin that is compatible with literally any WordPress website. It's simple and intuitive to use. The plugin doesn't require many efforts to be set up. Once added to your WooCommerce store, it lets you accept credit card payments worry-free. In simple words, Stripe represents a simple payment form that works on all devices, including desktop, tablets, and smartphones.
Installing Stripe Checkout to your WooCommerce site, you get a multi-functional checkout available in 27 most popular languages. The plugin lets you display product images as an overlay, translate them, and connect with the Affiliate WP whenever needed.
Highlighted features:
Display your brand or product image on Stripe Checkout pages;
Option to verify zip/postal code without an address;
Apple Pay & Google Pay support with Stripe Checkout;
PCI DSS compliant and Strong Customer Authentication (SCA) support for improved security;
Translation ready;
AffiliateWP integration;
Custom payment success & failure pages;
Developer-friendly for building custom integrations.
WooCommerce is the ultimate set of eCommerce tools and features that are needed to transform your WordPress site into an online selling platform. This is an open-source plugin supported by a vast community of developers providing insights and fixes to the most common issues.
It's easy to get started with an eCommerce site using the WooCommerce plugin for many reasons. First of all, it runs on top of your current WordPress installation. Once installed and activated, it adds a separate control panel to your website, which lets you keep an eye on your sales and management options for individual products.
The default settings include the possibility of selling multiple items of your web store in physical and digital forms. The WooCommerce plugin also supports memberships, subscriptions, ticket selling, and other types of eCommerce-related purposes.
Highlighted features:
Create beautiful, enticing storefronts with pre-designed themes suited for different topics and industries;
Effortless customization of eCommerce pages;
Compatibility with the leading drag-and-drop page builders for WordPress;
The possibility to choose payment methods;
Configure shipping options;
Rise to top of search results with advanced SEO tools.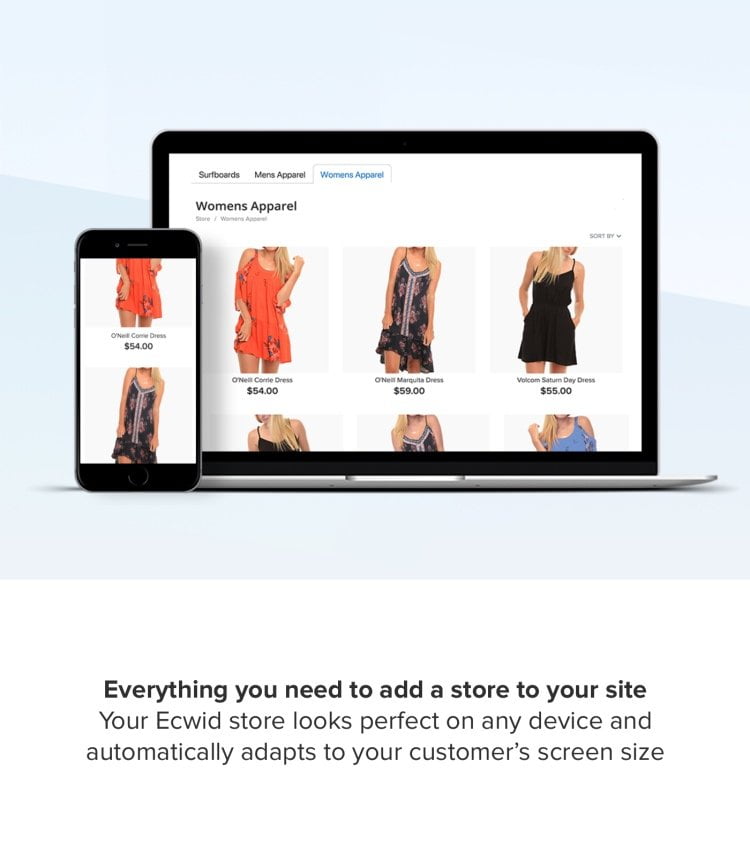 It's one of the most popular eCommerce solutions for WordPress. To get started with it, you can either use the Ecwid website to create a separate eCommerce website or install the plugin on your current project and import all Ecwid features directly to it. Using the drag-and-drop features, you can control the customization of the shopping cart and the entire shopping experience in a fun and easy way.
The plugin integrated with all the major carriers, including USPS, UPS, FedEx, Canada Post, Australia Post, etc. When a customer fills in the shipping details, it automatically calculates the shipping rates and taxes. There are more than 30 payment gateways included.
Highlighted features:
The options to sell on Facebook and Instagram;
eCommerce mobile apps;
Unlimited storage and automatic backups;
Mobile responsive design;
Reliable support;
Regular updates, etc.
If you sell digital goods, then Easy Digital Downloads plugin is a must-have for you. It is easily integrated with such payment systems as PayPal, Stripe, and Amazon Payments. It lets everyone easily sell such digital items as eBooks, courses services, or other services of their own choice.
Integrating your web store with this plugin lets your customers quickly access their purchase history and grab the preferred items whenever they want. The plugin also lets sellers create custom product bundles and sell them at a special price to boost sales and customer engagement.
Highlighted features:
Users can browse your product catalog, add items to their cart, and checkout when they are ready;
Flexible and clean checkout form;
Detailed eCommerce reports – Keep track of your earnings, refunds, sales, and more.
Prevent unauthorized users to access your product files without completing an order;
Offer potential customers coupon or discount codes that can be applied during the checkout;
Compatibility with any theme, etc.
If you run a WordPress blog and look for a chance to convert it into a fully-fledged web store, then the WordPress Simple PayPal Shopping Cart plugin will be the best choice for you. With its help, you can add Buy Now buttons to your products within WordPress posts and pages. The plugin gives the freedom to decide how you'd like to sell products and services on your site.
Once you install and activate the plugin, you can use the control panel to create new products and get a shortcode for each of them. Later on, you can add these shortcodes to your blog posts, pages, and widgetized areas on your site.
All functionality that you create with the plugin will be accessible to users across all mobile and desktop devices.
Highlighted features:
Add dynamic "add to cart" button in your theme;
Sell any kind of tangible products and services from your site;
Sell any type of media file that you upload to your WordPress site;
Use a shortcode to reveal a nicely formatted product display box;
You can use PayPal sandbox to do testing if needed, etc.
WP EasyCart is an all-in-one eCommerce solution for your WordPress blog. The plugin will work well for websites selling physical and digital products, along with freebies, etc. It's mobile-friendly, making the offers of your website available to customers on desktop and handheld devices.
The plugin contains lots of features suited for WordPress-based stores. For example, it includes built-in payment gateways of the most popular payment systems. Thanks to the plugin's localization options, you can configure each language to allocate payment gateways, currency, tax options for different countries. The plugin is integrated with Google Analytics that lets you track sales and customers' behavior on your web store.
Highlighted features:
PayPal Express, Square, and Stripe payment options;
Shipping features: USPS, FedEx, and UPS.
comes with extensive table rate shipping for price, weight, quantity and percentage based systems;
Print sales receipts & packaging slips, add shipping notes, email customers, and view order information in one easy location;
SEO editing for every product, menu and category you create, etc.
The free plugin integrates seamlessly with WooCommerce. Once you install and activate it on your website, the shopping cart button will appear in the navigation bar. As for its core feature, WP Menu Cart displays a cart icon, which can feature the price and the items, or both. Using the settings menu, you can adjust to make the cart visible all the time or only when there are items added to the shopping cart.
Highlighted features:
Display cart icon, or only items/prices.
Display only items or price, or both.
Always display the cart or only when there are items inside of it;
Float left, float right, or use your menu's default settings.
Customize your own CSS.
When you'd like to integrate your WooCommerce site with the option to complete payments with Square, the WP Easy Pay WordPress plugin is the way to go. It's a free extension that is easy to work with. Your customers will be able to complete payments with a few clicks of a button. The plugin features all the presets needed to simplify placing the order on your web platform. Besides, it includes a series of additional features like sending a notification email to your site's admin after a customer successfully places an order.
There is also a premium version of the plugin available. You can always upgrade to the paid plan when you need more features and tools.
Highlighted features:
The option to complete simple payments with a click;
The option to collect donation payments easily;
Collect fixed amount of payments for services or single products.
Collect custom payment amounts from clients;
Use a shortcode to add a payment form on your web page, etc.
The plugin is intended to help online businesses feel the ease of selling digital items. It's the ultimate choice for web projects promoting online courses and exclusive premium content. The LaterPay plugin lets you easily integrate the LaterPay products using a simple and convenient dashboard to reach right after the installation and activation. As the plugin's name suggests, its main goal is to let WordPress bloggers sell their content where customers pay later or as they go. Using the settings menu, you can decide when and how a reader should pay for consuming your data. You can charge them based on the length of posts, the number of posts read, etc.
Highlighted features:
Single post sales;
Timed access;
Subscriptions and contributions;
Charging for downloadable content (pdf, video, music, galleries)
Customizable and dynamic pricing;
Pay now and pay later options, etc.
If you choose PayPal to receive payments from customers, then PayPal Shopping Cart plugin is a must-have tool for you. It's a free WordPress extension that lets you integrate your website with the add-to-cart button or place the view cart option anywhere on your site. The plugin features advanced customization options that let you select the PayPal button style, the way how the PayPal window will open, etc.
Highlighted features:
Compatibility with any WordPress Theme;
Supports 18 languages;
Supports 25 currencies;
Includes PayPal testing through SandBox;
The option to select from two different PayPal button styles;
Choose the URL of your shop, successful payment, URL, and cancel payment URL.
The plugin comes last on this list, but it's not the least impressive WordPress extension that we've discussed on this list. The plugin lets you recover abandoned shopping carts on your WooCommerce store. The free plugin provides many useful tools and features that let you avoid as many abandoned shopping carts as possible. It also lets you make use of email marketing. The plugin will send automatic abandoned shopping cart notifications to your clients. There are many reasons why people forget to immediately complete the order on your site. Using the customized email designs, you can welcome your potential customers following your abandoned cart instructions.
Highlighted features:
The option to let customers recover abandoned carts with a click;
Identify the Abandoned Orders information;
The option to capture abandoned guest carts on the Checkout Page;
Track and compare values of abandoned and recovered orders;
The option to create unlimited email templates that you send at the set intervals after the shopping cart is abandoned, etc.
Bottom Line
Making it easy and intuitive for your customers to use the shopping cart automatically increases the chances that more browsing sessions will end up with purchases. Using the free shopping cart plugins from this list, you can boost your site's usability and grow your brand's profit. Feel free to try how the preferred plugins work on your web store. Most of them also include premium plans. So, you can upgrade whenever you need more tools for advanced shopping on your site.