Hosting Online Events with WordPress Webinar Plugins
The Covid pandemic and the growing trend of working remotely have brought many changes to how we live and work. Many businesses have started to adopt online video conferences as an opportunity for remote workers to attend meaningful events regardless of their geographic location. There are many video conferencing platforms and apps that companies can adopt. However, things get a little more complicated when you need to host online events on your website. This is when WordPress webinar plugins may come in handy.
In most cases, webinars are held for educational purposes. However, speakers often want to invite their audience to collaborate and ask questions or share their opinion as they talk. It's a smart decision to look for WordPress webinar plugins that invite visitors to participate in the storytelling. Luckily, there are many free and premium extensions letting companies interact with the audience. Some plugins even come with built-in analytics, which lets them evaluate the success of their online events.
Let's take a look at the best WordPress webinar plugins that your company can use to host online events.
Best WordPress Webinar Plugins
We will look through the five most popular WordPress webinar plugins offering special features that match different budgets and goals. Let's dive in.
Pricing: Free. If you wish to integrate the plugin with WooCommerce, you should get a premium add-on priced at $34.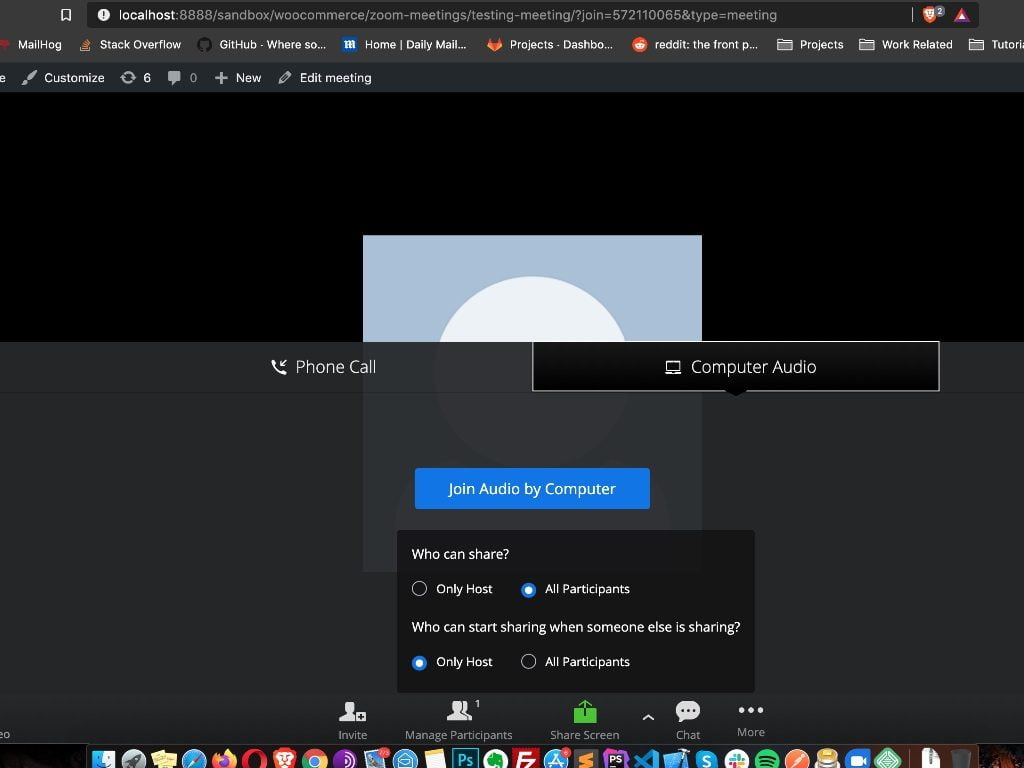 Zoom is one of the leading video conferencing apps that gained the biggest demand during the pandemic. If we check out the stats, in April 2020, Zoom announced the milestone of 300 million daily meeting participants. Today, there are over 3.3 trillion annual meeting minutes recorded worldwide. The company's market cap now exceeds $75 billion. 
Considering the impressive demand in using Zoom for webinars and video conferences, it's logical to assume that companies may desire to integrate their WordPress sites with this tool. Video Conferencing with Zoom lets you manage conferences, meetings, and attendees right from your WordPress dashboard. 
The plugin makes it easy for you to set up a new event by simply adding a shortcode on any page or post on your site.
The plugin seamlessly integrates with WooCommerce, which lets you start selling tickets to your virtual meetings, conferences, and webinars.
Main features of the Video Conferencing with Zoom plugin include:
Display Webinars via Shortcode;
Link WordPress posts to Live Zoom meetings and Zoom Webinars;
Create Recurring meetings and Webinars;
Enable registrations;
Webhooks;
Override single and archive page templates via your theme;
Start Links for post authors;
Add a CountDown timer to the Meeting that shows on the individual meeting page;
Start time and join links are shown according to local time compared with zoom timezone;
Show user recordings based on Zoom Account.
---
Pricing: Free. The Pro version costs $197/year. If you upgrade to the pro version of the plugin, you will get additional recording options, webinar automation, monetization tools, etc.
The WordPress webinar plugin can be a great alternative to Zoom. It's a simple solution that enables you to host live webinars or pre-recorded via video streaming services such as Vimeo or YouTube. In case users who subscribed to the webinar miss it for some reason, they can access replays whenever they wish.
By installing the plugin on your site, you will get access to a series of ready-made responsive templates so that your audience can join webinars, conferences, and meetings from any handheld or desktop device. Using a dedicated chat feature, your customers can interact with you and ask questions as the webinar goes on.
Due to the plugin's compatibility with GDPR, you can collect your customers' email addresses and personal details without breaking the law.
Main features of the WebinarPress plugin include:
Let your attendees ask questions and answer them during the webinar;
Fully responsive pages let your visitors attend webinars from any device;
Collect attendees' names and email addresses and import them into your third party email provider;
Fully customizable email reminders;
Set up replays, so attendees who missed the timeslot get a second chance.
---
Pricing: premium pricing plans start at $59/mo for the Standard package for up to 100 live attendees.
Besides the functionality letting you host meetings and webinars on your WordPress site, the plugin also includes several powerful marketing features enabling you to promote your webinar and drive conversions. The plugin seamlessly integrates with many CRM and marketing tools, including Active Campaign, ConvertKit, Mailchimp, Drip, etc.
The plugin's developers warn about the possibility of conflict with other tools and themes installed on your WordPress site. The developer recommends setting up a subdomain with a barebones WordPress installation for your events to avoid conflicts.
However, EasyWebinar could still be worth considering if you're looking for a streamlined business platform rather than a simple video conference tool.
Main features of the Easy Webinar plugin include:
Real-Time Chat;
True Voice audio technology;
You can have up to 4 presenters in a live webinar;
File and screen sharing options;
Interactive tools;
Simultaneous live streaming on multiple social media platforms;
Email notifications;
Real-time offers.
---
Pricing: Free. You may also upgrade to the Pro version if you need more monetization and integration features. The Pro license of the plugin costs $59.
WP GoToWebinar is a simple WordPress webinar plugin, which enables you to display upcoming webinars in a table, calendar, or widget while integrating your site with your GoToWebinar account using a shortcode. The plugin lets you display upcoming webinars in any post or page of your site. The plugin also enables you to customize details of the registration pages, create success and error pages.
The plugin is mobile-friendly. It supports smart caching, which ensures that integrating your site with webinars, conferences, and meetings won't slow down your site.
Main features of the WP GoToWebinar include:
Integrate webinars using shortcodes;
Adjust shortcode parameters to only display webinars that meet certain requirements;
Integration with many popular CRM platforms;
Live countdown for your site's toolbar;
Upcoming Webinars widget to display in your sidebar.
---
Pricing: Free. The cost of the Pro version starts at $69/year.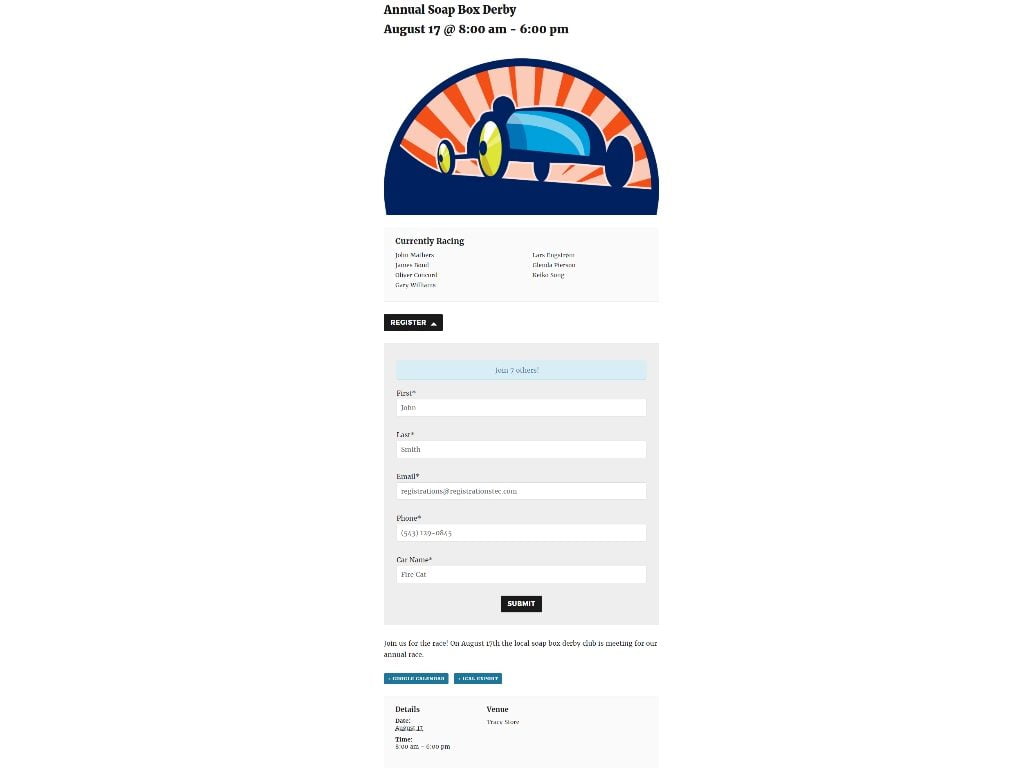 Whatever event you hold, you need to handle the registration of attendees. Registrations for the Events Calendar plugin makes managing event registrations easy and worry-free. It lets you collect and manage registrations to online events using customizable forms and email templates. To set up the plugin and make it work properly on your site, you should install the Events Calendar's parent plugin. It's easy-to-use and enables even non-techies to start collecting registrations in minutes.
Main features of the Registrations for the Events Calendar plugin include:
It's a useful solution for simple class management, sports club registration, venue booking, virtual events, private instructor booking, and other purposes;
You can save entries in a database table for easy event registration management;
Add as many text fields as you'd like to the event registration form;
Choose how the form displays;
Limit the number of registrations per event and more handy features.
Whether you run an educational website or look forward to increasing your brand awareness, or training your remote team, hosting online events is an effective idea. Using WordPress webinar plugins from this collection, you can get started easily and boost your interaction with the audience just the way you like.