Ecwid vs WooCommerce: What's Better for WordPress eCommerce?
Gone are those days when WordPress was used only for blogging purposes. In the modern world, a growing number of businesses rely on WordPress for building eCommerce stores. In most cases, that's WooCommerce that is mentioned in most recommendations for building web stores. However, Ecwid is a handy alternative that offers many features you cannot find in WooCommerce. Both solutions are great. However, which one is the best choice for building a competitive eCommerce site? Let's find it out in today's Ecwid vs WooCommerce review.
Ecwid vs WooCommerce: Core Differences
To begin with, let's consider the definitions and the main characteristics that differ Ecwid and WooCommerce.
WooCommerce is a free WordPress eCommerce plugin that lets you turn your WordPress site into a fully-featured online store. It's the ultimate choice for those businesses that already have WordPress sites but look forward to enhancing them with the online store functionality. WooCommerce works only on WordPress sites.
Ecwid is a free eCommerce platform that lets you start selling on WordPress, Facebook, Amazon, etc. It's a great choice for businesses looking forward to expanding their online reach. Besides selling on WordPress, Ecwid lets you sell on multiple other channels. It is also compatible with different site builders, not only WordPress.
Ecwid vs WooCommerce: Features Comparison
Generally speaking, Ecwid and WooCommerce share some common features. However, there are some core differences between the two that are worth highlighting in this comparison.
| | |
| --- | --- |
| Ecwid | WooCommerce |
| Direct integration with WordPress, social media sites, and other website builders. | Full integration with WordPress. |
| You need to use a separate dashboard to manage your online store. It offers powerful eCommerce tools. If you integrate Ecwid with WordPress, you should get ready to manage two dashboards. | It runs on your WordPress site. There is no need to use a separate dashboard. |
| You can access themes and extensions, though they are not as multiple as WordPress provides. | There is a countless range of themes and extensions. |
| With the right pricing plan, Ecwid supports an unlimited number of products. | Support for unlimited products. |
| Adjust such product settings as variants, filters, and custom shipping rates. | Product ratings and reviews. |
| Full inventory and order management. | Inventory and order management |
| A complete email marketing system and other automated emails for things like abandoned carts. | Automated shop emails with built-in templates. |
| Offers handy marketing tools for selling on social media, listing on search engines, sending coupons, and SEO. | Comes integrated with such marketing features like SEO, coupons, and related products. |
| Stats and reports, supporting social pixels and Google Analytics. | Detailed reports to see sales and trends. |
| 40+ payment gateways support. | 400+ payment gateways and recurring payments support. |
Based on this comparison, we can conclude that Ecwid is more focused on eCommerce and provides you with many essential tools out of the box. WooCommerce also supports most of the eCommerce elements that Ecwid provides. However, it also requires you to install extensions, some of which are free, and others are paid.
Usability
It may be difficult to compare Ecwid vs WooCommerce usability since the two have different setups. While Ecwid is a standalone fully-featured WooCommerce platform that integrates with WordPress and other websites, it has a major downside of making you use two dashboards to manage your web store.
WooCommerce is located on WordPress, allowing you to manage your web store from the same dashboard where other site elements are located. However, if you need to add more functionality to your site, WooCommerce suggests that you buy/download and install the needed extensions on your own.
Themes & Extensions
As we've already mentioned, Ecwid offers a full pack of the needed themes and extensions suited for eCommerce purposes. WooCommerce provides you with a wide range of themes and extensions that you can install on your website for free or at a fee.
Ecwid offers an app market to install extensions suited for such purposes as marketing, advertising, and accounting. However, the selection is not as diverse as the one provided by WooCommerce.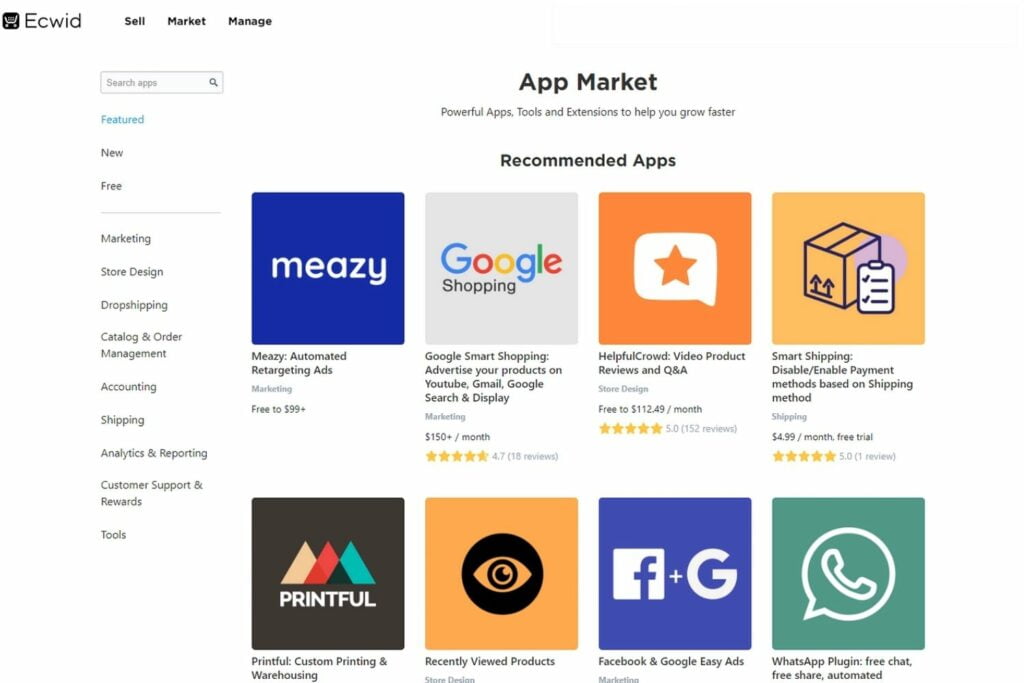 WooCommerce users get access to thousands of themes, plugins, and extensions available for download from the WooCommerce extensions store or any third-party developer of the respective functionality for WooCommerce.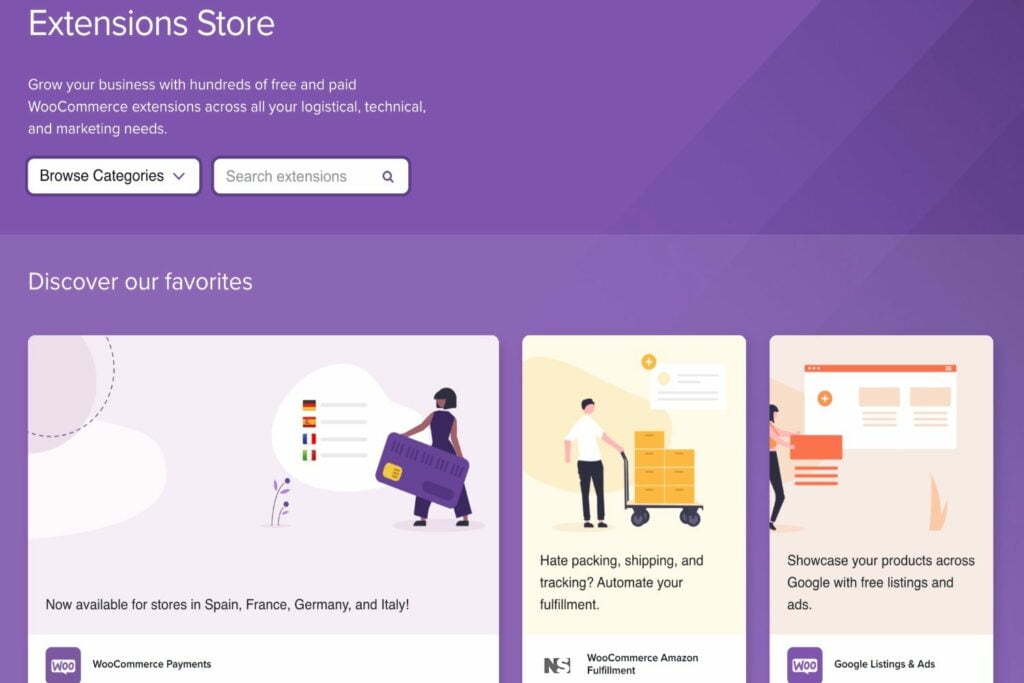 Pricing
Both Ecwid and WooCommerce can be used for free, though with certain limitations.
Ecwid has a free plan that lets you access only basic online store features that you can use on WordPress or site builder. The free Ecwid plan supports only 10 products and gives you access to social advertising, gift cards, and more.
The functionality of the free Ecwid plan is rather limited. That's why it's recommended to upgrade to one of the premium plans starting at $15/mo for professional use and support for 100 products. T here is also an unlimited plan for $99/mo available. The plan supports an unlimited number of products and access to tools like your own branded app, priority support, and more.
WooCommerce is free to download and provides supports for an unlimited number of products. However, you should be ready to install premium plugins and extensions, the cost of which varies from $50 to $200 each.
Bottom Line
Choosing the best eCommerce solution for your WordPress site depends on your goals and your project's budget. WooCommerce is a perfect solution for larger stores but with a limited budget. Ecwid would be a better choice for fully-fledged web stores that run on WordPress, social media platforms, and site builders. If you need a feature-rich solution for selling on other platforms rather than WordPress, Exwid would be the right choice for you. If you want to manage your web store from your WordPress dashboard, opt for WooCommerce.