Top Reasons to Keep WordPress Website Updated
Suppose you ask an expert WordPress webmaster about the best practices to maintain a WordPress website and improve its usability. In that case, you will hear regular updates as the critical element that brings your website to success. It's vital to update your WordPress core, plugins, and themes. The web is changing every day, so does the software and extensions you use on your site. As a rule, developers of premium WordPress themes and plugins release regular updates to make your web project competitive and meet the latest web standards. What's the reason to keep WordPress website updated? How to update your WordPress core, themes, and extensions? Let's see. 
Reasons to Keep WordPress Website Updated
Better Security
One of the first reasons to keep WordPress website updated is installing WordPress core updates. As soon as an increased number of WordPress sites being released in the community, there is a growing risk of malware attacks and security breaches taking place in the field. To make your website resistant to vulnerabilities and strengthen against hacking attacks, it's essential to install updates to WordPress core, plugins, and themes that are installed on your website.
According to the stats released by WPBeginner, 83% of hacked websites haven't been updated. Outdated versions of WordPress core make thousands of blogs open to being hacked. When malicious parties learn about a new WordPress vulnerability, they start exploiting it and make attempts to leak some data or add malicious code to your site. So, whenever you learn about a new WordPress update hitting the community, update as soon as possible to ensure that your site isn't vulnerable.
Not all WordPress releases include security patches. You can always check the changelog to see what's new. If there is no security fixes included, then it's not critical to install the update ASAP. It's fine to wait for a couple of days to install the updated WordPress version on your site.
New Features and Improvements
WordPress is constantly developing and improving. Most of such improvements you can find inside WordPress updates. Adding new and improved functionality to your website can prove that your website stays in line with the latest web trends. You can also achieve better performance of your site, usability, and website administration that you will enjoy when working on your site's content and settings.
One of the most remarkable WordPress improvements was the release of WordPress update featuring the Gutenberg editor's support. The new innovative content editor has changed the way we write and edit posts on WordPress blogs. The exclusive set of theming effects and an intuitive drag-and-drop interface make it easy to create fantastic posts without touching a single line of code.
Bug Fixes
No matter how advanced WordPress gets, there are always some bugs that you can discover inside themes and plugins that you add to your website. To keep your website up and running smoothly, installing updates that bring fixes of existing bugs and prevent new ones is essential.
How to Update WordPress
WordPress is generally considered to be one of the most user-friendly CMS in the market. It's easy to use and pretty much intuitive to update. The notifications about WordPress core updates appear right in your dashboard when you log in. If you don't log in to your website, you may often use plugins like WP Updates Notifier, which will inform you about it via email.
To update WordPress, just follow these simple instructions:
Check what's included in the WordPress update in the release notes or changelog.
Test how the updated WordPress version works on a development site. If there are any issues, you can troubleshoot them before installing the update on your blog or website.
Before installing updates, backup your WordPress site to ensure none of your site's settings or articles are lost during the update.
Install the WordPress update.
Review your website with the focus on things that were not present on your site before the update.
Updating WordPress Core
To update your WordPress core manually, take the following steps:
Whenever a new update is released, you can see the respective notification at the top of your WordPress dashboard. To proceed to the installation, click Please update now, and you'll be taken to the installation page.

Another way to check if there's an update available for your site is by navigating to the WordPress Updates page. Here everything is just as simple as to click on the Update Now button when you see the following message: An updated version of WordPress is available."

Another way to update your WordPress core is by navigating to the Updates tab in the sidebar of your website's dashboard. It will take you to the same WordPress Updates pages, like in the step described above.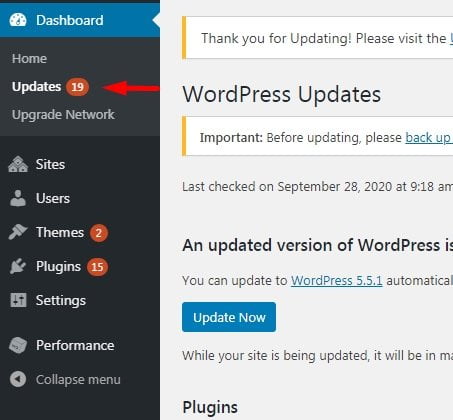 Updating WordPress Plugins
To update plugins on your WordPress site, navigate to the dashboard, click on Plugins > Installed Plugins.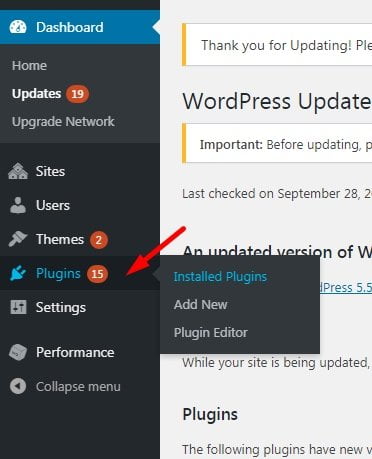 If there are any updates available for you, you will see an icon revealing the number of plugins waiting for an update.
On the Plugins page, you will see a suggestion if any plugins should be updated. To install update of a particular plugin, click Update Now, and the installation will automatically begin.

There's a different way to update WordPress plugins. Open your WordPress dashboard and navigate to the Updates tab. Click on it and you'll be taken to the WordPress Updates page.
In the WordPress Updates page, you can see a list of plugins that are waiting for an update. You may select the bulk update and install the latest version of several WordPress plugins at a time.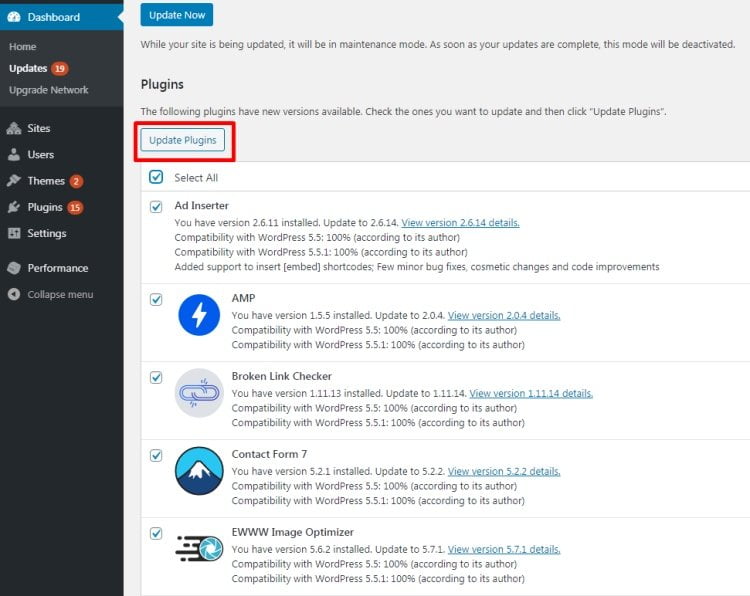 Updating WordPress Themes
If you decide to build our WordPress website with a theme, then you will need to keep it updated and run the latest version of the chosen ready-made design. To update WordPress themes, navigate to Appearance > Themes. You will see a list of themes installed on your site. 
If there is an update available for your WordPress theme, you will see a respective message. To install an update, click "Update Now."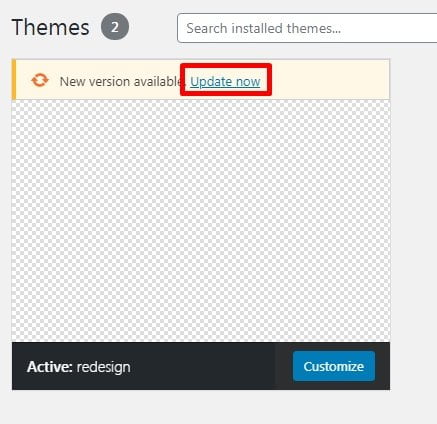 Automated WordPress Updates
In addition to installing updates of WordPress core, plugins, and themes, there is also an option to automate the process manually or with a plugin.
Automating updates manually means that you need to use code snippets that guide WordPress to update its core, themes, and plugins.
Automating updates by means of a plugin means that a plugin instructs WordPress on when to install updates and what elements of your WordPress site should be updated.
One of the most popular WordPress plugins used for the installation of automated updates is Easy Updates Manager. The plugin has over 300,000 active installs, a 5-star rating, and frequent updates.
To get started, log in to your WordPress dashboard, navigate to Plugins > Add New.
You'll be taken to the Add Plugins page. In the search bar, enter Easy Updates Manager, click "Enter," Install Now, and Activate once installed.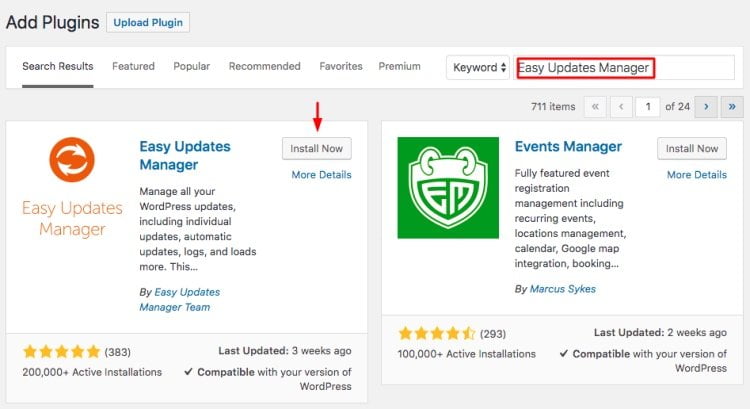 When the plugin is activated, you need to configure its settings.
Navigate to the WordPress dashboard once again, and click on the "Update Options" tab. Mind that this option wasn't available in the dashboard before installing the Easy Updates Manager plugin.
You should see the Easy Updates Manager settings page in front of you. Over here, you need to make sure that the following options are enabled as the default settings:
WordPress core updates;
Plugin updates;
Theme updates.
That's all that it takes. From now on, you will always have the latest versions of WordPress components running on your website. The plugin will take care of the automatic installation of new updates as soon as they roll out.
Bottom Line
It's vital to keep WordPress website updated if you want to ensure that it's protected from security issues and delivers the best user experience to your website visitors. We hope that the instructions and tips that we highlighted in this article will come in handy to you, and you will find the best way to keep your WordPress up-to-date. Whether it's the manual or automated update you opt for, make sure that regular WordPress updates are part of your website management strategy.