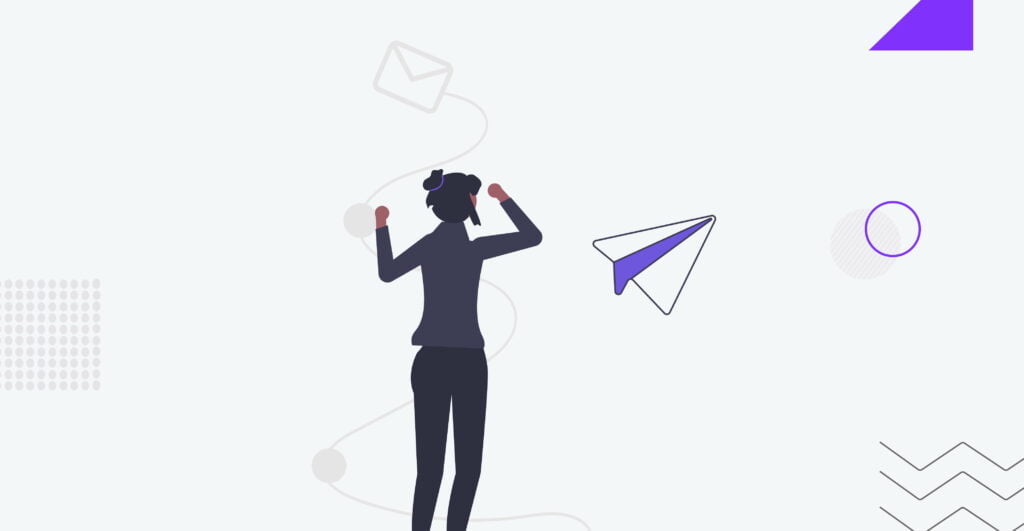 Mailchimp is a versatile marketing campaign tool that enables easy email subscriber management. Integrating Mailchimp with your WordPress site streamlines your marketing efforts. Check out the "What is MailChimp?" article. We'll guide you using Mailchimp with WordPress via the plugin or traditional code.
MailChimp Explained
In 2001, MailChimp was established as a web design agency. Since then, it has steadily emerged as the preferred email marketing solution for small and large corporations. Mailchimp for WordPress is a plugin that connects your WordPress website to Mailchimp, streamlining marketing campaigns and user management.
The reason behind its widespread popularity is its user-friendly interface. You can accomplish a variety of tasks without the need to leave your web browser or learn to code. With MailChimp, you can effortlessly:
Send attractive marketing material that looks professional
Set up automated email campaigns
Create and share signup forms
Target specific audiences based on location or demographic information
Access comprehensive reports with detailed insights
Integrate with your online store to drive sales
Build landing pages
Run effective social media ad campaigns
Once you familiarize yourself with the full potential of MailChimp, you can leverage the power of direct email marketing to cultivate a dedicated following, enhance your return on investment (ROI), and boost your revenue.
To get started, you'll need to create a Mailchimp account, which can be done by registering on their website, and choosing between the free or paid options.
MailChimp Free vs. Premium
Your contact count determines Mailchimp's pricing, and each plan has a monthly email-sending limit. They now provide a free trial for the Essentials (up to 50,000 contacts) and Standard (up to 100,000 contacts) plans. You'll need to provide payment details and receive an email reminder before the trial ends. You can switch plans or cancel within the 1-month trial.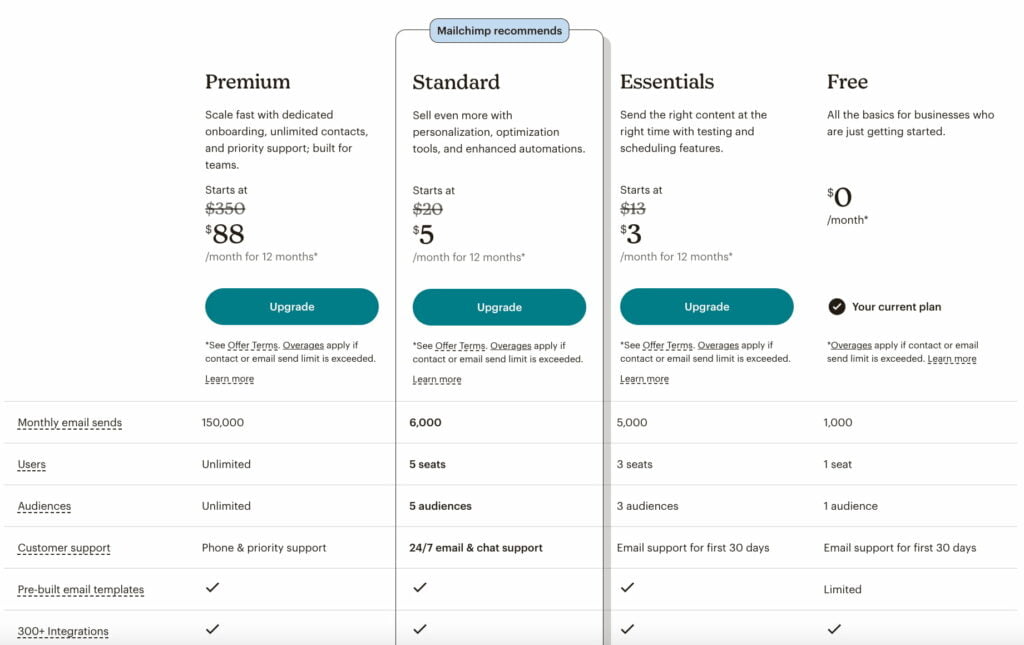 New users and those switching from free/pay-as-you-go plans are now charged per contact, including unsubscribed contacts and unconfirmed opt-ins. This change could increase your costs significantly based on the proportion of unsubscribed contacts.
MailChimp also offers a pay-as-you-go option with the same features as monthly plans. They have a Free plan for up to 500 contacts and 1000 monthly emails (with ads). The Essentials plan starts at $13/month for 500 contacts and 5000 monthly email sends. The Standard plan begins at $26.50/month with advanced automation, and the Premium plan offers all-areas access starting at $299/month.
Essential Features
MailChimp offers diverse features that can optimize your email marketing efforts, making it an excellent choice for any website owner. With automation, custom templates, analytics, and more, MailChimp empowers you to create effective campaigns and build strong relationships with your audience. Let's review some of the main features of MailChimp for WordPress.
RSS-to-email subscriptions. Connect with subscribers effortlessly by tying your RSS feed to MailChimp for automated updates.
Custom email templates. Design eye-catching emails to captivate your audience and enhance engagement.
Automatic welcome emails and autoresponders. Greet new subscribers automatically and streamline message delivery.
Comprehensive analytics reports. Utilize detailed user demographics to tailor content and boost your promotional strategy.
Performance monitoring tools. Track campaign progress and make timely adjustments for better results.
Abandoned cart emails. Recover lost sales by reminding users of pending items in their cart.
Scheduled email campaigns. Plan and launch emails strategically to maximize your business growth.
How to Set Up MailChimp on WordPress with Plugin
Setting up MailChimp on WordPress is simple. You can find various MailChimp plugins on the official repository, but checking their compatibility with the latest WordPress versions is essential.
Some of the most popular free and premium MailChimp for WordPress plugins include the following:
How to Set Up MailChimp on WordPress without Plugins
To integrate MailChimp without additional plugins, follow these steps:
Create a MailChimp account. Sign up with a valid email address and choose a plan.
Upload your audience data. Set up an email list or import your existing subscribers.
Integrate MailChimp with WordPress. In your MailChimp dashboard, go to Integrations, select WordPress, and generate the code for your subscription form.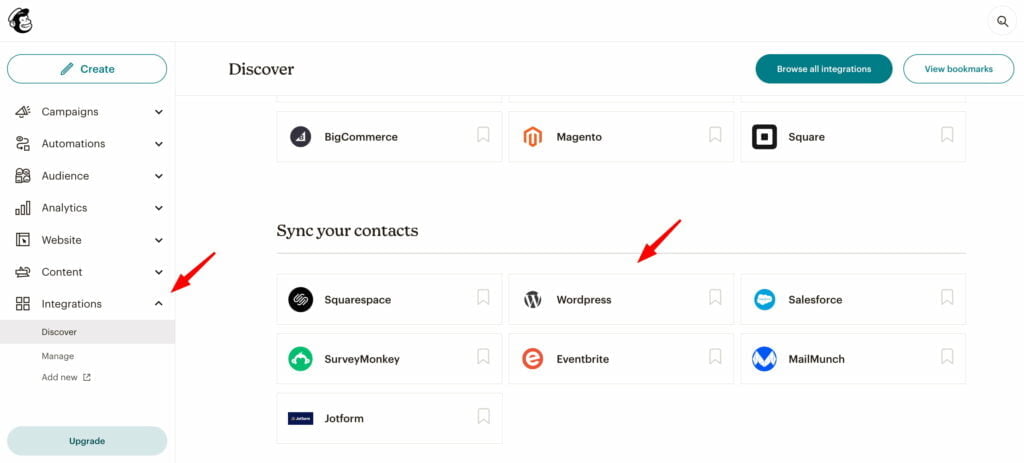 Add the code to your website. Access your WordPress dashboard, navigate to Appearance > Theme Editor, and paste the code before the closing </head> tag in the header.php file of your current theme.
Finally, check the connection in MailChimp's dashboard to ensure the subscription form appears on your website, and subscribers' data will automatically be added to your audience.
In a Nutshell
So, why is it better to choose MailChimp for WordPress over other mailing services? It stands out as the leading email marketing service worldwide, and its popularity owes much to its seamless integration with WordPress. With WordPress powering over a third of all websites globally, MailChimp's developers ensured their service works flawlessly with this widely-used CMS.
But WordPress compatibility is just one of MailChimp's merits. The platform boasts an extensive knowledge base and a user-friendly dashboard, making it one of the most approachable email marketing solutions.
Affordability is another advantage of MailChimp. If you have a subscriber list of fewer than 2,000 contacts and send up to 10,000 emails per month (with a daily limit of 2,000 emails), you can use MailChimp's free plan. While the free version may need some features found in paid subscriptions, it still serves as a valuable tool for burgeoning online projects seeking to grow their audience without straining their budget on an expensive service.
As your website gains momentum, upgrading your MailChimp subscription is seamless, unlocking enhanced marketing capabilities. With MailChimp's reliable service and WordPress integration, businesses can effectively manage their email marketing campaigns and easily expand their reach.
What is MailChimp – FAQ
Is MailChimp compatible with WordPress?

Yes, MailChimp seamlessly integrates with WordPress. It offers default integration with WordPress and provides the flexibility to customize subscription forms, access MailChimp data within the WordPress dashboard, and connect with other popular add-ons through numerous third-party plugins.

How does MailChimp integrate with WooCommerce?

MailChimp integrates effectively with WooCommerce, the leading eCommerce plugin for WordPress. Numerous add-ons designed for MailChimp's WooCommerce integration enhance the email marketing service. These add-ons offer features tailored to online retailers, making MailChimp an ideal choice for businesses operating in the digital marketplace.

Is MailChimp free?

Yes, MailChimp offers a free plan suitable for small businesses. Although the free subscription has certain limitations, it is an excellent starting point. With the free plan, you can build an audience of up to 2,000 contacts and send up to 10,000 emails monthly. This allows you to establish your email marketing strategy without incurring any initial costs.