10 Latest WordPress Design Trends 2023
Web design trends come and go. We begging every New Year in anticipation of a list of predictions of the major web design techniques that will gain the major demand in the next 12 months. We decided to go another way and share a list of the major WordPress design trends when we can already see them implemented in practice. So, if you are looking for fresh ideas on how to upgrade your web page with a smart and trendy look in 2023, the following ideas are exactly what you need. 
Top Reasons to Follow Web Design Trends
There are many things influencing web design techniques. Technology changes and evolves really fast. The audience's taste changes due to many factors. Modifications in the available technology solutions influence many things of what we can do with a website. Taking all this into account, it's vital to keep a close eye on what your audience is looking for and how innovations are spreading in your industry.
Considering the fact that WordPress is the most popular free CMS in the market, WordPress design trends are evolving really fast. There are thousands of free and premium themes and plugins to work with. With the release of any new cool feature or functionality, the community quickly picks it up and makes it a trend that can be easily integrated into any WordPress-based project.
There are many reasons to freshen up your website with trendy elements from time to time. In some cases, your web resource may even need a full makeover. Some of the most common reasons to update your site include:
An updated website that looks modern and professional helps you drive more conversions.
You can also improve the user experience on your website and invite your website visitors to stay for longer on your site's pages.
In many cases, implementing a new web design technique into your website lets you put some new skills to use.
Many website owners put off redesigning their online resources because it may seem to be a lot of work to rework every single page of your website. However, things get easier when you create new pages or redesign them using premade WordPress templates or intuitive drag-and-drop page builders. With their help, you can customize every single aspect of your website to look the way you need. The respective functionality lets your website look modern and features personal touches that will make it stand out from the competition.
WordPress Design Trends to Follow in 2023
You may build the most appealing and trendy web design ever. However, the sad truth is that it will be outdated in less than one year. If you do not want to lag behind your competitors, you need to keep up with the latest web design trends and implement your website with the techniques that are the most relevant to your business.
In this article, we are going to discuss 10 of the latest WordPress design trends and explain how you can implement them into your website for maximum efficiency.
Drag-and-Drop Page Builder
After the Gutenberg editor was released and successfully implemented into most of the WordPress-based sites available online today, a growing number of users started to implement WYSIWYG and block systems into their website. Page builders let users of different skill levels build new pages and edit the existing ones in a matter of clicks. Such handy website construction solutions are easy to use and beginner-friendly and do not require any special knowledge to be managed on your own.
The trend is not new. However, with a growing number of webmasters starting to implement it into their web designs, it's getting a greater demand in the WordPress community. Besides, the competition is getting tougher on the web. A webmaster should be able to build a professional website that meets a client's demands as quickly as possible. Using drag-and-drop page builders is a great solution that lets you save your time, money, and energy on website construction.
Some of the most popular drag-and-drop website builders for WordPress are Elementor, Divi, Beaver Builder, etc. The trend is likely to continue in the coming years. We can expect more WordPress drag-and-drop page builders to be released soon.
Mobile First Design
Making your website look good across all devices and web browsing applications is vital in the modern-day age. With a growing shift from using desktop to mobile devices, the mobile-first approach is especially relevant in 2023.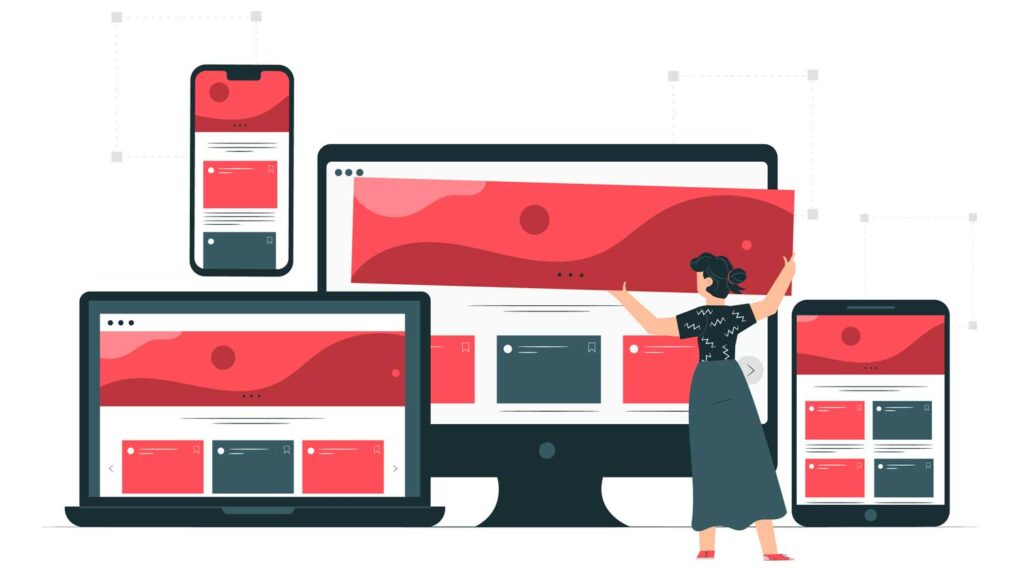 The reason why this trend is featured on this list is the statistics revealing more than 54% of mobile device website traffic worldwide. Optimizing websites for handheld devices is especially important with Google's intention to launch the mobile-first index during 2023. 
Effective Color Palette
Colors play an important role in web design. The right choice of color combinations can help you improve the overall color-based appearance of your site and convey your message in a more comprehensive manner. Colors help you convey the right emotions, excite, motivate, and encourage your customers.
You can engage your audience while playing with colors on your site, by highlighting the sections that are worth of users' special attention or where they should take an action. Take a look at the following example. The IKEA website entertains the audience while presenting their catalogue in the form of an online mini-game featuring easy-on-the-eye yet attention-grabbing color combinations.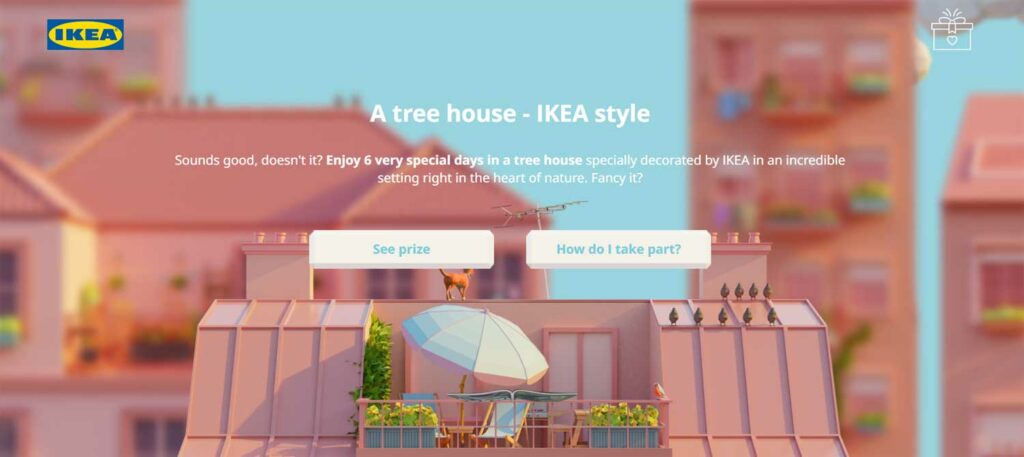 eCommerce Features
The majority of websites available on the web today follow the major goal of marketing their businesses more effectively and drive more sales. Integrating blogs and business websites with eCommerce features is one of the major trends to follow in 2023. Making your online platform eCommerce-ready makes it easy for you to pair your website with different eCommerce platforms, plugins, and extensions. 
The trend is closely related to another technique that we have already mentioned on this list. Every eCommerce site should be well-optimized for mobile devices. Mobile-friendly shopping drives in more clients and lets you multiply your earnings at the same time.
Femme and Fierce website's eCommerce features: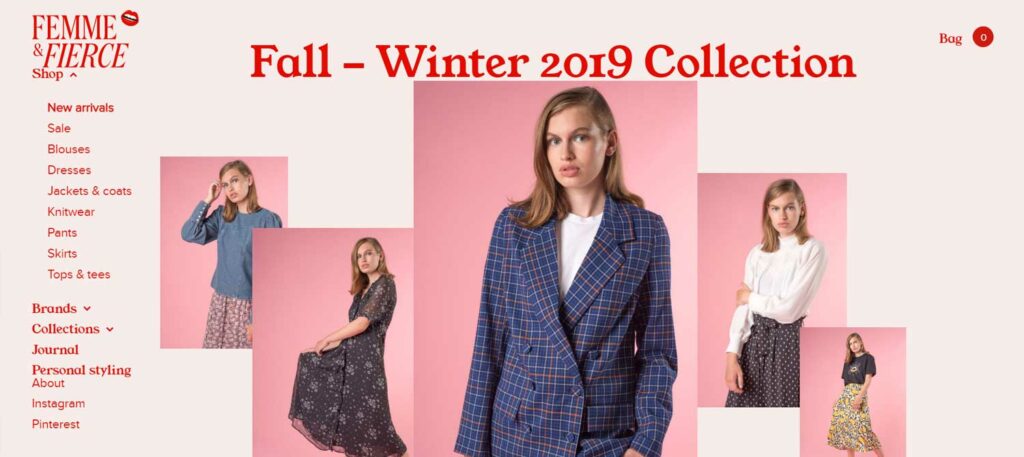 AR/VR
The trend is not new, but it keeps on gaining a bigger demand in the online community. Augmented reality and virtual reality are the techniques that let business owners take the browsing experience to the next level and provide customers with deeper insights into the functionality and appearance of products presented on websites.
AR and VR can be used in many industries. These are the best choice not only for eCommerce purposes. Event-based and tourism-related businesses can take advantage of the technologies to showcase different places and destinations with minimum investments.
Almost every business can go creative and benefit from this trend. One of the most popular examples of how to use VR and AR in practice is by letting customers try the goods you sell using their phone's camera. It applies to glasses and other accessories, as well as clothes, furniture, decor, and anything else that comes to your mind.
Video Backgrounds
When properly used, video backgrounds can do more good than bad for your site. These are time-proven attention-grabbers that can significantly decrease the bounce rates of your site. Though the trend's popularity might dip for a while because of the tendency for faster page loading speeds, video backgrounds let users immerse into a more interactive site browsing experience and leave a more long-lasting impression on them.
Just in case you have difficulties with keeping your visitors engaged, by adding a video background to your site you can change things for the better.
Antoni website with video background: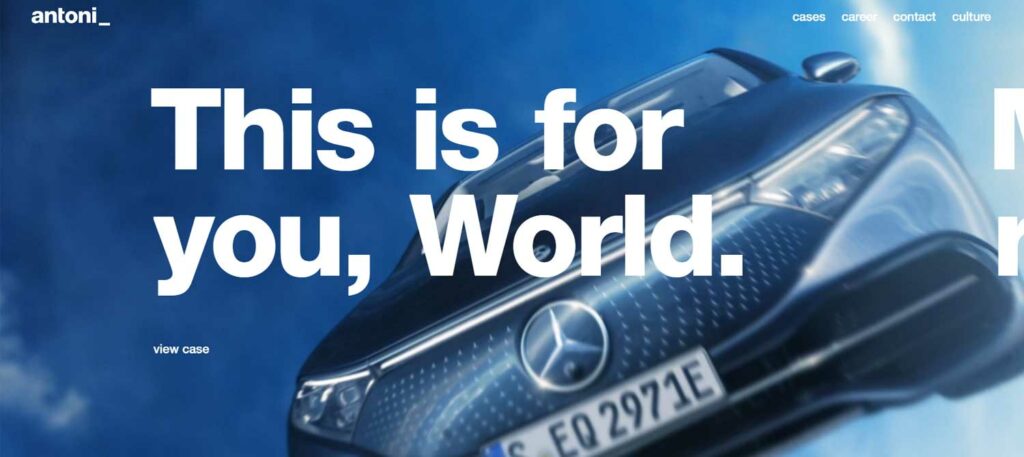 Minimalism
Minimalist web designs have been trendy for several years already. Following the increased demand in optimizing web pages for faster loading speeds, minimalist websites have been generally considered as the best solutions aiming for improved site loading speeds. Besides, the trend helps you greatly benefit in terms of ease of navigation and SEO.
Minimalist websites let you deliver a better customer experience and remove distractions on your site. The trend also helps you keep your web pages clutter-free and clean.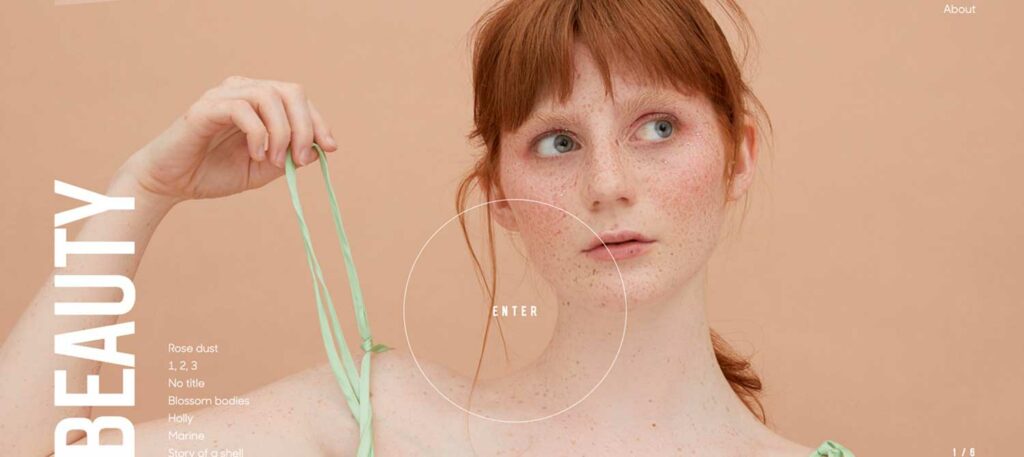 Asymmetry
More and more websites go in for asymmetrical designs with the purpose to grab more visitors' attention. As a rule, such web pages benefit from using the minimalist web design concept and combine it with outstanding fonts and realistic visuals. With the help of asymmetry, you can highlight those elements of your site that are worth your customers' special attention.
Home Société is a great example of websites that have adopted the asymmetrical web design concept.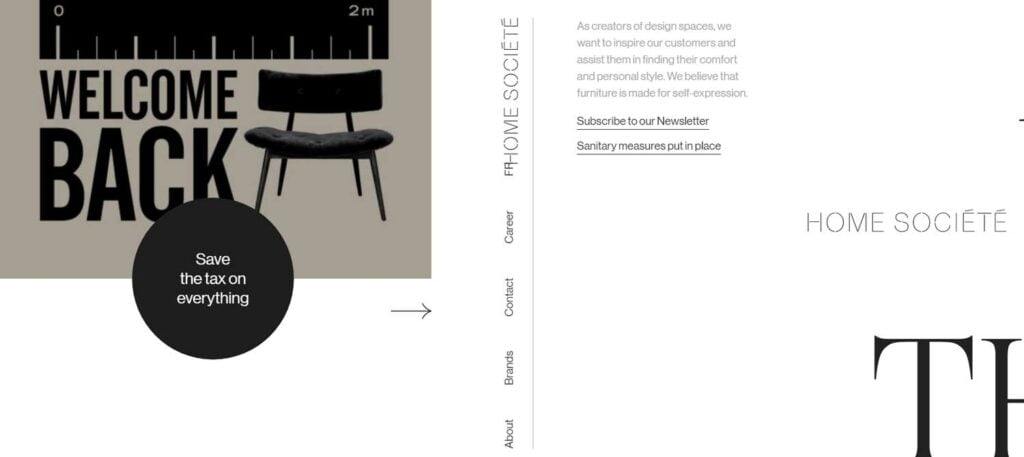 Multi-Purpose Themes
It's become trendy to work with multi-purpose WordPress themes instead of niche-specific solutions. It's more cost-effective to work with a fit-it-all website template that comes loaded with a bunch of tools and features under the hood. While installing the theme on a site, a webmaster may feel free to choose which of the suggested features should be added to the site and which ones are not relevant to a specific project.
One-Page Design
Along with the demand in implementing a minimalist WordPress design trend that gained popularity due to its simplicity, one-page design is perfect for highlighting the most essential pieces of information and removing distractions on your site. One-page designs do not feature multi-level menus that can slow down your site's performance. Moreover, one-page designs are more appreciated by mobile users.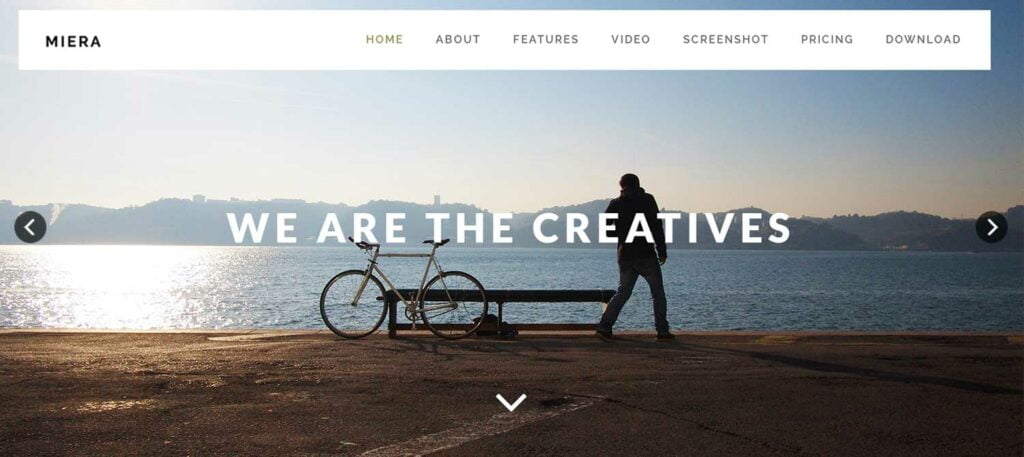 Wrapping Up
By following WordPress design trends, businesses can stand out from the competition and make their official web pages more eye-catching and attention-grabbing. By keeping up with the latest trends, you can easily provide your customers with the functionality and design tricks that appeal to their needs.
Contact
Feel free to reach out! We are excited to begin our collaboration!
Send a Project Brief
Fill out and send a form. Our Advisor Team will contact you promptly!