WordPress Search Bar: How to Create an Advanced Search in Elementor
Modern websites have plenty of information. With so much data on websites, users can easily get lost when searching for the needed information. This makes a search bar an indispensable element that can help you improve your site's usability and keep visitors on your website's pages for longer, thus reducing the bounce rate. By integrating your WordPress website with a customizable search bar, you can help users find what they need, which includes the possibility to search by titles, content, quotes, and other advanced search options that precisely match your brand. If you look forward to integrating your website with a WordPress search bar supporting advanced search options, you can significantly enhance user experience using the Essential Addons. Let's see how an advanced customizable search bar can help a website owner and how to create one using Elementor Addons.
WordPress Search Bar Do's and Don'ts
A WordPress search bar is a fundamental feature for every blog and business website intended to deliver a pleasant user experience. An advanced customizable search bar lets you run a website that connects customers to all its content and product catalog.
To make a search bar perform to its fullest potential, it should meet the following requirements:
It should be visible on a website (placed in a convenient corner on a web page and easily distinguished from other website elements);
Users should easily understand the purpose of this element without any identification marks.
To make a WordPress search bar work to its full potential, you should mind several major do's and don'ts.
WordPress search do's:
A search bar should be presented on every website page;
As a rule, the search bar is placed in the top right corner of a page;
It should support search by category, name, content, and other custom parameters;
A placeholder text (like "search") should disappear when a user types something in the search bar;
Make the search sitewide to cover all website pages;
Apply autocomplete functionality;
Reveal the last search queries;
Show the total number of result pages;
Apply Google Analytics to find out if the user found something or not.
WordPress search don'ts:
It shouldn't be placed close to other elements;
It shouldn't mix up with other elements;
There are better options than a search pop-up; a WordPress search bar is a better and more traditional option.
Benefits of Using a WordPress Search Bar for a Website Owner
With the help of a customizable WordPress search bar, website owners can deliver a more satisfying experience to their audiences.
A WordPress search bar improves the efficiency of website search. Every website has a unique structure and content-presenting format. A website owner can display relevant content to customers as they type in a search request using an advanced search bar. 43% of users click on the search bar when landing on a website. That's why a properly designed search bar is essential for all websites.
By integrating their websites with advanced search bars, website owners can ensure that every query is relevant. Online customers often need help with the problem when their keywords are not found in the website content. In such cases, a traditional WordPress search stops showing any results. Using an advanced WordPress search (e.g., the one created with Essential Addons for Elementor), you can display relevant content to your customers even if there are no search results that exactly match users' queries. This is achieved by enabling tags and categories in the advanced search bar.
If a website owner looks forward to creating an intuitive user experience, this can be easily achieved with Elementor. WordPress users can create an advanced search using Elementor addons without doing any coding. Thus, when a user puts tags or categories in the search request, the advanced WordPress search bar will show relevant search results.
How to Create Advanced WordPress Search Bar with Essential Addons
Using Essential Addons, one can enjoy a seamless process of updating WordPress pages with an advanced search bar. Let's see how to do it step by step.
Step 1: Essential Addons Activation
To add an advanced WordPress search bar in Elementor, you need to install the Essential Addons plugin first. The advanced search is an advanced feature of Essential Addons, so you can upgrade to the plugin's premium version to start using it.
To start using the Essential Addons elements, navigate to the "Elements" tab and select "EA Advanced Search" from the search option. Drag and drop the EA Advanced Search widget or use the "+" element on your web page.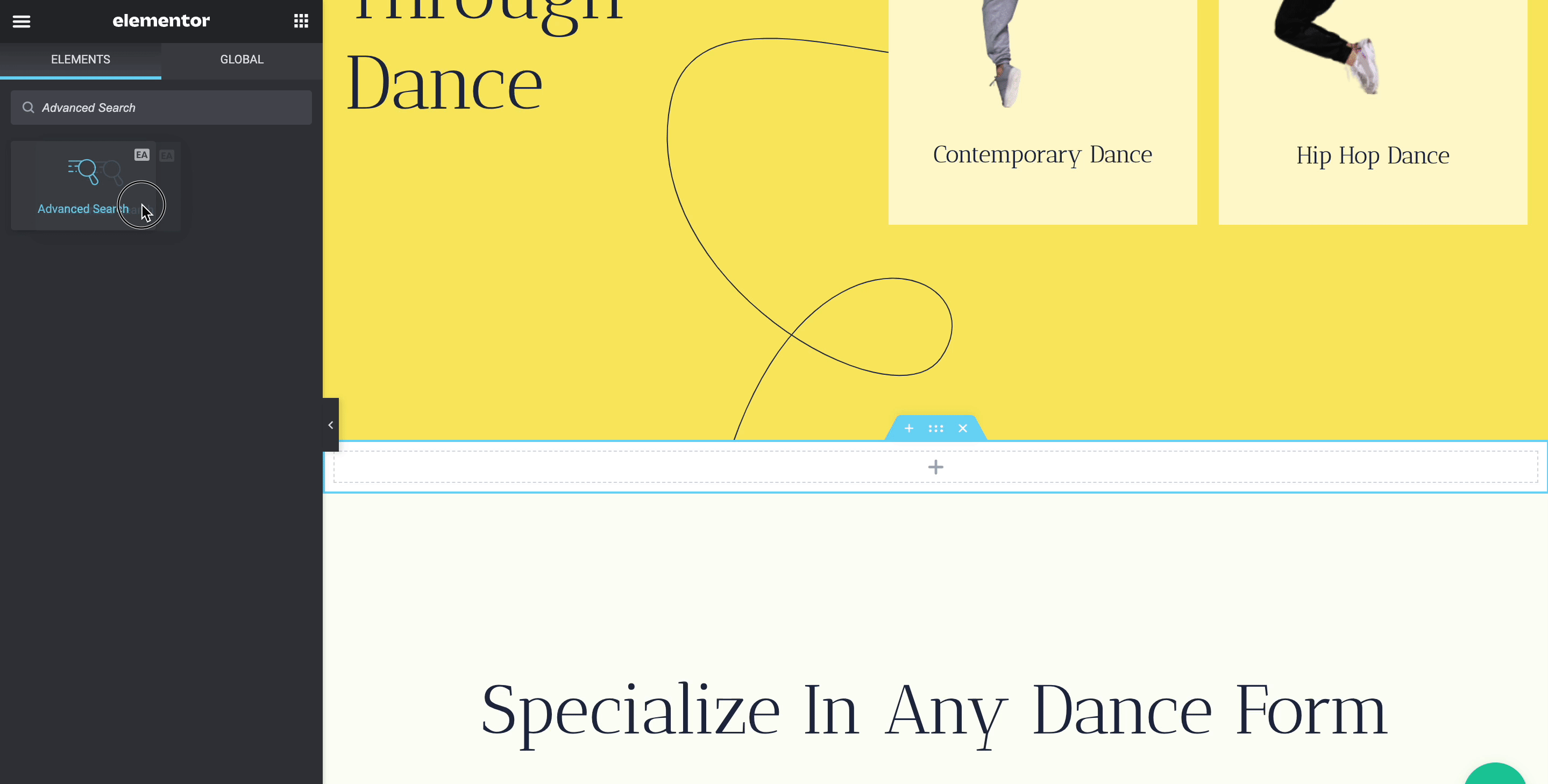 Step 2. Content Configuration
Elementor gives you the ease of content configuration in the "Content" tab. Depending on what type of content you wish to display on your search panel, you can select posts, pages, media, landing pages, etc.
Using the Essential Addons, you can also set the number of initial search results on the advanced search. by enabling a category list, a popular keyword, with/without a content image.
In the Search Field setting, you can modify the placeholder text, category list text, and the CTA displayed on the search button.
In the "Search Result" settings, you can decide what text will be displayed to your customers during their search. The default search result settings are Popular Search Text,' 'Category Search Text,' 'Load More Text,' and 'Not Found Text.' However, you may feel free to modify it to make it sound more appealing to your audience.
Step 3. Advanced Search Stylization
Essential Addons provides multiple stylization options for the WordPress search bar in Elementor. Using the "Search Box" section, you can configure the background type by choosing from classic and gradient options, and setting up the search bar's color, location, type, padding, border type, etc.
Change the location of your WordPress search bar by dragging and dropping it anywhere you wish on your web page. As a result of the search bar modification, you will get a fully personalized website search that provides your customers with a fully personalized search experience.
If you need professional assistance modifying the WordPress search bar or any other website element, the IT Monks team is always ready to help. Check out the services list and get a quote.