Best Free & Premium WordPress Plugins for Blogs 
If you look for WordPress plugins for blogs that should help you launch a competitive online project from scratch or optimize the existing one, the collection of the best blogging plugins for WordPress should come in handy. The list below features free and premium WordPress plugins that let you improve your blogging experience and add great features and functionality to your blog without modifying the code.
The following collection of WordPress plugins for blogs will be useful to you when you start a blog, work on its SEO, and search for ways to improve user engagement or grow your blog traffic. Let's look at some of the best WordPress plugins to start a blog, optimize and promote it to achieve better results online.
Price: there are both free and premium versions of the plugin available; the Pro version is priced starting at $49.5/year
The All in One SEO plugin is one of the best choices for bloggers and WordPress site owners who need to improve their website ranking and drive more traffic to their blogs. It's the ultimate solution for those blogs that look for an effective way to drive more readers toward their content. By installing the All in One SEO plugin, bloggers can attract visitors from Google, Bind, and social media platforms to boost their readership. The plugin helps you write content with proper keywords and provides you with actionable tips on optimizing your blog posts and web pages for better ranking.
Highlighted features:
On-page SEO;
Complete support for schema markup;
Local SEO;
WooCommerce SEO;
Video sitemap generator helps you rank in Google's video carousel widget and grow your traffic;
Get actionable insights to boost your SEO and get more traffic;
Helps create smart XML sitemaps, etc.
Price: there are both free and premium versions of the plugin available; the Pro version is priced starting at $12/mo
Grammarly is one of the must-have plugins for bloggers. It's a simple browser extension that works great with Google docs and WordPress blogs. It lets you improve your content by avoiding grammatical and spelling errors.
Highlighted features:
Seamlessly integrates with WordPress;
Highlights and corrects spelling and punctuation mistakes;
Suggests better adjectives;
Rephrases sentences, etc.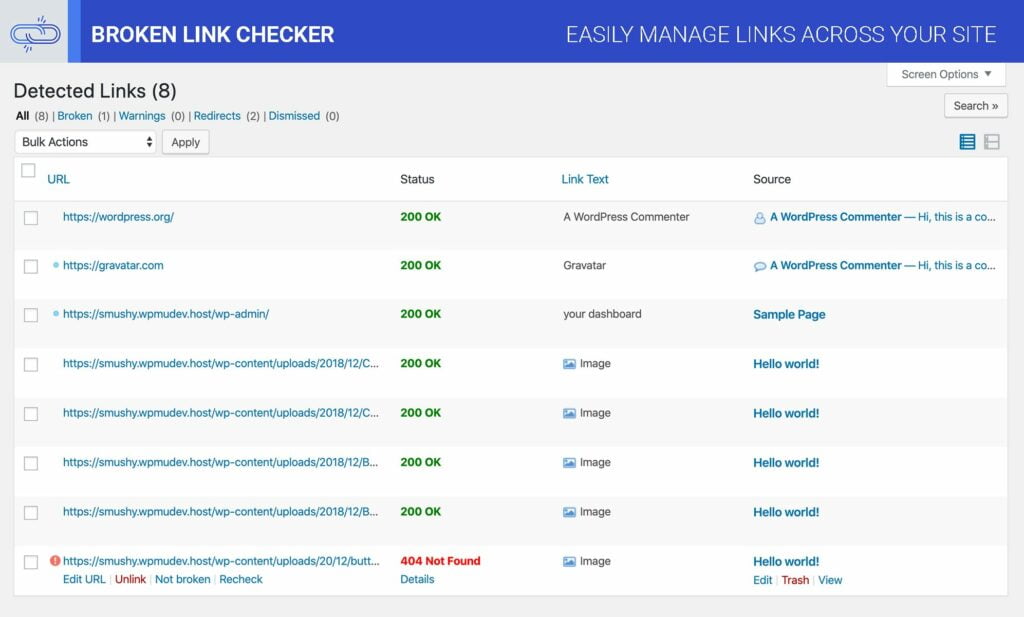 Pricing: free
It's vital to ensure your blog features only active links. Broken links can impact your website's SEO. By installing the Broken Link Checker plugin, all internal and external links are automatically monitored and tested. Whenever the plugin finds any broken links, you will receive a notification.
Highlighted features:
Detects broken links, missing images, and redirects;
Notifies you about broken links via the dashboard or email;
Edit links right from the plugin dashboard.
Price: starting at $26/year
Envira Gallery is a user-friendly WordPress drag-and-drop image gallery plugin. It lets you create stunning images and photo galleries, which you can share on any page of your website. It's especially useful to photography blogs and online portfolios that need to capture users' attention. Besides, the plugin lets you share impressive photo galleries without affecting your website's speed.
Highlighted features:
Beginner-friendly drag-and-drop image gallery builder;
Comes bundled with multiple pre-built gallery templates;
Powerful and advanced add-ons;
Supersizes lightbox images;
Video galleries support;
Built-in lazy loading, etc.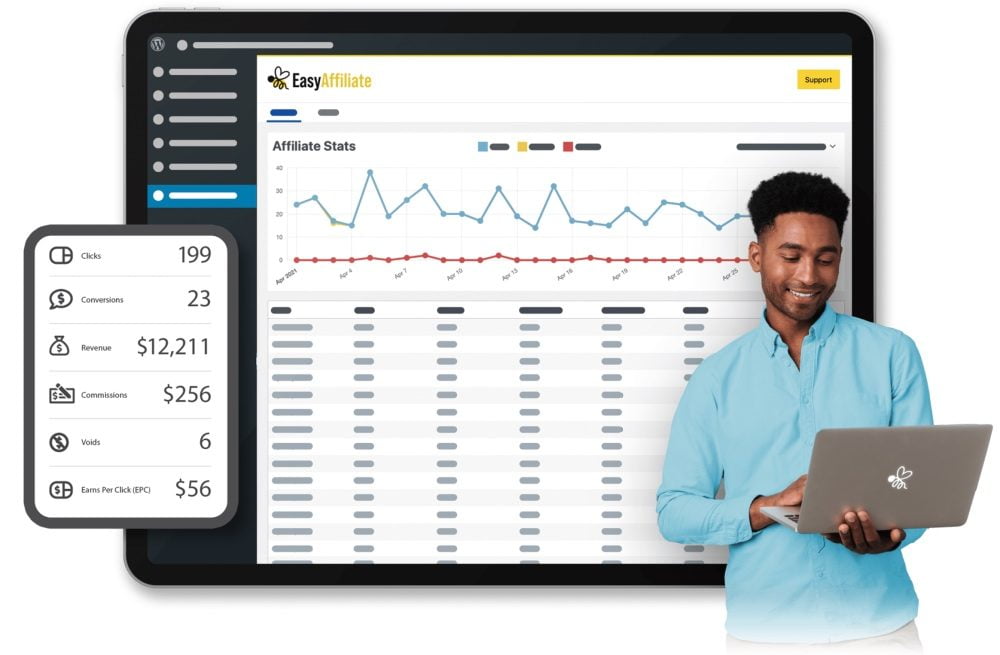 Price: starting at $99.50/year for one site
Using the Easy Affiliate WordPress plugin, WordPress blog owners can easily set up their self-hosted affiliate programs and multiply their sales by 30%. The plugin will be especially useful for projects that sell online courses, different types of products, memberships, etc. Although some people migh assume that starting an affiliate program is a time- and effort-consuming process, you can make things simpler with Easy Affiliate. It's a beginner-friendly WordPress plugin that is easy to install and set up. Once installed, it adds a full affiliate program to your website. You can welcome your affiliate partners to log into their affiliate dashboard to monitor their success and progress.
Highlighted features:
Set multiple commission levels;
Monitor your affiliate program's success in real-time;
Seamless integration with email marketing;
Detailed reports;
Pay affiliates with PayPal 1-click payouts, etc.
Pricing: free
Redirection is one of the best WordPress plugins for blogs. It's absolutely free to use. By installing it on your site, you can create and manage redirects on your website without any coding skills needed.
Highlighted features:
Manage 301 redirects;
Track 404 errors;
View all redirects on your site;
Create redirects based on chosen conditions, like browser, referrer, login status, etc.
Pricing: free
Editorial Calendar comes next on this list of the best WordPress plugins for blogs. It's especially useful to large editorial teams that need to keep a close eye on the content creation calendar and see what posts should be published.
Keeping blogs instantly updated is vital for building a loyal audience and improving your blog's ranking in search engines. The Editorial Calendar WordPress plugin should be the best choice for teams that strive to be consistent and improve their content publishing efforts.
Highlighted features:
Intuitive drag-and-drop dashboard;
Manage your drafts with a drafts drawer;
Publish posts or manage drafts;
Perfectly suits multi-author blogs.
Price: free; the price of the pro version of the plugin starts at $99.50/year
Publishing content on your blog would be useless if you do not know your readers' feedback. MonsterInsights is one of the best WordPress blogging plugins for Google Analytics. By installing it on your website, you can easily monitor your traffic and other important stats within the dashboard on your site. The plugin lets you better learn about your audience, discover their preferences, and understand what types of content they are interested in.
Highlighted features:
Real-time stats about your site's performance;
Custom WordPress dashboard reports;
Audience demographics data;
SEO headline analyzer, etc.
Pricing: starting at $49/year
By installing AdSanity on your site, you get one of the best WordPress ad management plugins, letting you manage and display ads on your site in a professional and custom manner. The plugin makes it easy to put ads on your blog and start making money.
Highlighted features:
Light and fast;
Check custom stats for selected ads in a defined date range;
HTML5-ready;
Allows for two publishing options – infinite or date-based;
Comes as a widget, shortcode, and template tag.
Price: starting at $5/mo
Here comes one more useful WordPress plugin for blogs, which lets you check the real-time activity on your blog. TrustPulse is one of the best social proof plugins, which lets you increase conversions on your website by up to 15%. While adding the plugin to your site, you can significantly increase signups and sales on your site while still increasing user trust.
Highlighted features:
Real-time event tracking;
Display social proof to the right people at the right time;
Track and highlight real purchases, signups, etc.;
Track and measure insights;
No code needed.
We hope this collection of the best WordPress plugins for blogs helped you find the right solutions for building your web resource and improving its performance. By installing these plugins on your site, you can take your project to the next level.
Contact
Feel free to reach out! We are excited to begin our collaboration!
Send a Project Brief
Fill out and send a form. Our Advisor Team will contact you promptly!