Clear WordPress Cache for Improved Website Performance
Sooner or later, we all get to the point when we need to clear WordPress cache. Whenever you make changes on your website and cannot see your work's result when you open the web page in a browser window, this is an avid sign that it's time to clear cache on your site. The good news is that you can clear cache on your own, without asking for professional help. In this blog post, let's see how to solve this issue and what WordPress plugins are ideal for this purpose. 
---
What Is WordPress Cache?
Every time to visit a website, the web browser that you use for the specific purpose loads static content like HTML, CSS, Javascript, and images that the chosen website features. The mentioned data is then stored as cache files in your local storage. The next time when you visit the same web resource using the same web browsing app, the web page will load faster because there are already parts of content being saved on your PC, laptop, smartphone, or tablet. Simply put, caching lets you improve website loading speed because your browser doesn't need to load the web page's content all over again. It would simply create a few requests to the server to load the up-to-date version of the web page.
WordPress website cache is super convenient, but it can be tricky at the same time. A web user can set the time range when the website content is saved in the cache file. For example, you can set the expiry time of images to one year, which means that all cached imaged will be cleared in a year. However, a webmaster may need to remove cached files more often. When working on improving a website, a webmaster needs to check the live version of the web resource frequently to make sure everything works fine. Because of the cached files, he might not see the updated version of the site. This is when WordPress cache cleaning solutions come into play.
There are different types of WordPress cache cleaning solutions available in the market. You can come across many free and premium plugins suited for this purpose. WordPress cache cleaning plugins let you manage when to cache files, like the cached files to expire, and when the cache should be cleared on demand.
Caching solutions vary depending on the web hosting provider that you choose. For example, if you use the managed hosting service from WP Engine, then you won't need to install a cache cleaning plugin. The hosting already includes their WordPress cleaning solution. If you prefer using a CDN server like MaxCDN, you won't need to install a WordPress cache cleaning. Most of the popular web browsing applications include the built-in feature that lets you keep the cached versions of web content stored on your device. 
---
Ways to Clear WordPress Cache
There are two widely recognized ways to clear WordPress cache – manually in your web browser or with a plugin. Let's check how each method works.
Cleaning WordPress Cache in a Web Browser
Most modern web browsing applications will store such static content as images, stylesheets, and JavaScripts to provide you with a quicker and seamless web browsing experience. Still, web browsers may fail to recognize when fresh content appears on a web page that you frequently visit. To check the latest version on your WordPress website, you need to clear browser cache.
Here's how to clear cache in Google Chrome. Open the web browser, click on the menu icon, push More Tools > Clear Browsing Data.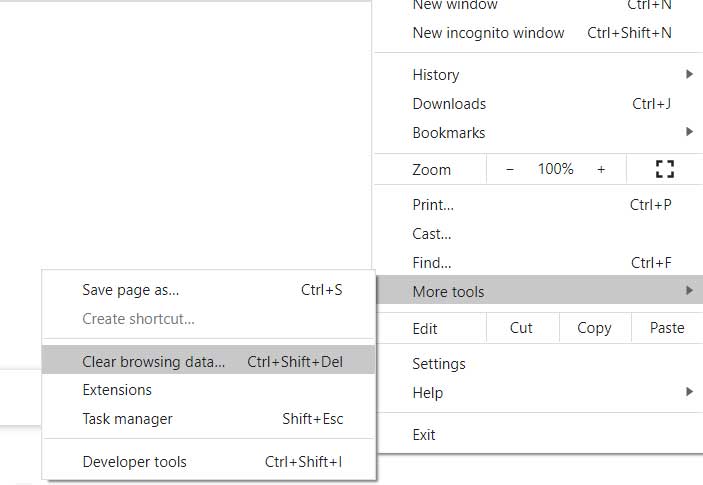 In a popup window, choose what type of data you'd like to remove. Once you decide, click on the Clear data button, and the cached files will be cleared.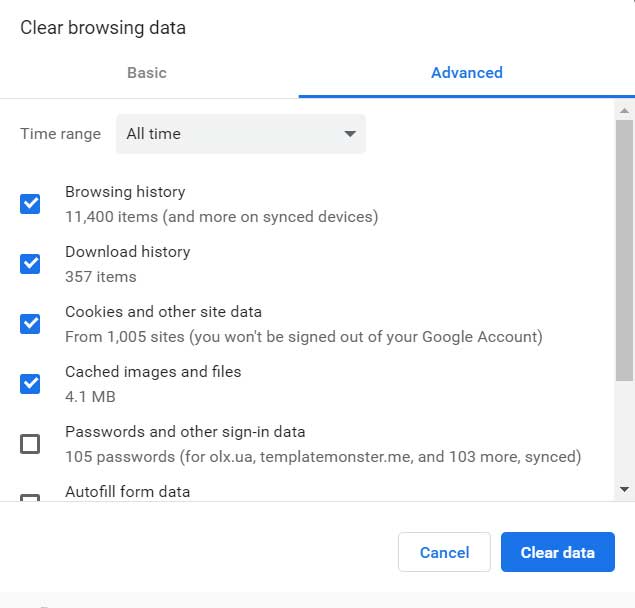 If you clear cache in the web browser and still do not see any changes on your WordPress website, you need to move further and clear cache with WordPress plugins.
Cleaning WordPress Cache with Plugins
Many plugins help you clear cache on your WordPress website. Most of them work similarly, letting you clear cache in the plugin's settings. Let's enumerate some of the most popular solutions to clear WordPress cache.
This is one of the most popular caching plugins for WordPress. With over 2 million active installations, it offers plenty of useful cache cleaning options. WP Super Cache plugin serves cached files in three ways:
Expert. This is the fastest method to clear cache on your WordPress website. It uses Apache mod_rewrite to serve "supercached" static html files.
Simple. The plugin serves a "supercached" file and it's almost as fast as the mod_rewrite method.
WP-Cache caching. This mode is commonly used to cache pages for logged-in users, leave comments on your website, or interact with your web page differently. WP-Cache caching also caches visits by unknown users if super caching is disabled.
To clear cache using WP Super Cahe, take the following steps:
Install the plugin on your website.
Navigate to the admin dashboard.
Go to Settings > WP Super Cache.
Click the Delete Cache button.
This is another popular caching plugin that includes many handy features to improve website performance. Having it installed on your website, the plugin clears all cached files every time you update your web page with a new post or content. If you need to clear cache manually, here's how to do it:
Open WordPress dashboard.
Navigate WP Fastest Cache.
Click on the Delete Cache tag, and push the Delete Cache button.
The plugin is installed on 1+ million websites, including such popular web resources as Mashable. It's known for many handy customization options and functionality aimed at saving bandwidth. It's compatible with shared hosting, virtual private / dedicated servers and dedicated servers / clusters. It also featured mobile and AMP support, among many other handy features. To clear WordPress cache using the W3 Total Cache plugin, take the following steps:
In the WordPress admin area, click Performance> Dashboard.
Locate the Empty All Caches button at the top of the page, click on it to clear cache on your WordPress website. 
---
Final Words
When it comes to speeding up your WordPress website and improving its performance, caching is the right way to go. Sometimes, outdated cache files can prevent website visitors from watching the latest changes that a webmaster releases on the website. To let your audience enjoy your content fully, use WordPress caching plugins that allow your visitor to experience the up-to-date version of your site.