10+ Free Gutenberg Blocks Plugins [WordPress 2022 Showcase]
Is there a WordPress blog that hasn't started using Gutenberg block editor yet? I doubt so. With a growing number of content writers and editors learning how to work with Gutenberg and how to unleash its full potential, it's also worth mentioning that you can get more than the default functionality offers by installing additional Gutenberg block plugins on your WordPress site. There are many solutions available in the online community. Both free and premium options are ready to be used for multiple purposes. This article focuses on free Gutenberg blocks plugins useful for websites related to different topics and suited for various purposes.
Free Gutenberg Blocks Plugins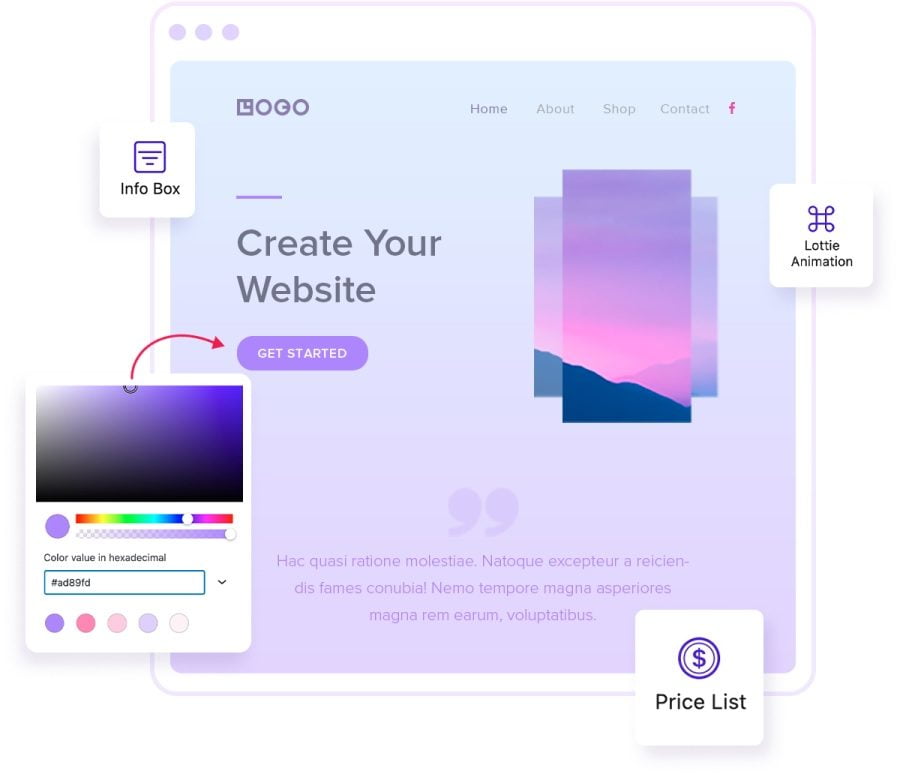 Brainstorm Force developed the free Gutenberg blocks plugin. The plugin has more than 300,000 active installs and about 700 reviews. Using Gutenberg's ultimate addons, you can add 10+ blocks to the WordPress content editor. It includes advanced headings and lets you create multi-buttons. The plugin also enables you to create reusable blocks and add the price list to your site (if you need such functionality).
Advantages:
No coding skills are needed,
Disable or enable any block whenever you wish,
Features a blogging library of blocks.
Disadvantages:
Designed to be used in combination with the Astra theme by Brainstorm Force,
Layout adjustments are limited.

Gutentor is a page builder plugin for Gutenberg Editor. It lets you easily create custom web pages using templates provided in the Gutentor library. You may pick any ready-made template and adjust it just as you want using the intuitive drag-and-drop functionality. The block-based WordPress page builder lets you create unlimited elements with columns, add stunning backgrounds to your site's pages, create carousels, and generate content as you work with pre-built blocks. Gutentor features an impressive collection of 78 blocks, including icons, team, counter, tabs, timeline, progress bar, and more.
Advantages:
Intuitive dashboard,
Responsive editing,
Impressive library of templates.
Disadvantages:
Affects memory usage,
It contains more blocks than you may need.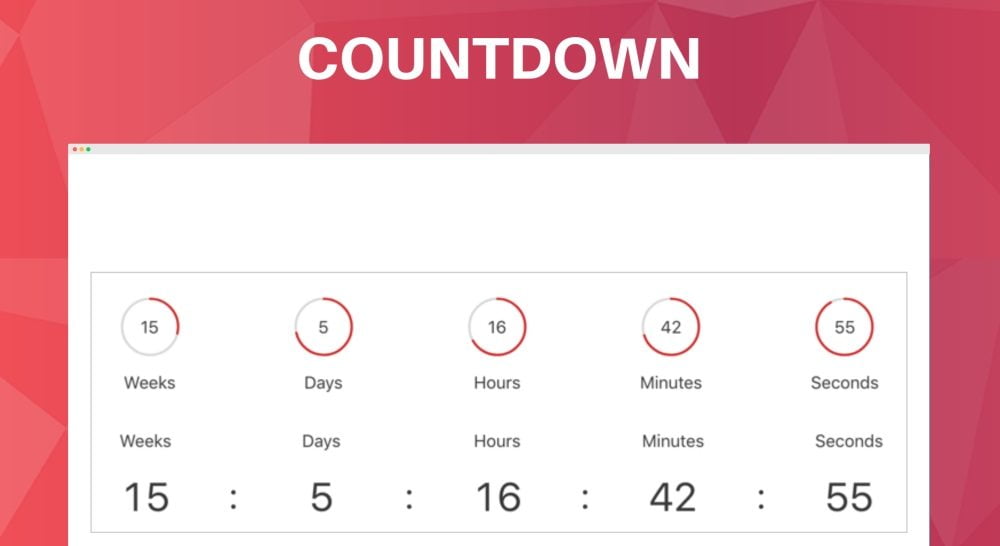 It's the ultimate free Gutenberg blocks plugin that bloggers and marketers should appreciate using. According to the plugin's developers, their main goal is to "make it insanely easy for you to create better and engaging content with Gutenberg."
By installing the plugin, you get 40+ blocks, including notification boxes, buttons, tabs, progress bars, table of contents, countdown timer, and more. You may feel free to enable or disable any block whenever you want. A collection of pre-made layouts is also included to facilitate and speed up the content editing process.
Advantages:
Adds 40+ blocks to Gutenberg,
Especially useful for bloggers.
Disadvantages:
Lacks advanced options,
If you need help with the plugin, the support is only provided on the forum.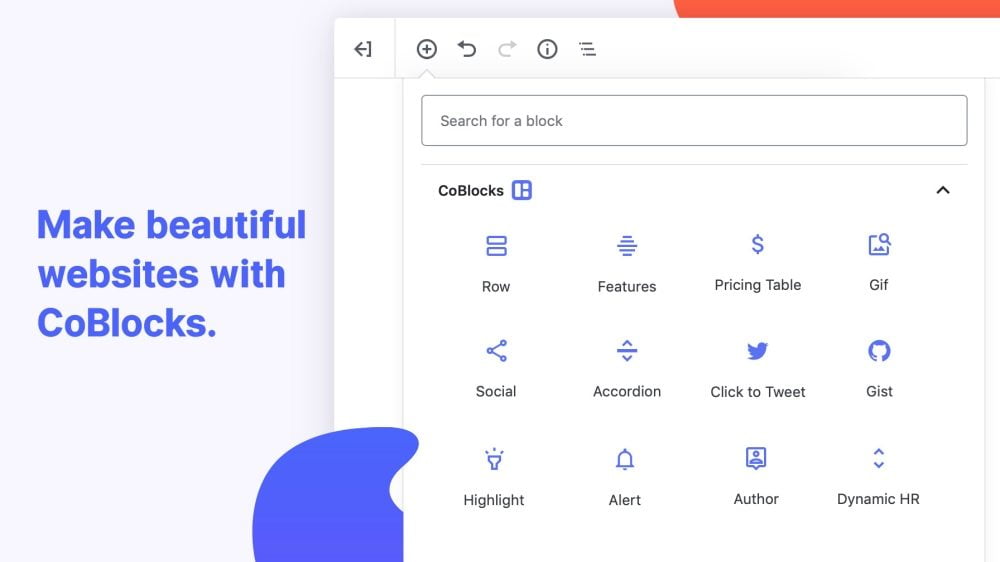 CoBlocks is one of the most popular free Gutenberg blocks plugins for WordPress. It's impressively powerful and lightweight. CoBlocks provides you with a true page builder experience in Gutenberg while providing you with additional blocks, as well as row and column building. There are more than 30 blocks bundled in the download package, including events, author profile, hero blocks, offset gallery, click to tweet, etc. CoBlocks lets you work with full control over typography, customizable galleries, the possibility to add pricing tables to any post or page of your WordPress site, create gifts with the gifts block, etc.
Advantages:
Adds 30+ blocks to Gutenberg,
Lightweight,
Google maps integration.
Disadvantages:
No demo version is not included.
EditorsKit Gutenberg blocks plugin is intended to help you better text format control and styling. It's free to use and provides you with a totally intuitive content editing experience. By installing the EditorsKit plugin, you can format your texts in multiple ways, add special characters to the Gutenberg editor, use custom shapes and layouts to style Gutenberg blocks, etc.
Advantages:
Flexible,
Easy-to-use,
Beginner-friendly,
Free.
Disadvantages:
Lacks advanced functionality.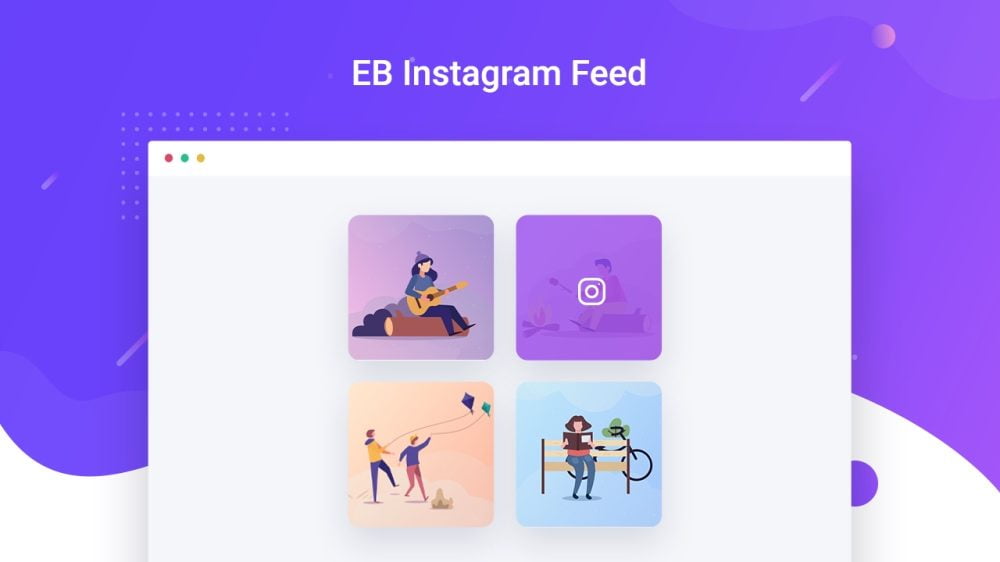 The Essential Blocks plugin lets you enhance your Gutenberg experience with 25 easy-to-use blocks. Each block comes loaded with a bunch of additional options letting you take full control over every element of your text. The Essential Blocks plugin is optimized for each block. You can enable or disable individual blocks to make your blog load smoother and faster.
Advantages:
Fully customizable,
Lightweight,
Instant live editing,
25+ blocks and counting.
Disadvantages:
Advanced blocks are missing.
By installing the GutenBee Gutenberg blocks plugin on your website, you can enhance your content editing experience in the content editor and vastly extend the potential of the WordPress content editor. The plugin adds more than 25 blocks to Gutenberg, including image galleries, Google maps, progress bars, post types, etc. You can also build an outstanding restaurant-style menu similar to the one shown in the video above. Using Gutenberg blocks integrated into the plugin, displaying comparison images is also made possible.
Advantages:
Adds 25+ blocks,
Easy to install and customize,
Totally free,
Features handy product demo.
Disadvantages:
Support is provided only via a forum.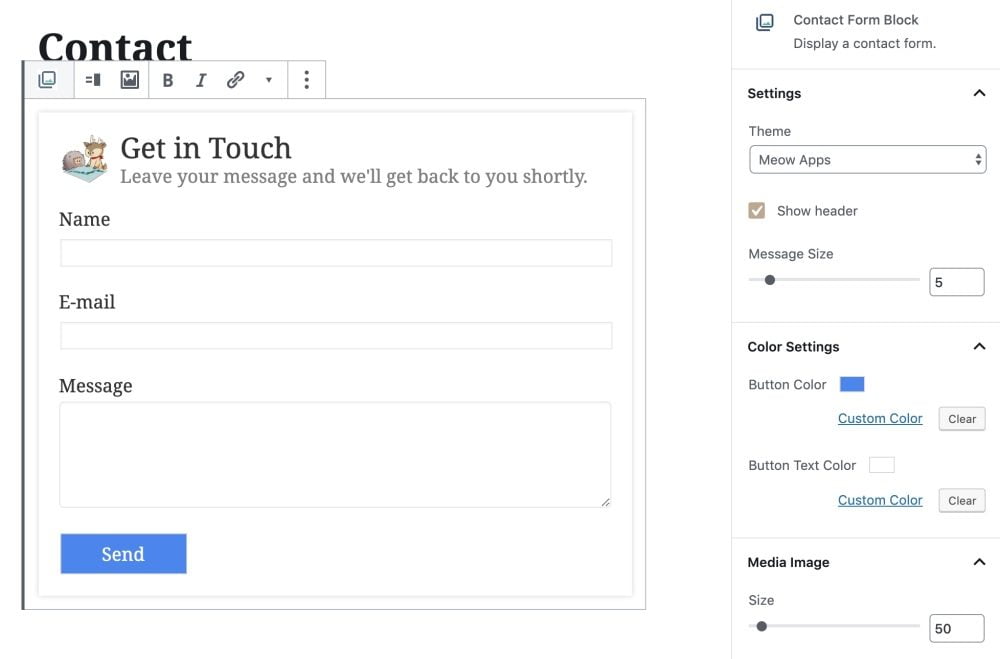 The Contact Form Block has been designed to let you create and manage contact forms within the Gutenberg editor. You can add fully editable contact forms to any page or blog post. The plugin enables you to edit the overall design of forms and labels of the main fields, including Name, E-mail, and Message sections. You can also customize the texts and the submit button color. The Contact Form plugin is loaded with three basic themes – None (adds no style to contact forms), Default (makes it work on any theme), and Meow Apps (which makes your contact forms look a bit more solid).
Advantages:
Fast and lightweight,
Anti-spam protection,
Easy-to-use.
Disadvantages:
Support is provided only via a forum.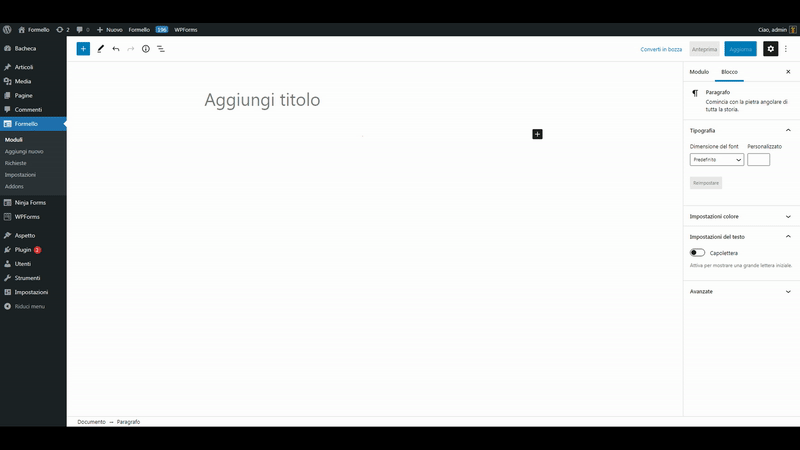 Formello is one more handy Gutenberg blocks plugin enabling you to create beautiful forms and seamlessly integrate them into any section of your site almost effortlessly. It lets you create custom forms directly in the Gutenberg editor. The plugin seamlessly integrates with MailChimp, especially useful to you while running email campaigns and managing your customers' email list. The Formello plugin lets you save the submitted data on your site and get notifications whenever a form is submitted.
Advantages:
Sends you automatic alerts,
MailChimp integration,
Form validation.
Disadvantages:
Offers a limited number of features.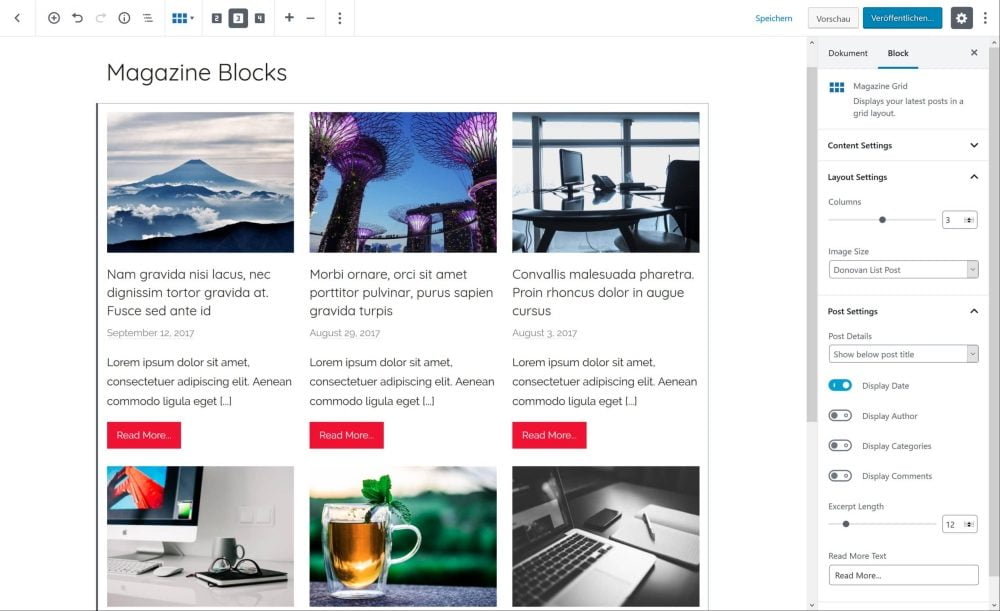 ThemeZee Magazine Blocks is an easy-to-use Gutenberg blocks plugin enabling you to create a magazine-styled homepage using 5integrated magazine blocks. Feel free to use grid, list, column, vertical, or horizontal blocks to create simple collections of the latest posts on your WordPress site. Adding a magazine-styled homepage to your site is as simple as taking the following steps:
Add a new Magazine Block in Gutenberg,
Select blog posts by category, tags or authors,
Configure the display of post meta, excerpt and read more link.
Advantages:
Easy to use,
5 magazine blocks are included,
Free to download and use.
Disadvantages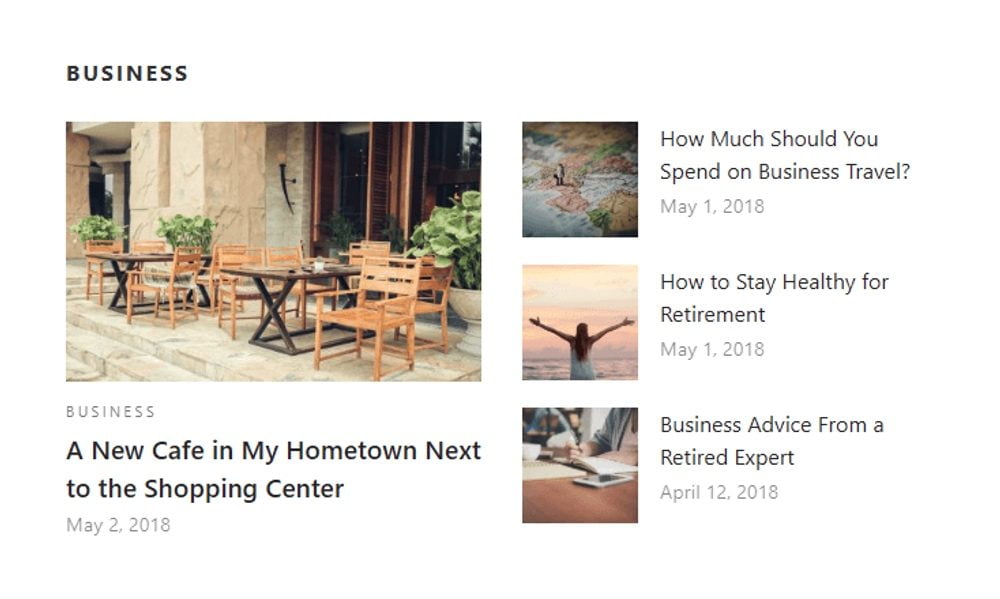 This free Gutenberg blocks plugin is especially useful for news websites. It lets you display blog posts in different layouts. It's fully responsive and makes your content automatically adjust to different screen sizes.
Advantages:
Suited for sites that need to display lots of posts per page,
Bring order to your posts,
Set additional classes,
Add tags and categories to posts.
Disadvantages:
Bottom Line
The choice of the best Gutenberg blocks plugins totally depends on your needs and the purpose of your site. If you need to add any custom solutions to your site, you need to install a niche Gutenberg block plugin. If you want to create something complex and don't look forward to adding multiple plugins to your site, opting for all-in-one Gutenberg blocks plugins should be the right choice for you.
Gutenberg FAQ
What is Gutenberg?

The content editor was introduced to the WordPress community in 2017. It was developed as a stand-alone plugin for editing content on your WordPress website. So, Gutenberg was a plugin until the WordPress 5.0 release. Ever since then, it's become an indispensable part of WordPress.

What are blocks?

Gutenberg is a block editor. It's the first content editor that has officially presented the concept of blocks editing. Thus, in Gutenberg, every headline, image, paragraph of text, quote video, etc., comes as a block.

Why use Gutenberg blocks?

Gutenberg blocks are intended to make content editing faster and simpler. The Gutenberg editor resembles the structure of Google Docs, letting you create and edit texts intuitively. There are many Gutenberg blocks available. By adding the needed blocks to your articles, you can easily update your articles with the required structure and visual elements, thus letting your audience enjoy the read.