Fundamental SEO Settings in WordPress to Set up a New Site
WordPress is a great choice for businesses of any form or size. The world's most popular CMS has a market share of 64.1% in 2022, which is expected to keep growing further. It's not only about quantity but quality. Some of the most famous websites (like Time, Observer, TED Blog, etc.) are built with WordPress. A continually increasing number of WordPress websites makes the competition more intense. You need to improve your website content's SEO to get your content noticed. Let's consider the fundamental and advanced SEO settings in WordPress that you should consider when bringing a new project to the web.
Fundamental SEO Settings in WordPress
Before adding themes or plugins to your WordPress website, you need to ensure all settings are set up properly. Completing the basic WordPress SEO configuration doesn't take much time. Setting them up properly is essential to ensure your website will have a good SEO score when it launches. Let's consider the fundamental SEO settings in WordPress that should be done on your new website.
Adjust Search Engine Visibility Settings
Optimizing SEO settings in WordPress begins with unblocking indexing in the meta tags. If the indexing is blocked, Google cannot index your web page. Thus, it cannot show up in search results. To begin with, the basic WordPress SEO setup, navigate to Settings > Reading and uncheck "Discourage search engines from indexing this site," and save changes.
Unmark "Discourage search engines from indexing this site." Otherwise, WordPress will generate a "noindex" tag for all pages of your WordPress website.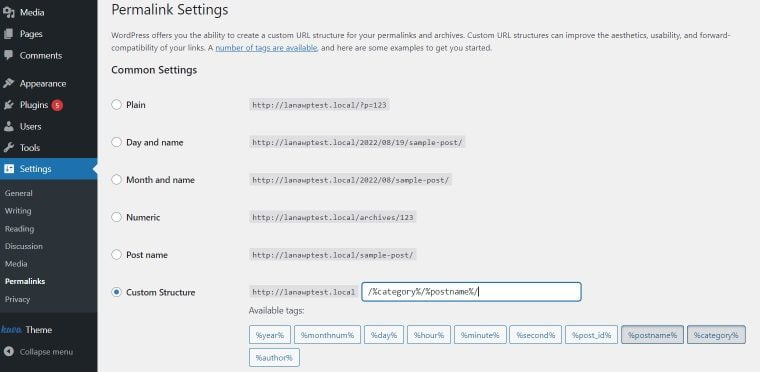 Improve the permalinks structure
By default, WordPress generates URLs with parameters like "example.com/?p=123," which is not user-friendly. If you launch a WordPress blog, it's recommended to use the post name for URL generation. If you are about to launch a WooCommerce store with several categories, you can include a category name in the URL to organize them by folders.
Stick to the URL structure once you decide which way you'd like to go. It's not recommended to modify URLs after they are published on your website. It can result in redirect and re-indexation issues and drop your website's positions.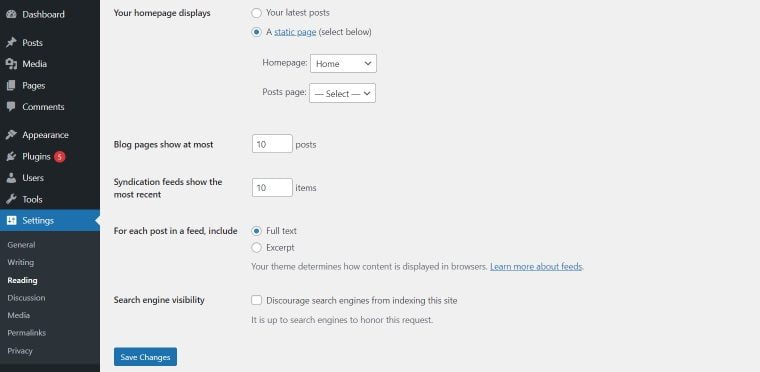 Categories and tags settings
Adding categories and tags to your website is one of the best ways to establish a better connection between the content published on your website. Categories are like big folders for the main topics of articles published on your website. Tags highlight post-specific features.
For example, the IT Monks blog features three major categories of articles – WP Development, WP Security, and WP WooCommerce. The selection of tags is specific to the topic of every post published on the blog. For example, the tags may be elementor, gutenberg, plugins, page builders, wysiwyg, etc.
Create quality content and post often
Creating SEO-friendly content is one of the crucial SEO tactics enabling you to take your website to the top of Google search results, though it doesn't bring you the expected results as quickly as you might wish.
When working on a blog post, write naturally and be smart. Add a couple of relevant keywords to your article, but don't go overboard.
Update your website with new content regularly. It's one of the main SEO rules. If you can update your website with new and unique pieces of content 3-4 times a week, you are very welcome to do it. If not, posting a quality article at least once a week is much better than posting nothing or daily updated with fluff.
Improve your site's speed
The website loading speed is a crucial factor affecting your website's ranking. Google has indicated that page speed is one of the signals used by its algorithm to rank pages. Besides, website loading speed has many other effects. For example, it's one of the major factors affecting early exits, bounce rate, page view, etc., because it directly affects user experience.
You can use either of these speed-checking tools to perform basic speed tests on your website. If you find out that your website doesn't load as fast as you wish, you may consider using proven techniques on how to improve your website's loading.
Use Yoast SEO plugin
Yoast SEO is one of the best SEO plugins for WordPress, letting you improve SEO settings in WordPress content before publishing it. The plugin is continuously updated to ensure you keep up with the latest search engine changes and do everything needed to optimize your website for a higher ranking.
The good news is that the Yoast SEO plugin doesn't require any difficult configuration and world straight out of the box.
Optimize images
Managing media properly is one of the vital SEO settings in WordPress that shouldn't be neglected or underestimated. Many website owners overlook image captions, alt texts and file names when uploading files to the gallery.
By filling in alt text and image caption, you tell Google what the image is all about. To make your images more findable in search engines, provide readable file names, type alt texts and a caption that would add more information about your content.
When uploading images to your website, you should know the file size. Google penalizes websites that take too long to load. Heavy images may be affecting your website's loading speeds. Luckily, you can optimize images for better website performance:
JPEG is the most popular image file format supported by nearly all devices and operating systems.
Compress images before uploading them to your website.
Use scaled images that can automatically adjust to the exact dimensions required by the website, whether a full-width image or a small thumbnail.
Use a content delivery network (CDN) to serve static content.
Suppose you have already uploaded many images to your website that do not match the criteria above. In that case, you use an image optimization plugin like Optimole to take good care of all image files added to your website.
Spend more time improving post titles
The post title is one of the most important parts of your content. That's what search engines and users see first. To make your web pages easier to find in search engines, the post title should include a target keyword used somewhere at the beginning of the title. The page title should sound catching and intriguing to appeal to your target audience. Try to find a balance between the two to stay in front of an SEO crowd.
Make your website mobile-friendly
Last but not least, you should take care of making Google rank your website higher in search results to ensure your website looks good on mobile devices. The latest figures show that 6.6 billion people use smartphones to browse the web. Considering this number, ensuring your website loads well on mobile devices is vital. Using Google's Mobile-Friendly test, you can test your website on mobile devices to ensure that everything is okay or fix all issues before your website is published.
Bottom Line
One of the best things about WordPress is that you can easily improve your website's functionality and visual appeal using plugins and themes available on wordpress.org or third-party websites. Whenever you need to optimize a WordPress blog for SEO, you can always find a dedicated plugin that suits your needs.
Important note: Be selective while choosing the best WordPress SEO plugins for your blog. Pay attention to the plugin's ratings and ensure the chosen extension won't conflict with other solutions installed on your WordPress website. Besides, installing too many plugins on your website may affect your website's performance.