5 Top WordPress Landing Page Plugins Compared
Do you need a landing page but do not know how to start? You can create incredible landing pages with WordPress landing page plugins intended to be used for the respective purposes. Building a landing page that would promote your new product or service for maximum efficiency is easier than you think. Today, you do not need to be a coding specialist. The job is easy to complete in simple drag-and-drop dashboards and the landing page plugin's functionality that you choose.
Today, we can choose from many useful landing page plugins that are compatible with WordPress's latest versions. We have selected 5 top WordPress landing page plugins. Let's review and compare their features so that you can easily choose the best option to create an effective landing page.
How to Choose a Good WordPress Landing Page Plugin?
A landing page is a standalone web page that is intended to serve one single objective. Working with a landing page plugin, there are different pieces of functionality that you may consider using. Let's highlight the key parameters that you should look into when choosing a landing page plugin for your site.
Is the chosen plugin compatible with your WordPress theme and the current WordPress version that you are using? If you use a free plugin, you will have no issues with switching to another plugin that works with your theme. However, if you go premium, you need to ensure that the landing page plugin is fully compatible with your WordPress installation.
What features does the plugin include? It's essential to realize how much functionality you get for the money you pay. When you want to add a landing page to your site, you likely have a plan on your mind. Is there anything specific that you'd like your landing page to include? Pay attention to it when you examine the plugin's functionality.
Does the landing page plugin give you the complete freedom of creating the design that you want? In some cases, you might want to create a landing page design that looks different from your current web design. That's fine. Look for a plugin that will give you the freedom you are looking for.
How well will your landing page adjust to smaller screens? It goes without saying that the WordPress plugin you choose should give you the freedom to create mobile-friendly layouts. More than two-thirds of people use smartphones. You need to ensure that every element of your landing page scales up and down to all screen sizes.
Besides the factors mentioned above, pick a plugin that is easy to use and doesn't involve any tiresome learning curve. It should be comprehensive enough to know what to do with it from the first time you open the dashboard. Of course, pay attention to the price tag and ensure that it meets your budget.
5 Best WordPress Landing Page Plugins Comparison
Let's get straight to this post's focal point – the top landing page WordPress plugins' comparison chart. We have chosen 5 options that we think can be called the industry leaders. Let's review and compare.
Price: $67 for lifetime updates and 1 year of support. The membership plan provides access to all Thrive Themes, including a WordPress theme, opt-in-forms, click-to-edit quiz builder, etc.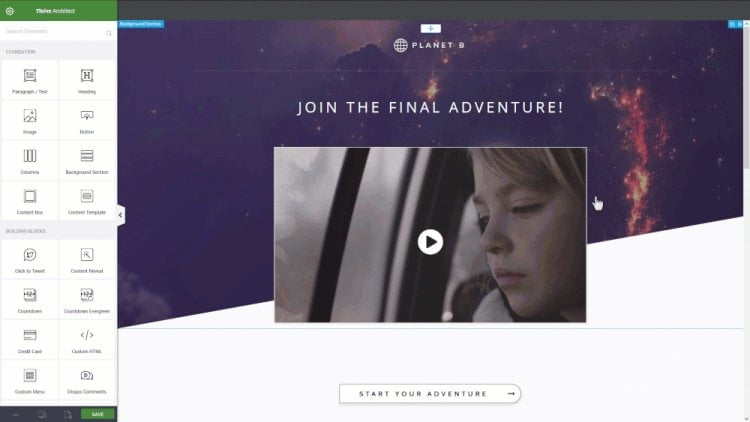 Thrive Architect is one of the most popular drag-and-drop landing page builders for WordPress. In fact, the plugin will be used for building not only landing pages but also other web pages and blog posts. It is easy to use thanks to the drag-and-drop interface. The plugin is fully responsive and offers seamless editing of your web pages from the screens of handheld devices.
Inside the pack, you can find many useful tools and features that let you build conversion-oriented pages. Thanks to the front-end style editor, you can work on the landing page design in the visual mode and watch the results of your work displayed in front of you in real-time.
Besides the advanced drag-and-drop functionality, the plugin lets you integrate the landing page with sign up forms, which are further on connected with popular email marketing services for WordPress. Inside the dashboard, you can find all the essentials that are needed to let you build a conversion-oriented landing page, including CTA buttons, splicing tables, user testimonials, countdown timers, contact forms, etc.
You can build a landing page design from scratch or choose any of the 270+ page templates. Themed template sets make it easier to create sales funnels that match your site's design and offer the desired functionality.
Thrive Architect offers unparalleled inline editing experience, which is easy to handle when you do not have any superior design or coding skills. Unlike many other landing page builders for WordPress Thrive Architect supports A/B testing capabilities delivered through Thrive Optimize. With its help, you can see what elements of the landing page design are the most effective for your online project, and which ones should be improved.
The landing page WordPress plugin cannot handle popups or other online marketing elements. However, you can fix it while using Thrive Themes membership. There is also no built-in integration for payment processing. Still, you can always benefit from using WooCommerce for the respective purposes.
Highlighted features:
Drag & drop visual editor;
Mobile-friendly;
270+ landing page templates;
API integrations for most popular email marketing services;
A/B split-testing;
Edit both posts and pages;
Regular updates.
Price: a free version with limited features is available; the premium plan starts at $49/year.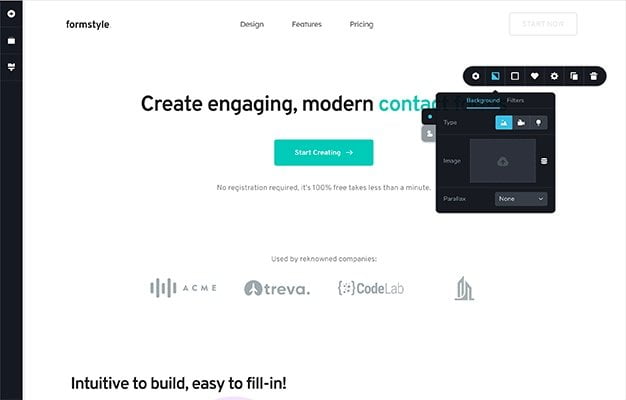 Brizy is one of the newest page builder plugins on this list. It's an incredibly intuitive visual page builder that offers many pre-designed elements, visual effects, handy content editing, and a bunch of other features that let you build remarkable landing pages. Unlike Thrive Architect, Brize offers a [collection of pop-up forms that are ready to be integrated into your web page. The intuitive drag-and-drop interface lets you manage pre-built blocks and adjust them according to your own preferences.
The plugin also supports email marketing integrations, though their number is rather limited. It's in active development, so choosing this tool will get many improvements and extra features added to the package in the future.
Highlighted features:
Drag & drop visual editor
The options to create pop-ups from scratch or with pre-made templates
Pre-made blocks
A wide choice of ready-to-go niche-specific landing page templates
Custom fields integration for WordPress
Innovative content tools
Amazing visual effects and animations
Price: premium plans start at $99 for one year of support
Here comes one more usable drag-and-drop page builder for WordPress. With the help of Beaver Builder, you can create and edit WordPress pages of any level of difficulty. With the plugin, you can create awesome websites and conversion-oriented landing pages. It offers an impressive selection of ready-made templates and blocks that you may feel free to modify without tweaking a single line of code. The plugin also lets you add opt-in forms, contact forms, pricing tables, user testimonials sections, and other elements that allow you to build engaging landing pages in a matter of days.
There are not as many features as Thrive Architect offers. However, there is a fantastic choice of templates included in the plugin. You may also drag and drop contact pages, pricing tables, works with integrated payment systems, etc. The plugin also contains the A/B testing feature, which lets you check what tools and techniques appeal to your customers the most and what should be improved.
The landing page WordPress plugin will be a perfect choice for everyone looking for a simple tool for building awesome web pages without any technical knowledge. Before opting for a premium plan, you can test how the drag-and-drop dashboard works while opting for a free version at wordpress.org. Although the freebie is quite limited in terms of functionality, it gives you a general review of the options that you can benefit from.
Highlighted features:
Simple drag & drop visual editor
Large selection of elements to add to your pages
Landing page templates
WooCommerce support
Integration with email marketing software, etc.
Price: starts at $99/year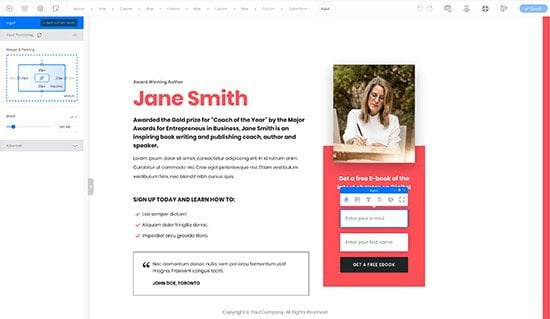 Different from other solutions that we mention in this comparison chart, OptimizePress is fully targeted to facilitate the process of creating conversion-oriented landing pages. It offers all the tools that you may need to power up your entire sales funnel. The plugin is constantly improving and evolving. The latest version 3.0 was rebuilt from the ground up.
OptimizePress 3.0 is called The Lightning Builder. It contains a wide choice of landing page templates for different purposes, including squeeze pages, long-form sales pages, lead capture pages, course pages, thank you pages, and many others.
The functionality that you get with the plugin depends on the plan that you pick. Some plans provide you with access to the checkout and funnel builder. Others let you access A/B testing and analytics that gives you more in-depth insights on your WordPress landing pages' performance.
Highlighted features:
Simple but powerful drag & drop editor makes page design easy
Large selection of landing page templates designed in sets
Large selection of email + webinar integrations
Go beyond simple funnel pages and create entire sales funnels
Integrate payment gateways and build conversion-focused checkout pages
Ability to disable/enable scripts on your landing pages
Includes a lead generation focused WordPress theme
Price: starts at $49/year for one site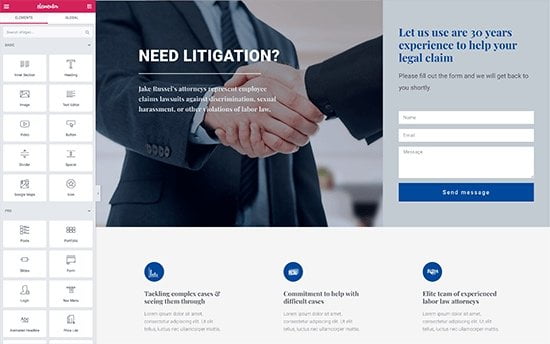 There is no doubt that Elementor is one of the most popular drag-and-drop page builders for WordPress that you can come across on the modern-day web. It lets you build versatile websites for different purposes and types of projects. There are both free and premium plans available. Logically, when you go premium you get a wider selection of tools and functional elements that let you build and promote web pages for the maximum efficiency.
Elementor is well-known for its intuitive drag-and-drop page builder that lets you create landing pages, product and category pages, as well as effective marketing funnels. Different from the Pro version, Elementor free plugin doesn't offer email marketing integrations.
Installing Elementor on your website, you can put your hands on a series of beautiful page templates and content blocks. It's a perfect option for everyone looking forward to building something more than just a landing page. For example, Elementor Pro lets you create marketing-focused popups.
The downside that we need to mention is that Elementor Pro currently lacks built-in A/B testing functionality. However, there is an option to add the respective features using third-party extensions like Split Test for Elementor.
Highlighted features:
Drag & drop visual editor
A wide choice of widgets and landing page templates
WordPress popover builder
WooCommerce page builder and 15+ shop widgets
WordPress Theme builder functionality is included
Compatibility with third-party plugins
Testing Your Landing Pages
The truth is that even the most advanced landing page builder doesn't guarantee that the end-product that you launch will appeal to the target audience as much as you expect it to be. It's hard to predict the reaction of your customers. To get the most out of your landing page, you need to test how different elements perform and what feedback they get from your target audience.
There is no one-size-fits-all rule that works equally well for all types of landing pages. To find the key to your most successful strategy, you need to spend some time planning and testing. Spending some time on the documentation will increase the profitability of your venture in the long run.
While testing your landing page, there are many factors that you should keep in mind. First of all, you need to find out if the design that you've created appeals to your target audience's needs. Is there an alternative way to present the same content and ideas on a landing page? If you come up with another idea to give your thoughts, do not miss a chance to spend your time on launching one more landing page featuring different design techniques. Compare the results and see what works best for your audience.
You never know what changes will be beneficial for your customers. For example, it can be a simple change of fonts, content positioning; a CTA painted in a different color, etc. Test and make a record of your results. Analyze everything thoroughly, and you will be able to come up with a perfect formula that will help you achieve dramatic results with your landing page design.
What Landing Page WordPress Plugin to Choose?
The choice of the best landing page WordPress plugin depends on your needs and expectations. If you are focused mainly on creating an appealing landing page, OptimizePress and Thrive Architect will be the perfect choices. If you want to add the drag-and-drop functionality to other pages of your site, then the Elementor Pro will provide you with the desired freedom of codeless web development.