15 Best WordPress Maintenance Services Providers Reviewed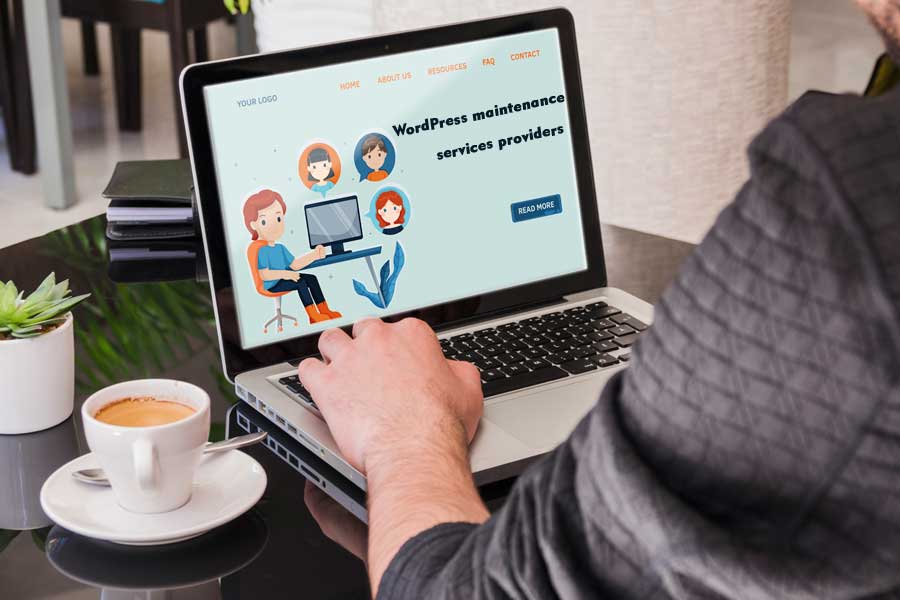 Today, every business that wants to stand out from the competition and attract more customers needs to be present on the web. A website is an indispensable online marketing tool that lets you promote your services better than any other marketing tool. However, not all of us have enough technical skills to run and maintain a website. In this case, WordPress maintenance services can come in handy. Luckily, you can choose from many companies providing WordPress maintenance and support. On which of them can you rely on, and which provider will deliver the best WordPress maintenance services to you? Let's see.
---
Reasons to Order WordPress Maintenance Services
If you cannot maintain your WordPress site on your own, it's always a good idea to invest in hiring a team of experts who can get the job done for you. Although the advantages of ordering WordPress maintenance services seem obvious, let's highlight the most reasonable ones.
As a rule, business owners lack the needed skills and knowledge to control all things by themselves. That's why professional WordPress maintenance services providers can aid throughout the entire process.
You can beat your competitors with an outstanding design/redesign/maintenance of your web project.
Your website will load fast, which will help you improve its ranking in search engines and deliver a better user experience. A WordPress maintenance services company will help you take control of your site's loading times while taking care of your theme and plugins updates, as well as keeping your WordPress core in order.
Such companies also help you take control of your site's security. Whenever you face technical issues of any kind, an expert team will help you control the situation.
Hiring WordPress maintenance services companies is a common thing for the majority of big well-established businesses. If you want your website to beat the competition, you need to hire a team of experts who will keep your business alive and active all the time. Instead of bothering your head over the technical stuff, you know little about, you can spend more productively while working on a new promo campaign or a new product for your site.
---
Best WordPress Maintenance Services Providers
Professional maintenance and support services are critical to every website. The most common mistake made by many startups and small businesses is the belief they can avoid investing in WordPress maintenance services. Although many consider it's the expenses they can avoid, the cost you pay for these services at the start is worth it. Thanks to the professional website maintenance service, you can pursue your short-term and long-term business goals.
The sort of maintenance services highly depends on what kind of a website you run. If it's a small blog or a portfolio website, you go well with the maintenance services team's lesser working hours. Even the smallest business site requires regular attendance to ensure that everything runs smoothly and serves its purpose.
With that said, let's take a look at the list of the top-recommended WordPress maintenance services providers.
---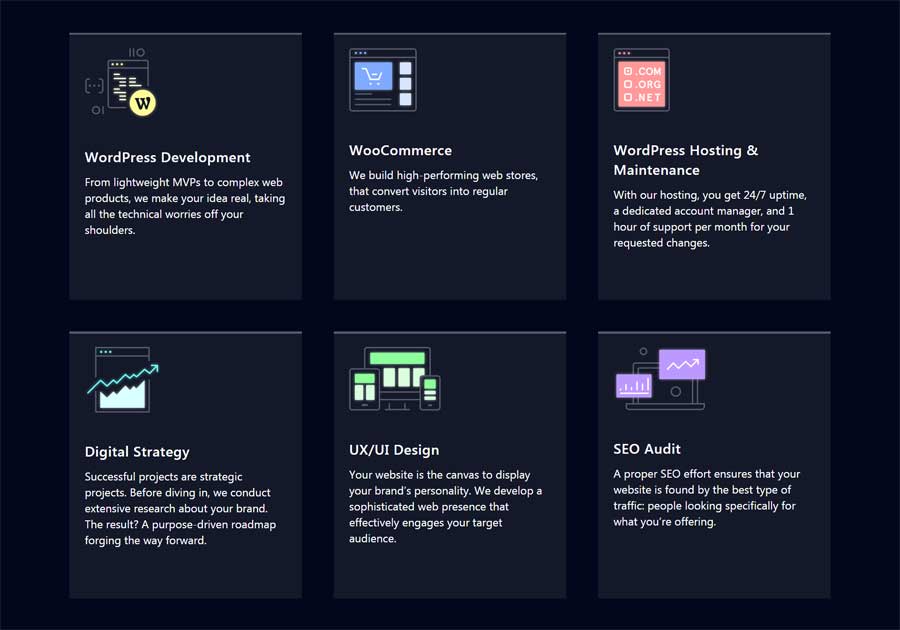 Content publishing, Website Maintenance, and On-Demand WordPress Experts are all part of our Maintenance Packages, that make our clients' lives easier when it comes to owning a website.
We will publish your content, additional pages, and update images whenever on request, and make sure no configuration has been affected.
Website maintenance includes continuous back-ups, enforcing security, keeping all plugins up to date and running regular site audits to ensure that the site remains fully functional and safe at all times.
And when you have new requirements, our On-Demand WordPress Experts know the CMS's ins and outs and are ready to guide and then strategically deliver your ideas.
---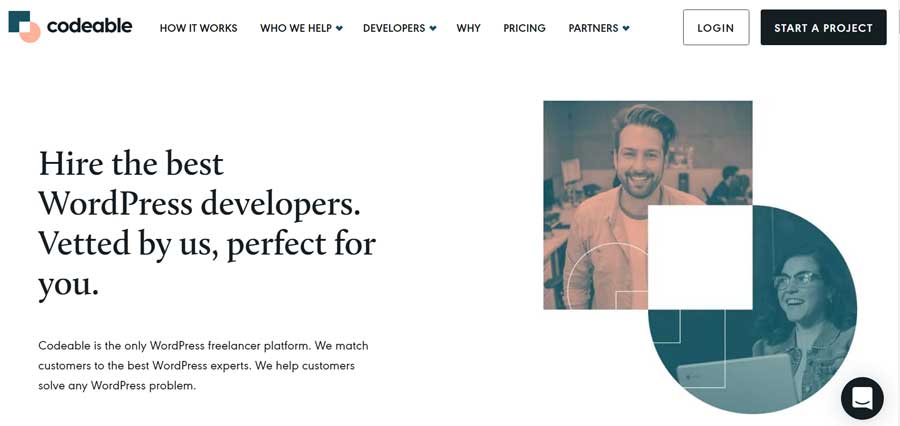 The Codeable has more than 500 developers who know site builders, multiple ranges of themes and plugins. They have specific specialization in the world of WordPress. They cover a wide range of WordPress maintenance services, including theme development and customization, eCommerce development, custom WordPress development, design, security, troubleshooting, and maintenance, etc. To order support and maintenance services, you need to provide details about your project to connect with the right developer.
Codeable pricing plans start at $960.
---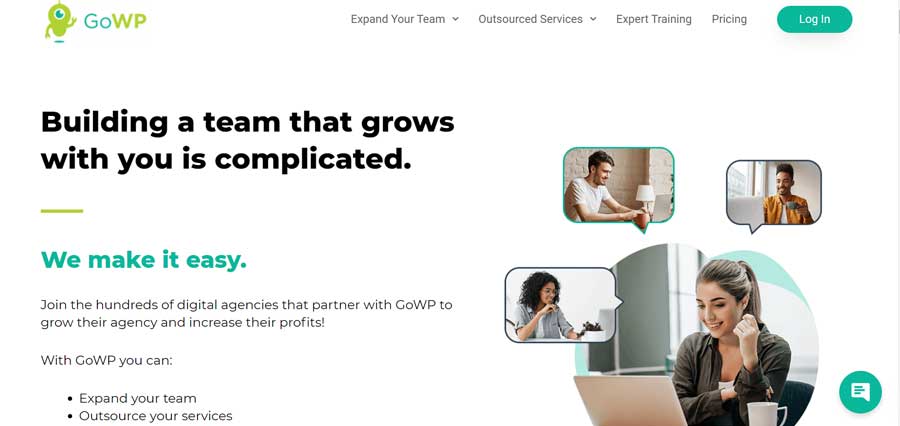 GoWP has a reliable team of developers who guarantee to deliver your work in time and in a limited budget. Their services are aimed at increasing your sales and profits. They also provide WordPress and copywriting Services, 24/7 content edits, WordPress maintenance and landing page construction. They take care of your site's maintenance while handling all the backups, security and updates. They also take care of running daily scans to protect your website against malware of any kind.
You can check all maintenance activities performed on your site using the maintenance dashboard. The site's dashboard also helps you keep a check on the smoothness of the dashboard plugin's working.
GoWP pricing plans start at $29/mo per site.
---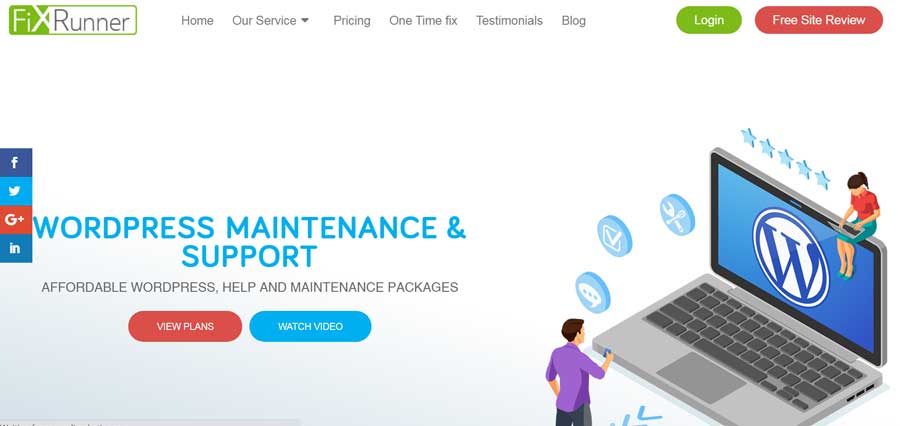 FixRunner comes next on the list of the best WordPress maintenance services providers. They provide you with any help you may need, including daily backups, edits, emergency support, uptime monitoring, regular malware scan, on-page SEO, speed optimization, regular updates, and more. There are two ways to order WordPress support and maintenance services from FixRunner – while sending a one-time service request or by choosing WordPress care plans. While getting the care plans, you will get a complete review of your website. FixRunner team will fix all issues and improve your website performance.
---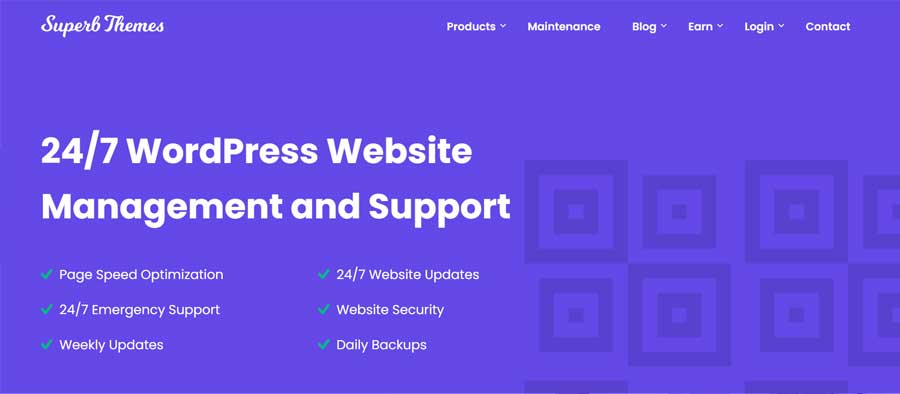 The SuperbThemes team provides support and maintenance services every month, with the plans ranging from $99 to $249. They offer 24/7 maintenance for serious website owners who are in it for the long run.You also get several extra services that are vital for a flawless performance of your site. For example, it includes applying changes to your content and running website updates.
---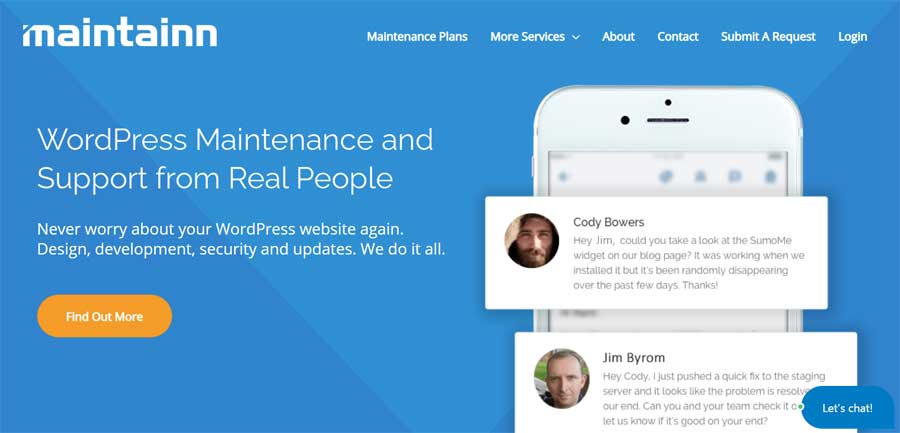 Maintainn delivers reliable WordPress support services worldwide. An experienced team is ready to handle web projects of all sizes, including small blogs and large corporate web resources. Besides, you will have a dedicated developer throughout your subscription, so you will always have a person next to you on whom you can rely.
The cost of WordPress maintenance services differs based on the plan you choose. You may opt for a premium subscription plan that costs $49/mo. It provides such services as security monitoring, all WordPress updates, and offsite backups. There is also a Premium Plus plan available for a monthly fee of $99. It provides migrations, video tutorial access & an hour fixed for developer support.
---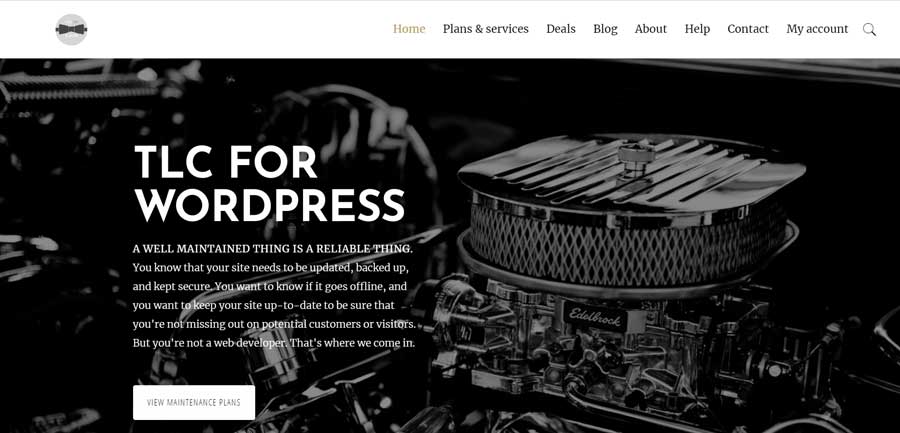 With the WP Butler, you can create a custom plan that perfectly meets your website's needs and goals. Compared to other maintenance services, the company keeps the overall cost down because you pay for what you need. If you cannot decide on what services your custom plan should feature, you can also choose from several pre-defined plans starting at $30/mo.
The services provided by their team include uptime monitoring, malware scans, backups & WordPress updates, etc. You can also hire the WP Butler team to check your website at predefined intervals.
---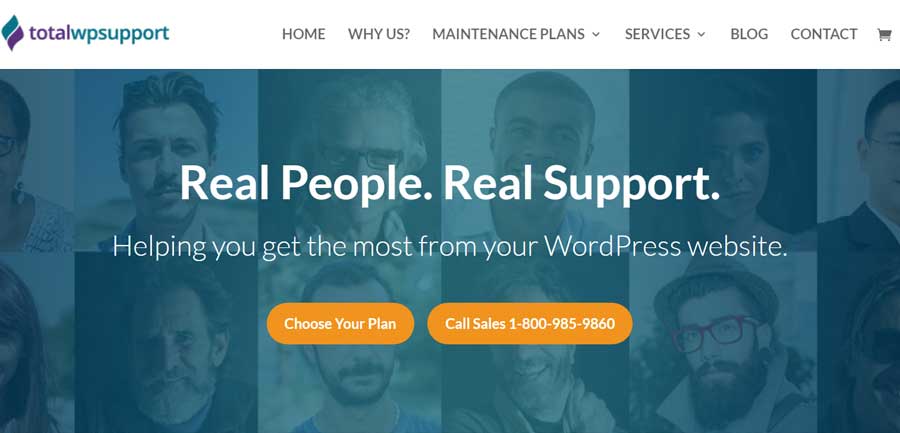 As the service's name suggests, TotalWPSupport has taken care to gather everything that is somehow related to managing your website's health within a pack of six vital services. They provide your site with absolute security, which covers Firewall, setting & fixing the unconditional potential threats. It ensures that your site stays protected all the time. They also take care of making your website run smoothly in all web environments. The software will be always up-to-date, which will make your site super powerful and protected.
There are 3 pricing plans, starting at $49/mo.
---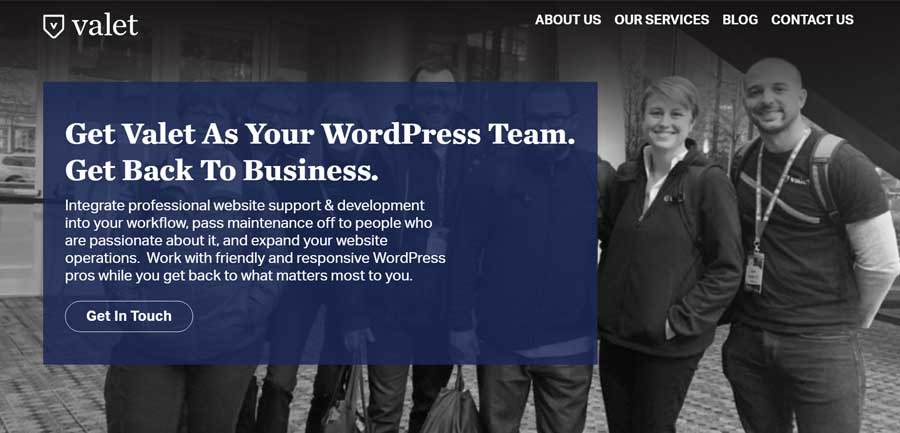 Like many other companies on this list, Valet offers both maintenance and support services for your WordPress site. The company's staff has many years of experience delivering top-notch onsite security, uptime monitoring & backups, and WordPress updates.
The company's representatives can assist you in a range of questions starting from choosing the best plugin or theme for your site and ending with handling technical questions, issues regarding development, the best SEO practices, etc.
The personal plan starts at $250/mo. The monthly cost of a business plan starts at $1750.
---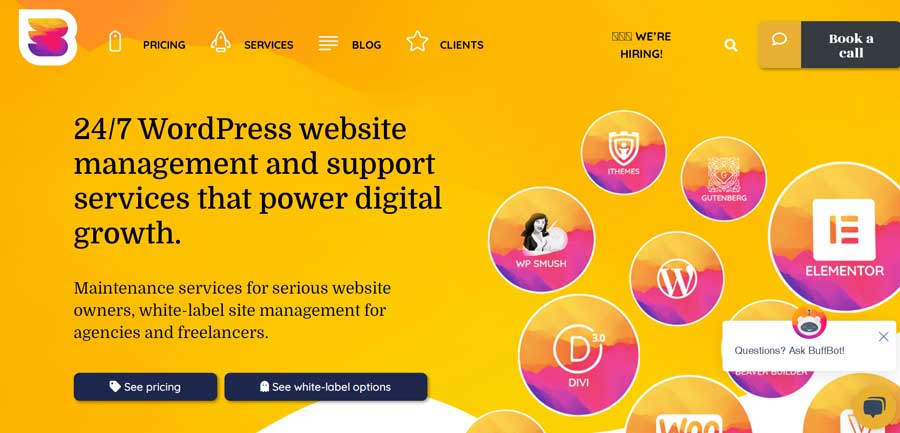 WPBuffs is a 24/7 website and WordPress management service, which will come in handy to personal blogs and small business owners. It also works well for WooCommerce projects. The service includes performance enhancements, daily health maintenance, and regular security troubleshooting. It provides 24/7 website monitoring, so you do not need to worry about something going wrong all of a sudden.
As part of the WordPress website maintenance service, you can also benefit from using the white-label program, emergency support, and website edits. It also provides weekly updates, backups, speed optimization, and ongoing security. While staying within your WP space, WP Buffs offer monthly website maintenance services.
Price: starting at $40/month
---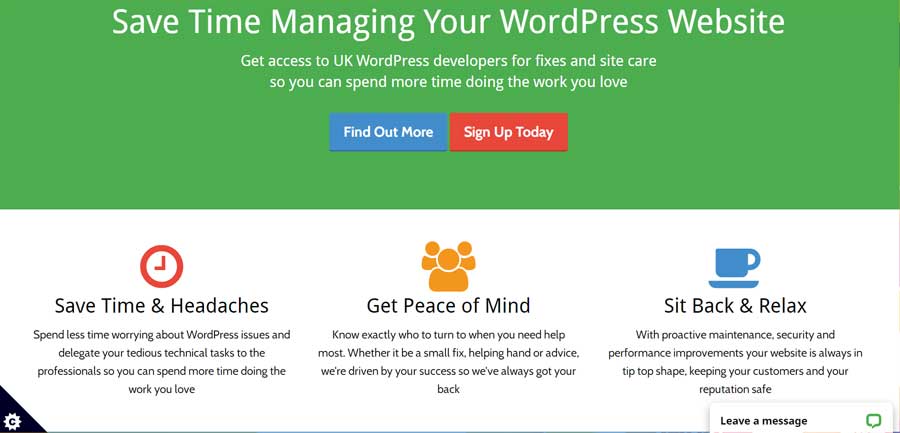 The services provided by the WP Shrug are focused on improving your site's performance while improving the code structure of your site and fixing the existing bugs. They also deliver a wide range of other services to provide WordPress support and maintenance services in technical advancement, WooCommerce and Yoast WordPress video tutorials, security monitoring, WordPress backups, updates, clean-ups of hacked websites and WordPress full support services. It also manages the SSL certificates, uptime monitoring, security monitoring, and domain name.
There are three plans available for support, platinum, gold, and silver. The pricing starts at £59/mo.
---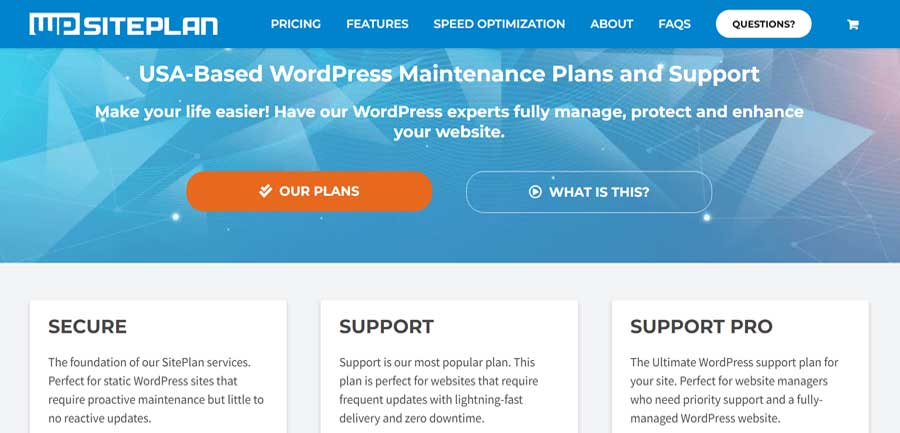 If you are looking for a company that will help you maintain your newly-built website, the WP SitePlan will perfectly meet your goal. Their team delivers such services as manage, speed up, or website protection. The company will help you protect your WordPress website from all issues such as spam, hackers, etc. They will keep your site always up-to-date to meet the latest WordPress security demands.
They let you choose from 3 pricing plans, starting at $29/mo.
---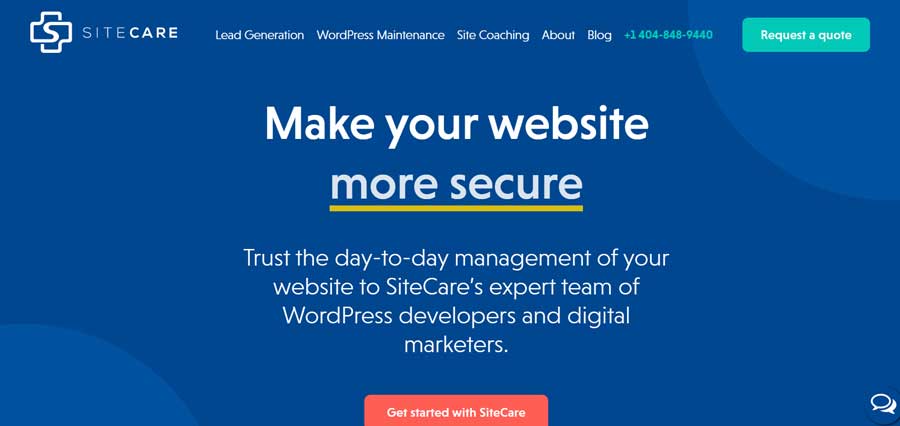 WP Site Care is one of the leading and reliable website maintenance services providers, which has been in the market since 2012. The company provides security, backup & maintenance plans, etc. The service's cost depends on whether it's WordPress updates, backups, & security issues, etc., that you need to order. Thus, the pricing starts at $79 per month (if billed annually) and grows higher depending on the kind of services the company handles on your site. You may also opt for a super premium subscription which costs $349 per month (if billed monthly) and $299 per month (if billed annually). While choosing the latter, your WordPress support and maintenance services will also include SEO, speed optimization, and social & security audit of your site.
---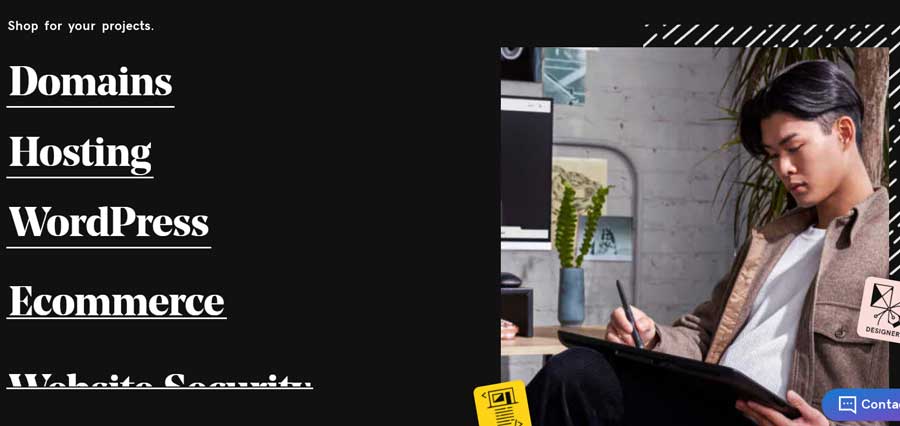 If you need to resolve a series of small jobs on your site, WP Curve can be a great choice for you. The WordPress maintenance services provider lets you subscribe to the monthly plan to get a bunch of convenient services, including maintenance, security, plugin/theme quick fixes, conversion optimization & speed optimization. Their monthly subscription is worth $99, which includes proactive core, plugin updates, offsite backups, security scans (monthly), etc.
Bottom Line
Choosing the best WordPress maintenance services provider is always an important step that provides you with many benefits in return. As you can see, many companies will help you with starting or moving your site, improving its performance, and protecting it from malware of any kind. Opt for the company whose professionals can manage all of your website's technical aspects at the cost that fits your budget.