Divi vs Elementor vs WPBakery. What's the Best WordPress Page Builder for You?
WordPress Page Builders make our life so much easier. Everyone who has ever tried working in the drag-and-drop mode will agree that creating new layouts and customizing the ready-made ones takes a lot less time, which you can spend on many other tasks. In the WordPress community, the number of page builders grows by leaps and bounds. Many handy solutions let you create versatile pages and designs without modifying a single line of code.
As soon as page builders' selection grows more diverse, it gets more challenging to choose the tool that will meet your demands perfectly well. We've researched the market and came up with our selection of the top 3 WordPress page builders. Let's take a closer look at them and decide what's the best choice for you.
---
Why Use WordPress Page Builders
Many new blogs, businesses, and eCommerce projects are launched every day. It's become a must-have for every small to large-sized company to be present online and promote their services through a website. The tendency has resulted in the growing number of beginners and non-techies making attempts at website construction. Many beginners find it challenging to work with HTML/CSS, so working with drag-and-drop page builders is the easiest way to work on their web design projects without someone else's help.
One of the best things about WordPress page builders is their compatibility with ready-made WordPress themes. A user may choose many cool ready-to-go designs as the foundation for a blog or niche-specific website. A beginner may create a completely custom web design without breaking the bank, installing a WordPress theme and customizing it with a drag-and-drop builder.
Since there are so many WordPress page builders in the market, we have decided to compare the three industry leaders. Check out what functionality each of them offers and select the best solution for your website.
---
Top 3 WordPress Page Builders
Pricing: Starting from $89/year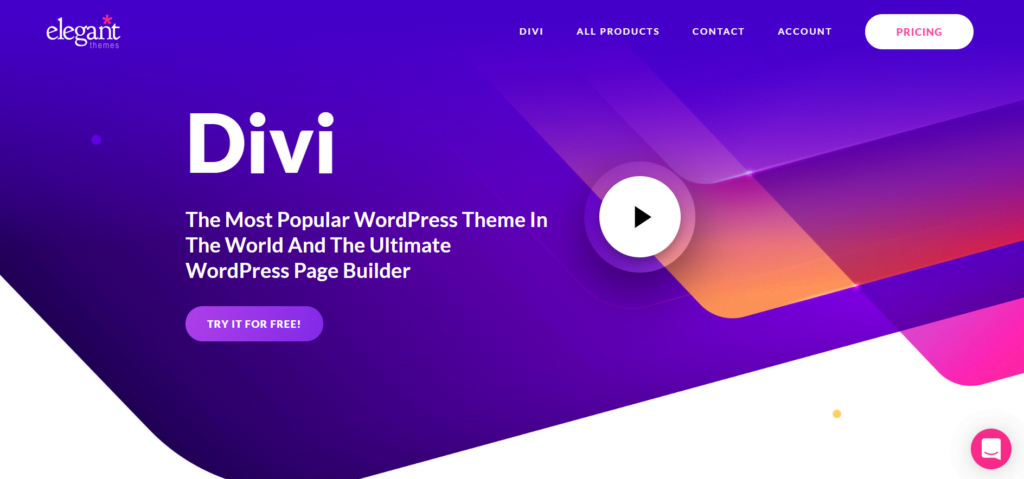 Divi is one of the most popular drag-and-drop page builders for WordPress. This is more than just a page builder. It's available as a part of the Divi theme. It also can be used as a standalone plugin for any different WordPress theme. Divi features both front-end and backend interfaces, making it the optimal choice for beginners and expert webmasters alike.
Unlike other drag-and-drop page builders offering layout customization options in sidebars, Divi lets you edit pages in real-time while using popups and floating buttons. Hover over the area you'd like to customize and make your imagination flow using the buttons in front of you.
Divi also offers inline text editing functionality. This is convenient for bloggers who work with texts directly on the page.
The page builder provides 46 modules that you may feel free to use for your designs. This includes audio player, blog, contact form, gallery, search, shop, tabs, countdown timer, video slider, etc. See the full list below.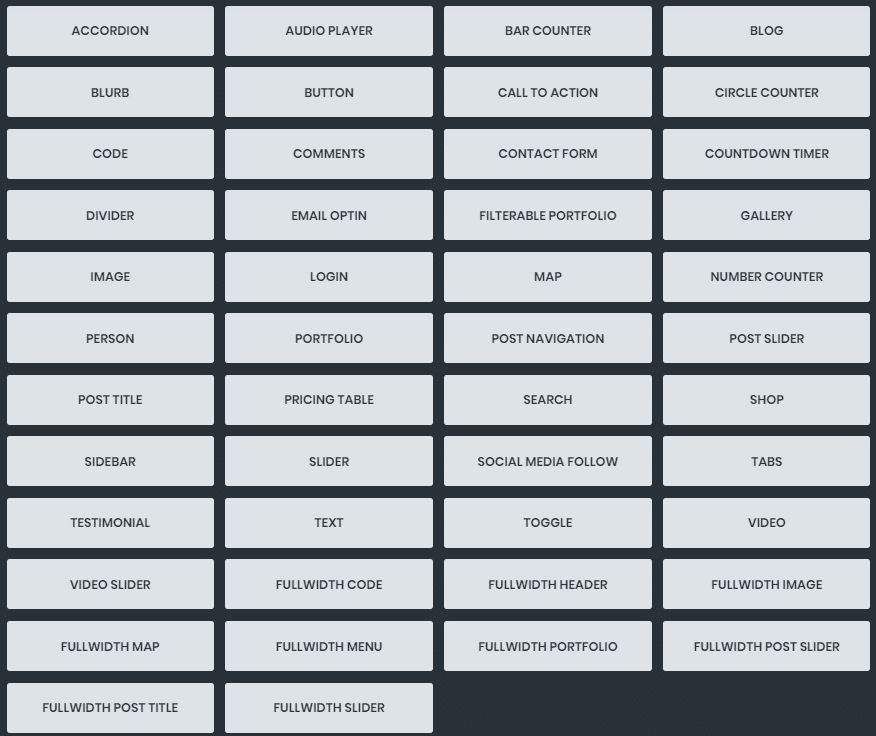 The page builder lets you work with 316 pre-built layouts that are organized into 40 layout pages. It's convenient to browse the list of categories inside the page builder or use the advanced search to find the right design. You can also create your design and save it as a template for future references.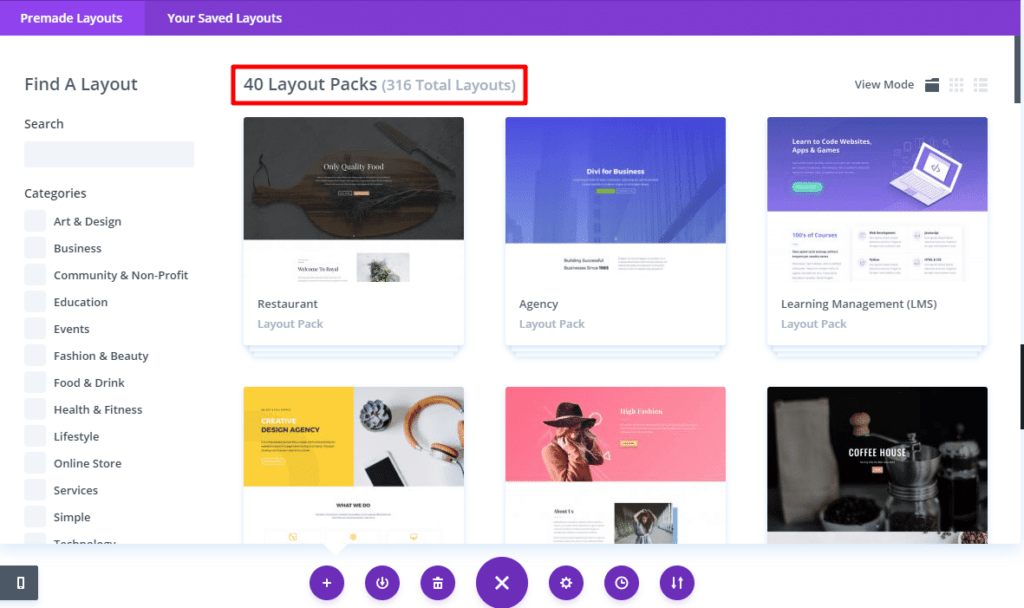 In addition to the intuitive drag-and-drop content editing options, Divi lets you add custom CSS to the main element, before or after it. If you need to export a layout from one Divi installation to another – you may feel free to do it using the advanced Divi settings.
Elementor
Pricing: Starting from $49 for single site license.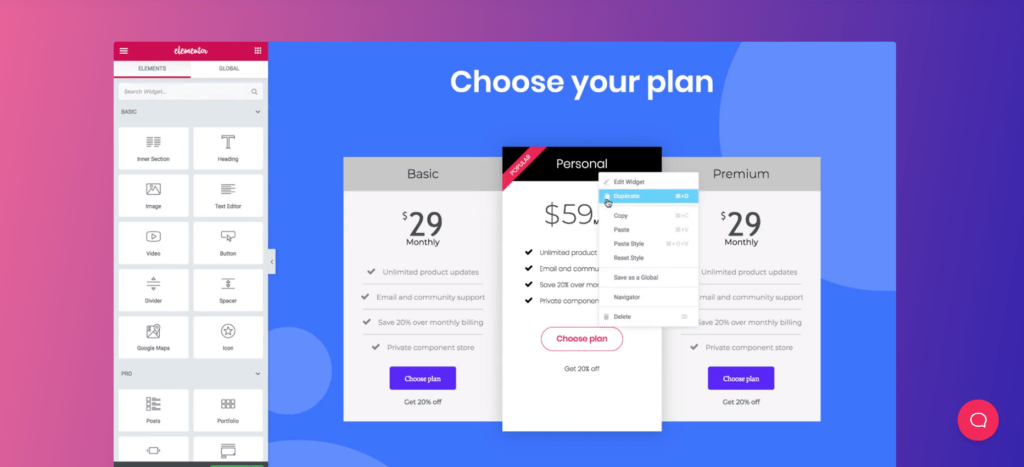 Elementor is the youngest WordPress page builder on this list. It launched in 2016 but has already gained over 3 million active installs at wordpress.org. The page builder includes both free and premium subscriptions. It's also sold as part of many WordPress themes you can find today's market. As a rule, ready-made WordPress designs include a free Elementor version. You can upgrade to any premium plan whenever you need it.
The premium version of the Elementor page builder offers two handy additions that make Elementor Pro stand out from its competitors. This includes the Theme Builder, which lets you create versatile themes with the help of the drag-and-drop interface of Elementor. Using the Theme Builder, you can create everything starting from a single post page, header, footer, WooCommerce shop pages, and more.
Elementor Pro also lets you design beautiful popups using the Popup Builder. You can create contact form popups, login popups, email opt-ins, and more with its help.
Speaking about the Elementor page builder interface, the first thing that you will notice is the left sidebar that provides you with quick access to all the core features, layout styles, and customization options.
Elementor is a real-time page builder plugin that lets you instantly see the results of your work. First, select a section and specify the number of columns that you with the section to include. Proceed while dragging and dropping widgets from the left sidebar to your section. The free version of the Elementor page builder includes 28 free widgets. The Pro version delivers 30 more widgets to you. This includes image galleries, image carousels, buttons, tabs, social icons, sidebars, etc.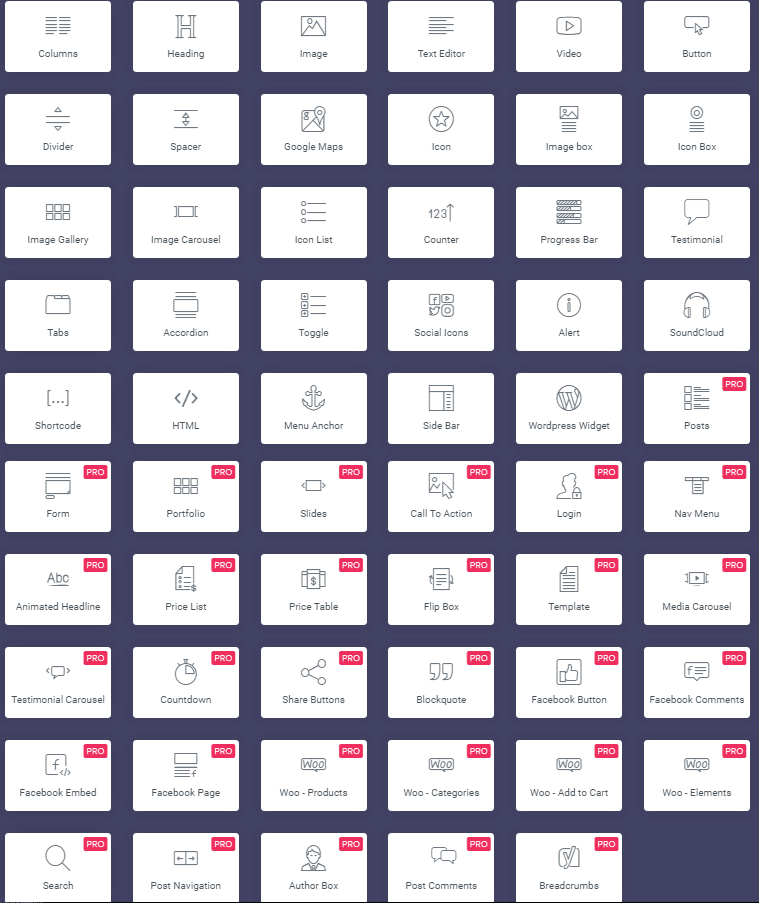 Another advantage of the Elementor page builder is the availability of rich collections of hundreds of additional templates, ready-made pages, blocks, and layout options. You may choose any of them and modify in the drag-and-drop mode.
The customization of ready-made pages or the creation of designs from scratch is made intuitive. Click on any section, column, or widget to see a menu of stylish options in the left sidebar. This is where you can write content titles, assigns tags, choose text size, alignment, etc.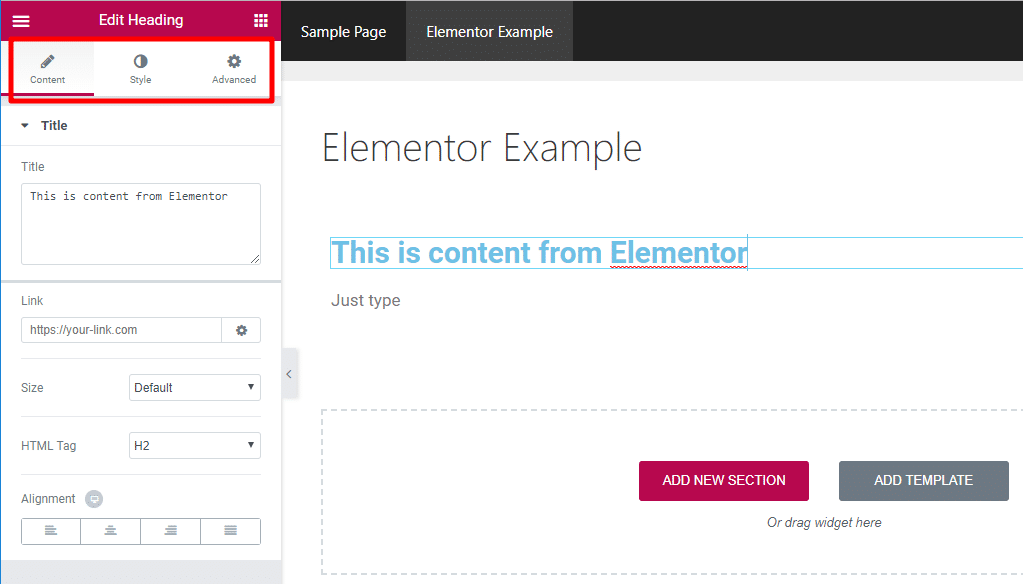 Whether it's a free or premium version of the Elementor page builder that you choose for website construction, you will enjoy many other handy features and customization options. For example, the Elementor interface lets you build the entire theme from scratch. Everyone looking forward to building web stores can benefit from working with the WooCommerce builder.
In a word, the Elementor page builder works well to construct and modify websites of any level of difficulty. It is multi-functional and affordable. If you do not need more than the free version of the page builder offers, there is no need to go premium.
Pricing: $64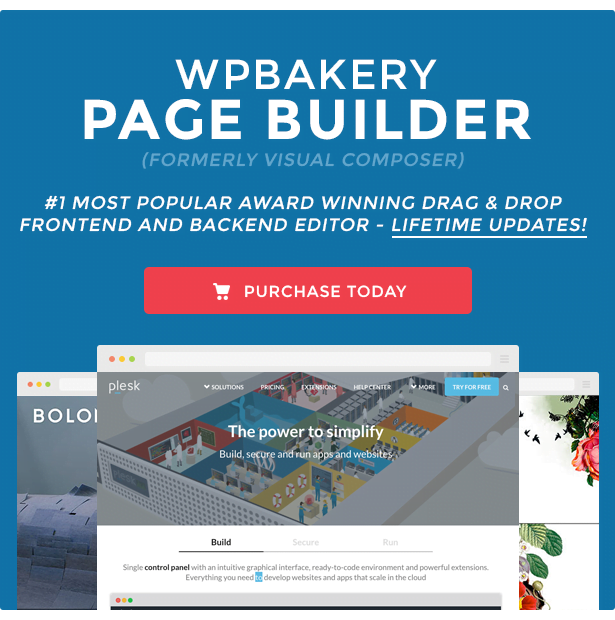 The WPBakery Page Builder is one of the most popular solutions in the WordPress community. A vast majority of WordPress theme supports it. Some premium WordPress designs may include the plugin in their download packages.
The first thing that catches the eye while looking at the WPBakery Page Builder interface is that it has a more classic look (compared with Divi and Elementor that look modern and futuristic in some places). However, the theme's pages' simple structure doesn't mean that the WPBakery lags behind its competitors in terms of the front-end and backend editing options.
The page builder lets you work with 39 elements: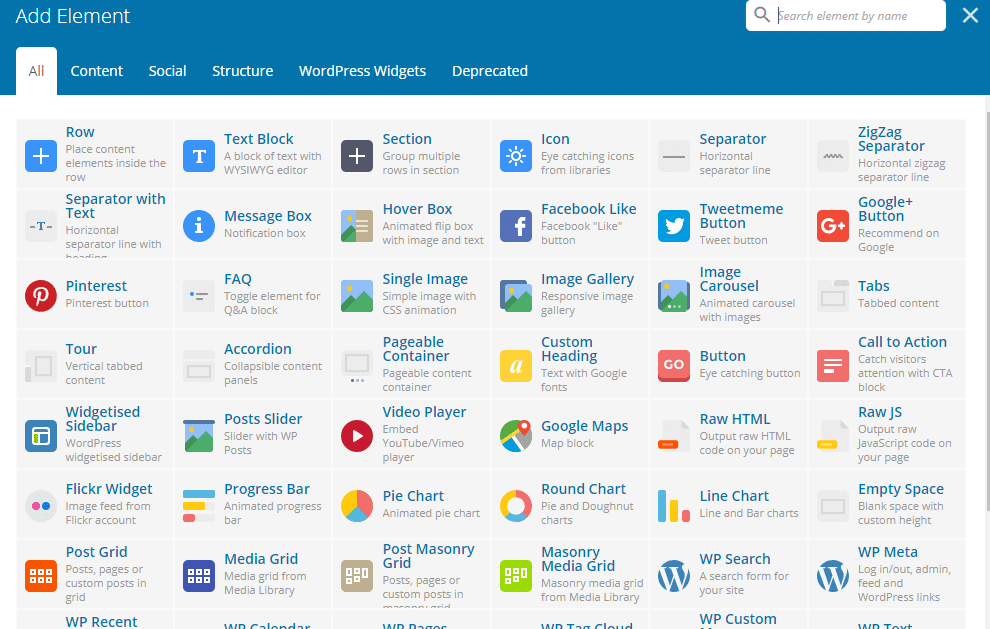 Compared to Elementor and Divi, WPBakery Page Builder offers a bit limited styling options. There are many controls over rows, however there could be a wider choice of styling options of individual elements. Unlike the other two page builders that we reviewed in this post, WPBakery boasts one of the largest collections of 250+ add-ons, which you may use to improve your site's performance and usability.
What's the Best WordPress Page Builder?
The answer depends on your demands and expectations from the page builder. If you are looking for more advanced editing options, then Divi or Elementor will be the best choice. If you are looking for the drag-and-drop editor with the necessary customization options, front-end and backend editing support, and selecting the essential elements, then WPBakery Page Builder will come in handy to you.
If you ask me what option I would choose, it's probably Elementor. I like that it offers a free plan and the possibility to go premium whenever I need it. And what about you? What WordPress page builder will you choose?