How to Choose Elementor Live Chat Plugin for WordPress
The demand for faster information grows faster than you might expect. Customers need quick answers to all their questions and requests when shopping, swiping, or simply web surfing. Live chat is an essential element of every website, letting businesses connect with customers, answer their questions, and help them find the best products or services that meet their budgets and other requirements. Using the Elementor live chat plugins for WordPress, you can uplevel your customer experience without burning out.
What Is WordPress Live Chat?
As the name implies, live chat is the functionality that enables your website visitors to engage with you in real-time. It can work for you and against your businesses.
The advantage of adding a live chat to your website is that you can answer users' questions on the path to conversion. You can positively portray your business and show how much you care about your clients. This should be enough to give your potential customers the confidence to buy.
Live chat can also work against your business, especially if it's a small business. You should be available 24/7 to be able to answer your customers' questions whenever they have any. If your business covers different time zones, it can be challenging to deliver a high-quality customer experience, especially if you are the only one who supports customers via live chat.
Why Use Elementor Live Chat?
Using Elementor live chat, you can connect with customers in real time. The live chat functionality allows you to solve a wide range of customers' problems, address their pain points, and provide the best solution to meet their demands without making them wait for long.
Integrating your website with the best live chat WordPress plugin, you can provide your prospects and customers with a personalized user experience, making them feel valued.
With so many WordPress chat plugins available, it may be difficult to decide which solution is the best for you. To save you time on trial and error, we've compiled a list of the best live chat plugins for WordPress that help you deliver a better customer experience on your website.
Elementor Live Chat Key Features
Before we move to the collection of the best Elementor live chat plugins and what to look for in a WordPress live chat extension for your website, let's consider the key elements a good WordPress live chat app should have to deliver the complete experience to the website owner and customers.
Design always matters. The live chat design should not only fit your WordPress theme but also be catching enough to be noticed by your customers. Most live chat apps feature standard designs. Some others let you tweak their appearance in a way that would suit your website.
Native integration plays a vital role. It means the best Elementor live chat plugin should be written for WordPress and be able to work without any third-party applications or APIs.
Ticketing system is a great solution, enabling you to raise tickets to track queries to ensure nothing is forgotten. Ticket numbers allow customers to follow up on their queries whenever needed.
Chat surveys are incredible tools enabling businesses to understand how well they perform and whether customers are completely satisfied with the quality and service.
What to Look For in a WordPress Live Chat Plugin?
When looking for the best Elementor and WordPress live chat plugins, consider the availability of the following functionality:
It should be easy to use. Spending hours on the learning curve and setup of the live chat app is the last thing you want to do when you decide to integrate your website with the respective functionality.
Responsive design is a must-have. The live chat should run smoothly and look great across all devices and screen types.
It should feature a customizable design that you can adjust to fit into your WordPress theme. It should let you easily change colors and fonts.
It should easily integrate with MailChimp, SalesForce, and other applications your company uses for marketing and other purposes. Some live chat applications easily integrate with WordPress hooks, while others require an API.
A good WordPress live chat app should include some sort of automation. For example, it can display a greeting to users who land on your web page.
It's always a big benefit if the chosen live chat app features a dashboard that allows you to easily manage all chats and tickets and provides quick access to all previous conversations in a single place.
Benefits of Using WordPress Live Chat Plugins
Many shops underestimate the value of using Elementor live chat plugins. Why should you integrate your web store with one? Besides letting you multiply your earnings, integrating your project with a live chat plugin brings you many other advantages, like:
Live chat apps make the shopping experience more personal.
It makes you seem like real humans run the company.
Rather than only adding an FAQ to your website, a live chat lets you put a positive impression on your website, helping customers with the decision-making.
The respective functionality also helps you collect more customer data to optimize the sales process and modify your landing pages, product, and category pages accordingly. Do people ask the same questions when they visit a certain page? You can adjust your website according to the most frequently asked questions.
Live chat helps you significantly reduce the support ticket time. A few minutes of answering customers' questions in the chat window saves you hours of handling support emails.
A live chat plugin can appeal to different types of customers. Users differ. While some prefer talking on the phone, others prefer communicating via email and text messages.
Live chat can help you reduce the cart abandonment rate. The service lets you address any hesitations or doubts your customers may have.
A live chat app helps you reduce the time and effort needed to make a sale.
Having a live chat app, you can reduce sales friction by addressing your customers' concerns and questions in minutes, not hours or days.
For this reason, adding a chat app is one of the most profitable decisions you can make. Let's check some of the best WordPress live chat plugins considering the benefits of integrating your website with a live chat service.
Best WordPress Live Chat Plugins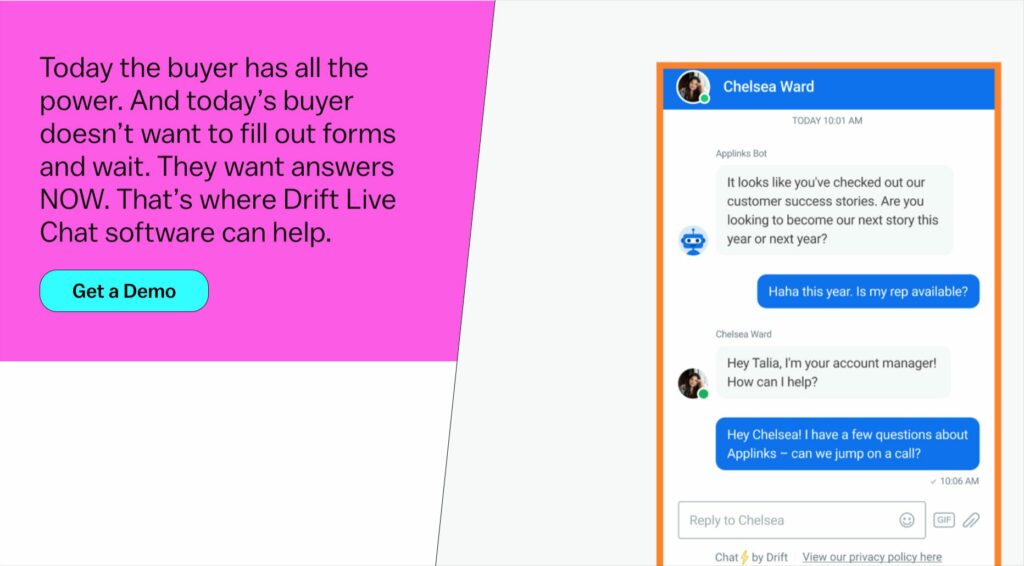 The Drift live chat plugin for WordPress is designed to help you close more sales. It lets you engage with customers in real-time by sending targeted messages and sharing saved responses to common queries.
The service will help you deliver qualified help to your customers even when you go offline. In this case, your customers can interact with the chatbot or send you an email through the chat widget. After clients communicate with someone from your team, their details will be stored in your ABM or CRM. When a person returns to your website for more information or to make a purchase, you will receive a notification to start chatting with them.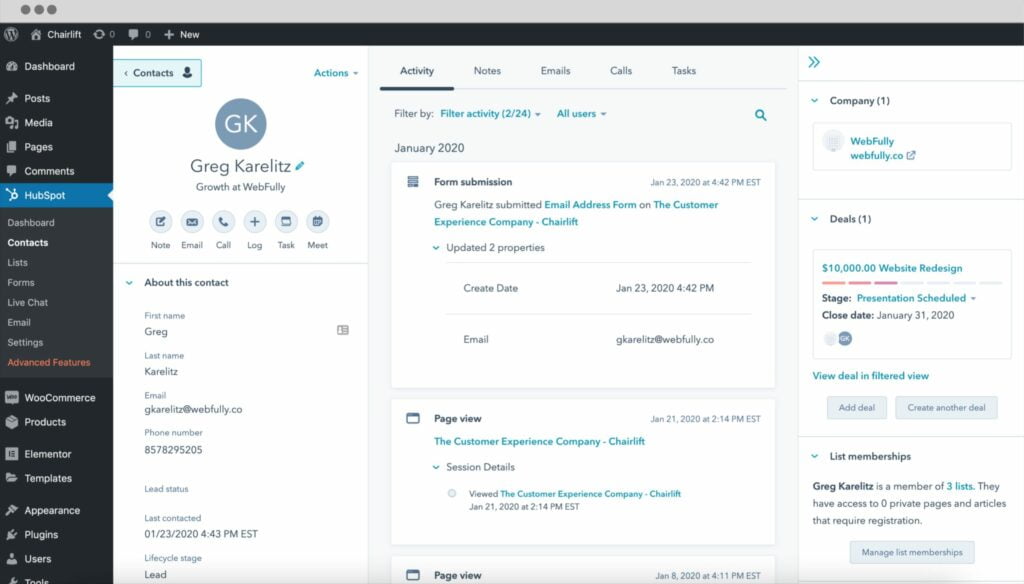 Using this free WordPress live chat plugin, you can create chatbots to engage with your customers personally, book meetings, or answer frequently asked questions. HubSpot offers fully customizable chatbots designed to blend with your branding. You can easily change the color and style of the chatbot, work on targeted messages for different pages of your website and segment your audience.
One of the biggest benefits of using HubSpot's live chat service is that all your interactions with the customers are automatically integrated with HubSpot CRM. It lets you see your previous conversations and create automated marketing sequences to engage with your contacts.
Iflychat
This versatile WordPress plugin lets you bring interactions with your customers to the new level. Beyond letting you respond to customers' inquiries and concerns in the one-to-one mode, it lets you organize large chat rooms on specific website pages. You can welcome users to communicate in group chats or chat rooms. This is also a splendid solution for blogs, forums, and other projects. You can configure the plugin to provide online support for products and services on your website. The iFlyChat plugin logs conversations with the users so that you can view them later using a shortcode.

Formilla offers both premium and free live chat services for your website. This WordPress live chat plugin features a beautiful interface that you can easily customize according to your needs. You can adjust the colors and messages to match your needs and add photos of your team members to deliver a more personalized service to your customers.
Using Formilla Live Chat, you can view site visitors in real-time, track their activity, and check their location. The service makes conversations more transparent by showing when someone on the other end of the chat is typing a message. The plugin supports multiple handy features that allow you to improve the quality of customer service. For example, it supports canned and smart responses, bots, multilingual functionality, and other hooks that can make chatting with customers really simple.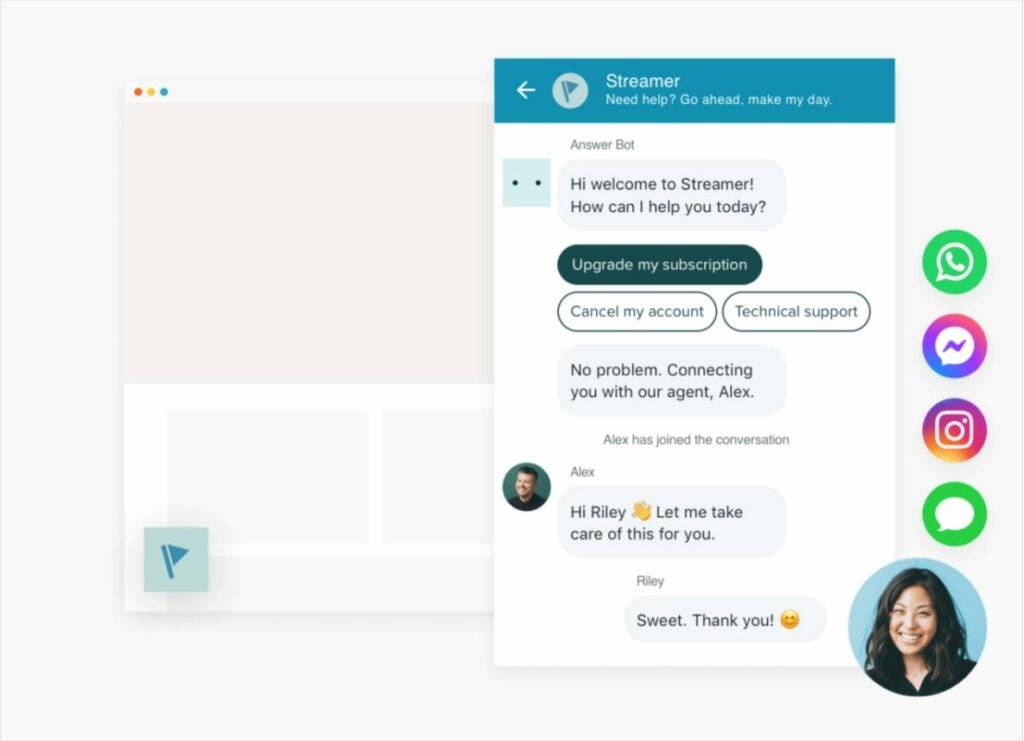 This is one of the few Elementor live chat plugins featuring mobile interface compatibility, letting your customers chat with you on any device. The plugin features a fully customizable interface, letting you adjust the color and style of the chat box to match your business.
Zendesk also lets you check more details about your customers. You can see who is browsing your website and what pages they visit. This information should help you decide when and how to start the chat. During and after the chat, the service collects the data and monitors customers' activity on your website. You can view such details in the main dashboard and continue to improve interactions with your agents and bots.
Final Words
Live chat brings a bunch of benefits to your business, letting your customer care team deliver better services to every person who lands on your website. Integrating your Elementor website with WordPress live chat plugins is a great way to add a personal touch to your brand and build a stronger relationship with your customers. There are many live chat plugins for WordPress available in the market. Once you know how to make the right choice, you can easily find the best solution for your brand.