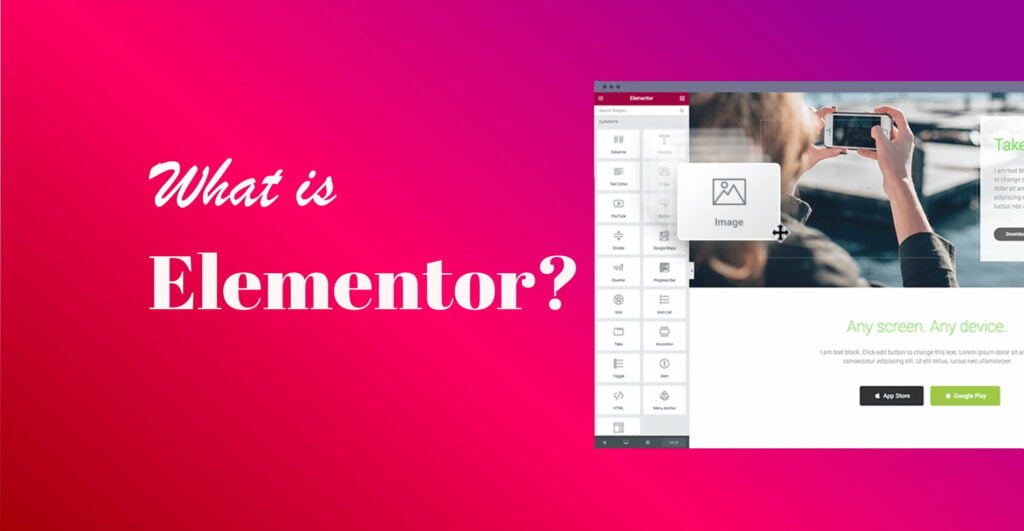 If you're considering creating a website, you've likely come across WordPress, Elementor, and website builders in your initial Google search. WordPress is one of the most widely used CMS due to its exceptional customizability, ease of use, and cost-effectiveness as a free platform. However, diving into website design for the first time can be daunting, especially since there are numerous concepts to understand and options to compare before making a final decision.
Fortunately, website creation only requires advanced coding skills, and engaging websites can be built with them. This article answers the question, "What is Elementor?" We'll also delve into how the page builder operates, how to install it, and offer some helpful tips to help you make the most of this powerful tool.
What is Elementor page builder?
Unlike Gutenberg and Gutenberg blocks which are mainly used for content editing, Elementor is a page builder for WordPress that utilizes a drag-and-drop interface. By integrating a visual editor, this plugin simplifies the creation of stunning pages and allows users to build dynamic websites and landing pages rapidly. The page builder is especially useful for eCommerce, letting you integrate your website with live chat, star rating, search bar, breadcrumbs, hero image, and more.
With its all-in-one solution, this WordPress plugin empowers you to oversee every aspect of your website design in a unified platform. Through the page builder, you can customize your website to reflect your brand identity by implementing motion effects, choosing from multiple fonts, and incorporating enhanced background images.
The page builder has many website customization options and supported functionality. You can use Lottie animations to make your website more interactive.
Elementor is an incredibly versatile tool that caters to professionals across different teams. Even if you lack technical expertise, the visual editor empowers you to drag and drop any 90+ widgets to create compelling content, such as buttons, star ratings, and progress bars. Meanwhile, for WordPress developers, the page builder is a top-choice platform offering script optimization, custom attributes, and rollback versions.
The page builder allows you to design custom pages hassle-free. Besides, it offers plenty of flexible customization options and addons, enabling you to modify every website element without deep coding skills.
Elementor allows you to build anything you can imagine, from customizing entire websites to creating specific landing pages. You can easily design sales pages, promotional pages, and even custom forms. If you have an idea, this platform can help you realize it.
Elementor vs. Elementor Pro
Elementor offers a range of subscription plans, including a free version with all the necessary features to create a compelling user experience on your website. This version includes a drag-and-drop editor, 40+ basic widgets, and 30+ templates. You can upgrade to the pro version if you require more advanced functionality, such as adding forms and custom CSS.
The pricing structure is tiered:
$59 per year for 1 site.
$99 per year for 3 sites.
$199 per year for 25 sites.
$399 per year for 1,000 sites.
The release of Elementor Pro 2.0 has revolutionized the way you build your WordPress theme. With the new version, you can create your entire theme using the same intuitive drag-and-drop interface, including your header, footer, and blog post templates.
Elementor Pro doesn't just provide added flexibility – it also helps you reduce reliance on other plugins by introducing new widgets. For instance, Elementor Pro has widgets for forms (including contact forms), sliders, social share buttons, countdown timers, pricing tables, and login forms. The platform also includes several other widgets that can significantly improve your website's functionality. The complete list of Elementor Pro widgets is provided below: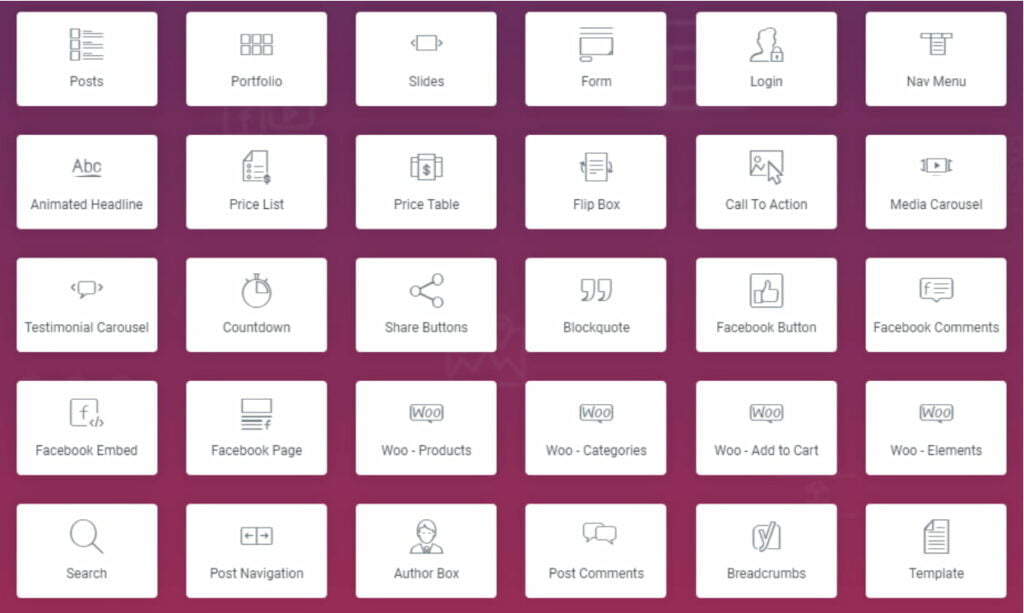 When you subscribe to Elementor Pro, you can access the platform's extensive library of templates and blocks. In addition to simply receiving "more" templates, the Elementor Pro Templates are typically more intricate and detailed, meaning that you get both "more" and "higher quality". As of the writing of this review, there are well over 100 templates available in the library.
Do you need Elementor Pro?
If you only need to design basic, styled pages, the free version of Elementor should suffice, as it offers an impressive array of features for a free page builder. That being said, if you want to use the page builder to create your core website pages or even build your entire website, including the header, footer, and post templates, then Elementor Pro is a fantastic choice. This is due to the Pro version's new elements, additional controls, and other functionalities.
Elementor features that make it great
Now, let's dive deeper into some of the specific features that have contributed to Elementor's success in this review.
Elementor template library
While Elementor does empower you to create entire designs from scratch, you don't necessarily have to do everything on your own, thanks to the Elementor template library. This library provides numerous templates you can easily insert with just a click: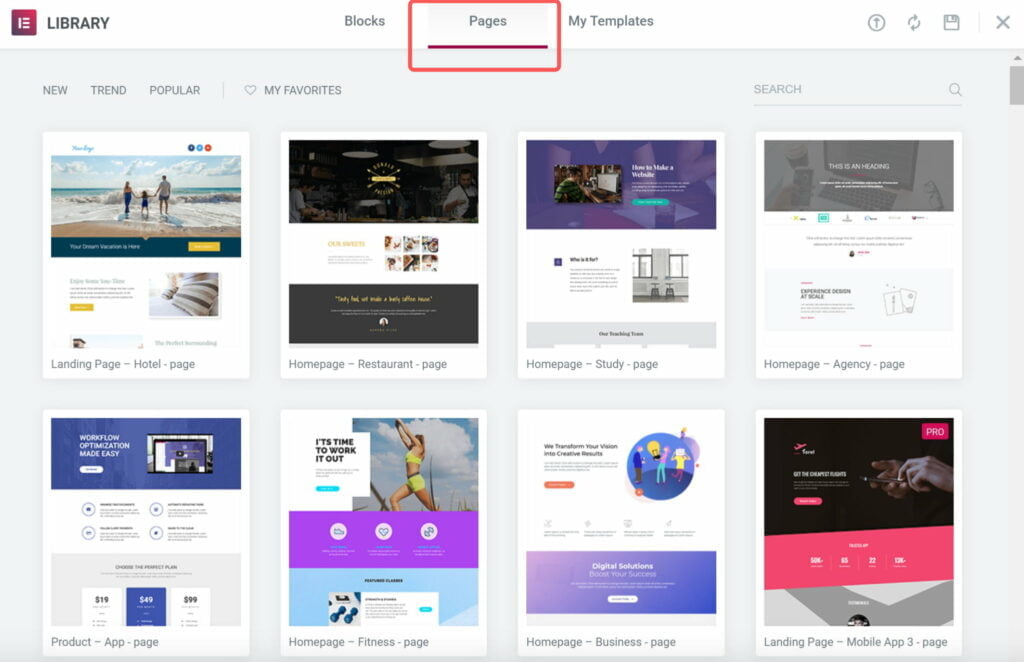 Elementor 2.0 introduced two formats for the templates available: Pages and Blocks. Pages are full-page designs that can be imported and customized as needed, while Blocks are designs for specific sections, such as a pre-built contact section. You can also save your designs as templates or blocks for later use.
Responsive design
Today, a significant portion of website traffic comes from mobile devices. Therefore, it's essential to ensure that the mobile version of your site looks great. Fortunately, with the page builder, all your designs are automatically responsive and optimized for mobile devices.
If you want to check how your design looks on different devices, the page builder makes it easy to launch a preview without leaving the interface. Additionally, Elementor allows you to show or hide individual widgets on specific devices, giving you even more control over the mobile responsiveness of your site.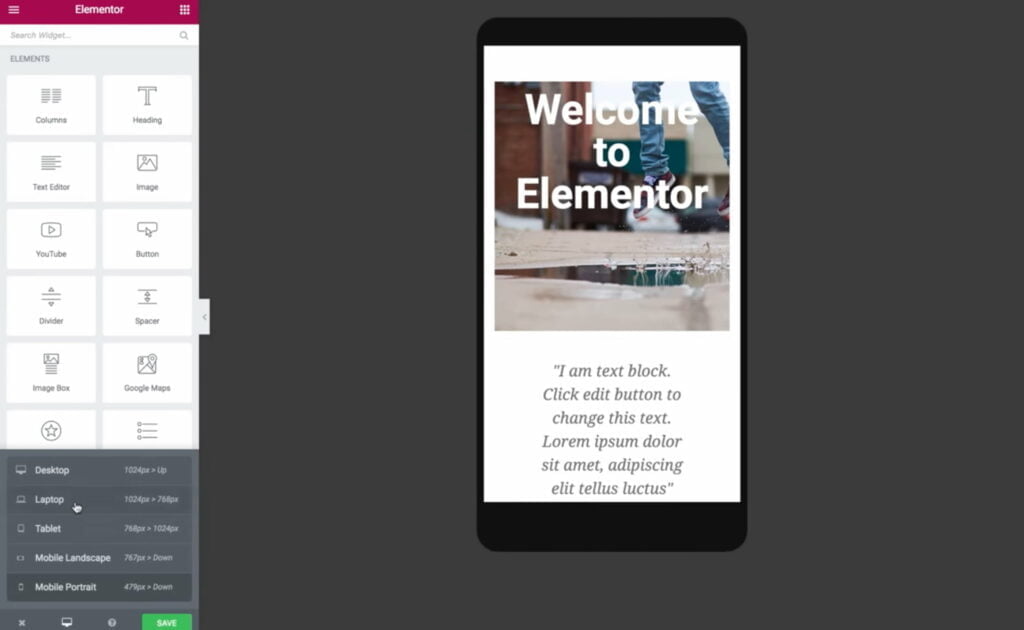 Advanced layout controls
Elementor balances simplicity and flexibility by providing intuitive controls to position elements exactly where you want them. You can manually adjust the padding and margin for sections, columns, and widgets. Additionally, you can easily adjust column widths by dragging the divider between columns and position widgets vertically within a column or columns within a section. Furthermore, Elementor allows you to create a blank space between columns with adjustable column gaps.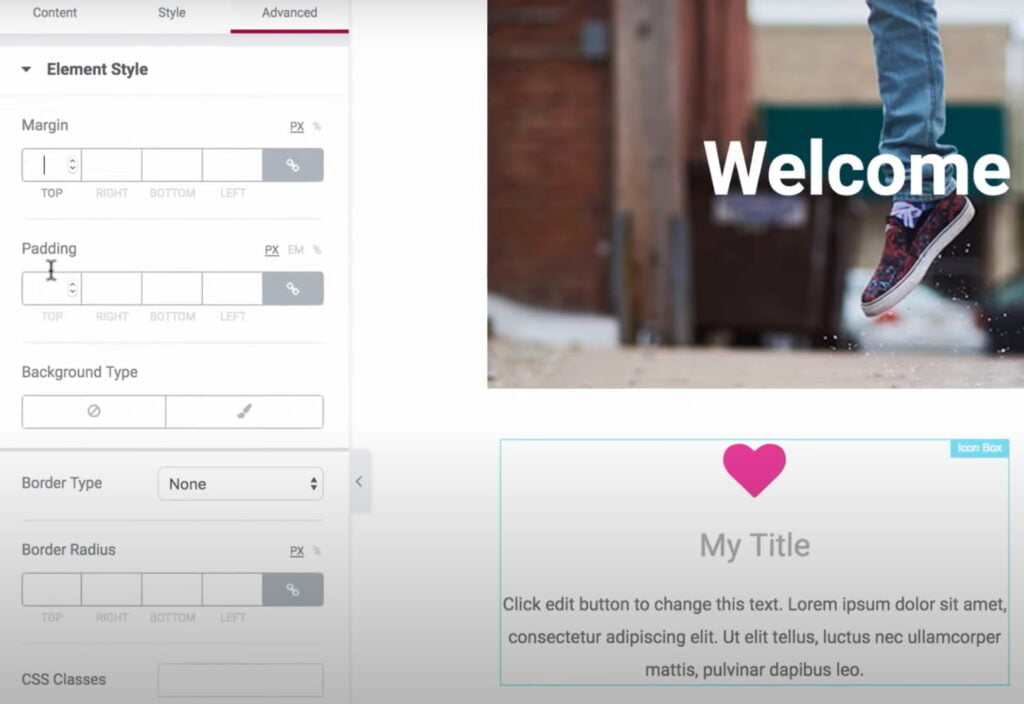 Inline text editing
Inline text editing is a convenient feature that allows you to edit text directly on the page without using a separate popup or window. With Elementor, you can click on the text and start typing to make changes. This makes it easy to quickly update and edit text content on your website without any unnecessary steps.
Revision history
If you accidentally make a mistake while designing your page, Elementor provides two ways to undo it easily.
First, every action you take is logged and can be undone if necessary. This means that if you move a widget to the wrong place, you can use the undo button to move it back.
Second, a new revision is created every time you save your design. This allows you to return to your page's previous version if needed.
Elementor leaves behind a clean code
If you decide to deactivate Elementor in the future, you don't have to worry about it leaving behind messy shortcodes like some other page builders. Instead, Elementor leaves behind clean code, although you will lose all of the stylings you added using Elementor.
Requirements for using Elementor
To ensure that Elementor functions properly, you should have the following requirements in place:
WordPress 5.0 or greater. Elementor is a WordPress plugin, so you'll need to have WordPress installed on your website. The latest version is recommended.
PHP 7 or greater. Elementor requires a minimum of PHP version 7 or higher to function. Most web hosts support this version of PHP.
MySQL 5.6 or greater. MySQL is the database software that WordPress uses. Elementor requires a minimum of MySQL version 5.6 or higher.
WP Memory Limit. Elementor recommends a minimum of 128 MB PHP memory limit. This ensures that your website has enough memory to run smoothly with Elementor.
Browsers. Elementor works on all major web browsers, including Chrome, Firefox, Safari, and Edge.
Device. Elementor is designed to work on desktop, tablet, and mobile devices. It automatically optimizes your website for each device.
Servers. Elementor works with most web hosts. However, using a web host specializing in WordPress hosting is recommended.
X-Frame Options. Make sure that X-Frame Options is set to SAMEORIGIN or ALLOW-FROM.
PHP Z-Lib Extension. This is an optional extension, but it's recommended to have it installed for better performance with Elementor.
By meeting these system requirements, you can ensure that Elementor functions properly and provides a great user experience for your website visitors.
How to Install Elementor
There are two ways to install Elementor on your WordPress website. We'll discuss both below.
Elementor installation via Elementor.com
Go to Elementor.com and click on the "Get Started" button.
Create an account by entering your email address and password. Answer a few questions about your website and experience building websites.
Choose how you want to build your site. You can either purchase Elementor Pro or select the free version.
Enter your website's domain into the compatibility checker. Elementor will confirm if your site is on the WordPress platform.
Click on the "Install Elementor" button.
Log in to your website's admin page if directed to, or proceed to the Elementor plugin page if you're already logged in. Click on the "Install Now" button located in the bottom right-hand corner.
Once installation is complete, click the "Activate Plugin" button to start using Elementor.
Elementor installation via WordPress dashboard
Pros and Cons of using Elementor
Elementor has both positive and negative aspects. To determine whether Elementor Pro is worth it, it is necessary to look at the pros and cons of using Elementor. Here are the major Elementor WordPress Pros and Cons associated with this WordPress plugin:
Pros:
Simple Interface
Drag and Drop Building
Themes responsive with PC, Mobile, Tablets, etc.
Lets you create custom themes
Real-time editing and Previews
Supports integration with third-party apps
Lets you create attractive-looking pop-ups
Regularly updates features
Provides a free version
Cons:
Provides a limited number of templates
Boring or useless templates
Inappropriate pricing
Support is not much good
Restricts from adding custom CSS and codes
Less number of SEO tools
Slow loading of pages
Final thoughts
Statistics indicate that Elementor is one of the most popular page builders, and its developers consistently introduce significant new improvements. Since the free version of Elementor provides ample features, it is recommended that you install it on a WordPress test site and experience it firsthand. If you find the interface to your liking, you can upgrade to Elementor Pro for advanced features such as theme building, additional elements/templates, and other useful features.
Contact
Feel free to reach out! We are excited to begin our collaboration!
Send a Project Brief
Fill out and send a form. Our Advisor Team will contact you promptly!