How to Manage WooCommerce Subscriptions Without Breaking the Bank
The main goal of every WooCommerce site is to sell. While some businesses are mainly focused on selling physical or media products one by one, other companies look forward to adding memberships to their web stores. WooCommerce subscriptions are the sure-fire way to get consistent revenue for your business and provide your customers with uninterrupted access to your products or services whenever they wish.
If you look forward to adding WooCommerce subscriptions to your web store, this article highlights 3 easy ways to add subscriptions to your site and some of the most popular plugins to get the best results.
What Is WooCommerce Subscription
There are different types of goods that we can sell on a WooCommerce site – from the simplest to variable, but there is such a type of goods as a subscription product, the use of which depends on the time of use. In Woocommerce, by default, there is no way to sell a product by subscription with renewal. Therefore, to organize the sale of this type of product, you will need a subscription plugin.
Setting up a recurring income is one of the most popular eCommerce earning strategies. Whether you are selling pies, audiobooks, services, or rentals, there is always room for a "subscription" product.
Consider selling a product once and then seeing automatic upgrades for orders. Using the WooCommerce Subscriptions plugin, you can get the customer's credit card automatically debited, and the subscription automatically extended.
The tricky part here is deciding which subscription plugin is best for you. You also need to consider aspects such as integration, interoperability, UX, payment gateways, support (what we love), code quality, functionality plan, maintenance, long-term reliability, and beyond that, price.
Why Add Subscriptions to WooCommerce?
There are many reasons to add WooCommerce subscriptions to your website. First of all, it helps you save a lot of time on managing the billing process. There is no need to manually invoice your clients every time a person places an order on your site.
With the help of a WooCommerce subscription, you will have more flexibility on your site. It provides you with a more consistent cash flow and fewer payment processing errors.
By adding a WooCommerce subscription to your site, you can enjoy many other benefits like:
Your customers will keep on using your brand's goods. A subscription suggests that a person will continue using your services repeatedly for as long as their subscription is valid.
Your web store may offer individual items. However, while introducing a couple of subscription-based packages, you can make a big impact on the amount of revenue that your business will earn monthly or yearly.
You'll see bigger gains in conversion rate and long-term profits.
With that said, let's consider how you can add WooCommerce subscriptions to your site for free or with a fee.
Method 1. Using WooCommerce Subscriptions Extension (Paid Option)
It's one of the most popular methods of adding WooCommerce subscriptions. To get started, you need to get the official WooCommerce Subscriptions extension. It's priced at $199. Or, you may sign up for Bluehost hosting and get an exclusive discount on the WooCommerce Subscription Extension. Once you sign up for hosting, the WooCommerce Subscriptions extension will be automatically installed on your site.
With its help, you can create and manage subscriptions of your eCommerce site, grow the number of repeat customers, streamline the way you handle recurring payments on your site.
The WooCommerce Subscriptions extension lets you add subscriptions to both physical and digital products. Create monthly subscription boxes, yearly software packages, and more.
Method 2. Using YITH WooCommerce Subscription Plugin (Free Option)
If you are looking for an opportunity to add subscriptions to your site without any extra investments, this method is the way to go for you. To use it, you need to download and install the YITH WooCommerce Subscription plugin on your site. The plugin lets you add subscriptions to any physical or downloadable product that you sell on your site.
As soon as the plugin is installed and activated on your site, you will notice that the "YITH" menu item appears in your WordPress dashboard.
To manage subscriptions, navigate YITH > Subscription > Settings and set the Enable Subscription option to "YES."
Next, navigate Products > All Products and open an item that you want to turn into a subscription.
Navigate to the Product Data box and check the 'Subscription' check box. It lets you set the subscription price and the maximum duration.
Click the "Update" button to save the changes and make the subscription option appear on your site.
Method 3. Using MemberPress (Paid Option)
MemberPress is one of the best WordPress Membership plugins that let you sell subscriptions for courses, premium content, and digital downloads. It's a premium-quality plugin, the cost of which starts at $179/year.
To get started, you need to set up subscription memberships. Once done, you can assign the products sold on your WooCommerce site to memberships. By doing so, you can adjust chosen products to become available to your customers only after they sign up for your subscriptions.
To do this, take the following steps:
Navigate MemberPress » Rules and click "Add New."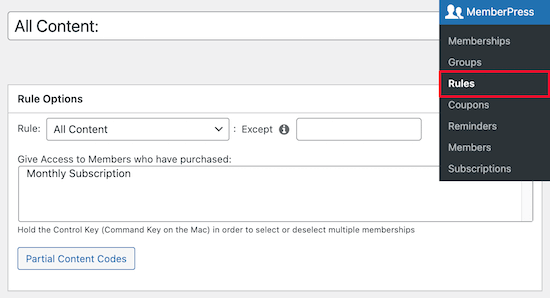 In the Rule Options settings, select All Products and choose the membership level you want to access the chosen items. For example, you can provide the membership owners the possibility to access your products on a monthly basis.
Click Save Rule to apply the changes to your store.
Few More WooCommerce Subscription Plugins
Whatever goal you follow and whatever reason you'd like to add subscriptions to your WooCommerce site, you can simplify the workflow with WooCommerce subscription plugins. We have already mentioned some of them in the steps described above. Let's now take a look at several other options.
It's one more stunning WordPress plugin that you can use to set up and manage recurring payments and subscriptions on your site. It's a premium plugin that also includes a free trial version. Try it at no cost to decide if it adds the needed functionality to your store.
Highlighted Features
Adds subscriptions to physical and digital products;
Supports the synchronized renewal option;
Lets you add multiple billing schedules, free trial & signup fee, recurring subscription discount coupon, & email notifications to your store;
Seamlessly integrated with multiple payments gateways.
The plugin will be especially useful to everyone looking for a solution to add the online subscription option to e-learning packages, memberships, magazine subscriptions, and similar services.
Highlighted Features
Create subscription lists and subscription management tools for customers
Sell online memberships with recurring charges
Configure subscription trial period of any length
This plugin is fully compatible with Stripe and PayPal
Using this plugin, you can set up simple, variable, and grouped subscriptions on your site. It seamlessly integrates with your existing WooCommerce site and lets you add subscriptions to the products from your inventory.
Highlighted Features
Сompatible with the latest WooCommerce and WordPress updates
Fully compatible with PayPal, Stripe, and other payment gateways
Create multiple subscriptions in a single checkout
Compatible with SUMO Reward Points and WPML
The plugin lets you accept one-time and recurring payments on your website, without making you write a single line of code. To add subscriptions to your site, the plugin suggests that you use your Stripe account and link your products or services to WP Simple Pay Pro. The plugin supports non-card payment methods through Stripe, such as Apple Pay, Google Pay, ACH debit, and iDEAL.
Highlighted Features
Provides secure payment processing
Supports Secure Customer Authentication (SCA).
Mobile-friendly
It supports subscription integration
Payment forms customization with a drag and drop builder
Supports multi-language and currency
Accepts non-card payments
Using this plugin, you can add subscriptions to both physical and digital products. It's also known as an alternative to WooCommerce Subscriptions. Once installed and activated on your site, the plugin provides you with access to a bunch of handy addons that let you enhance your site with PayFlow recurring orders, group discounts, donations, and several more.
Highlighted Features
eCommerce, payment options, and invoicing
Provides recurring payments and subscriptions
Integrates with Stripe, PayPal, Braintree, 2Checkout, Authorize.net and offline payments
Customization of renewal dates
Bottom Line
Whenever you decide to create a membership on your site and make the most of WooCommerce, take advantage of using WooCommerce subscription plugins to let your clients enjoy subscription-based offers. Depending on the extension you choose, you can update your site with subscriptions at no cost or while paying a reasonable fee. Taking advantage of free and premium WordPress extensions, you can provide your customers with a more enjoyable online shopping experience and reap the rewards of adding the recurring payments option to your site.