WordPress Domain Names – Сhoice & Registration Guides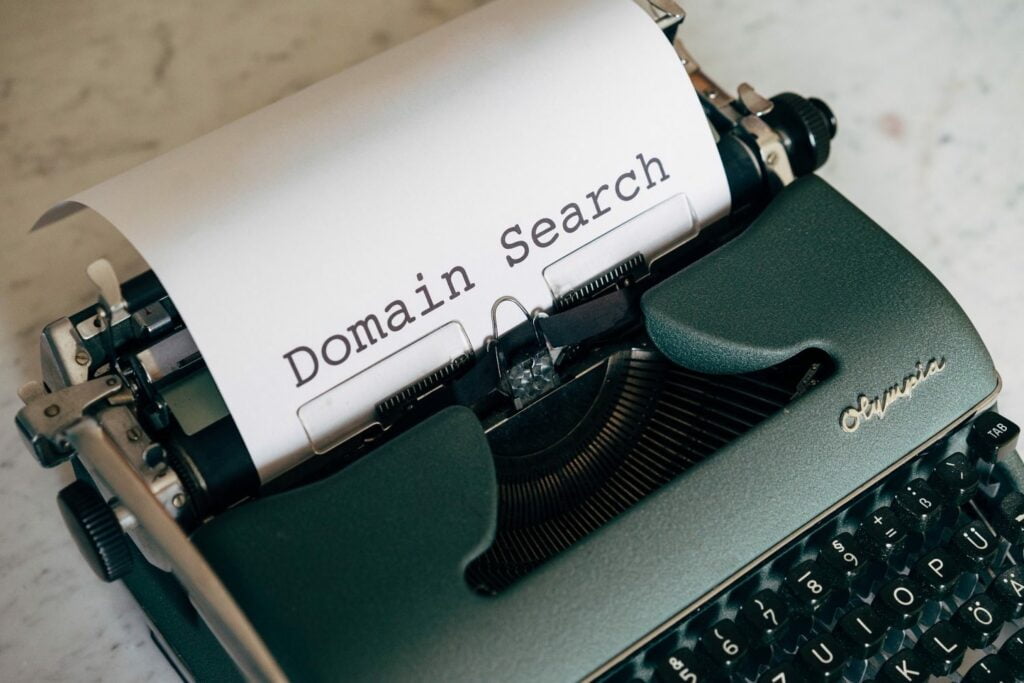 The launch of any website starts with the choice of WordPress domain names. The process that seems so quick and simple at first sight actually requires more time and consideration. What should you mind when running a WordPress domain search? Should you register a free domain name or buy one for your website? This article aims to help you find answers related to the choice and registration of WordPress domain names.
Why do you need a WordPress domain name?
Nowadays, every organization, small company, the corporate or private project is available online. When people start looking for information about different entrepreneurs, specialists, and organizations, they check dozens of websites during one Google search. A domain name is what people type when they want to find a website. That's why it's vital to make it memorable and impossible to confuse with the names of other online resources published on the web.
Domain Name Anatomy
Before discussing the steps needed to take to choose and register a WordPress domain name, let's consider what the name of your website comprises.
Every domain name is made of two parts:
Second-level domain (SLD) is the name of your website. It may be represented by a combination of letters and numbers your website will be associated with. For example, itmonks.
Top-level domain (TLD) is an essential part of any domain name. It may have such variations as .com, .org, .gov, .me, etc.
How to Choose the Best Name
The best domain name for your WordPress website should be easy, memorable, and as short as possible.
If you have a physical store or brand, you can use it in your website's domain name. It should help you make your online project more findable.
The fewer symbols the domain name includes, the better. To reach the top position in Google Search, you need to choose a simple and unique domain name that would give users an idea about what they get on your website. Because of the continually growing number of websites published online daily makes finding a unique domain name challenging. If you find out that a particular domain name is busy, you may consider buying a taken domain name.
The choice of the correct TLD can significantly affect your website's credibility. Websites like .com and .org are more trustworthy than .music or .movie because users see the first group of top-level domains almost everywhere on the web. Using such endings doesn't mean your website will rank higher in search results. They are just more credible.
Some TLD are often used by websites belonging to a specific category. For example, .gov is typically used for official governmental agencies, while .edu is typically used for educational projects.
Do a copyright check before choosing a WordPress domain name. Your website should be one-of-a-kind. Ensure that your brand name isn't used by someone else on the internet.
WordPress Domain Registration Providers
The following list of the best WordPress domain registration providers should come in handy when launching a new website.
One of the leading WordPress hosting providers lets you get a free domain name as part of their hosting plans. If you choose Bluehost to buy a WordPress domain name, you should be aware of their pricing:
COM $12.99
NET $18.99
ORG $9.99
It is one of the most popular domain registration WordPress providers. Apart from selling domains, it provides web design, website building, and marketing services. The reliable customer support team will always come in handy whenever you need help choosing the best WordPress domain name. The service is easy to set up and use. It offers different pricing options, depending on what TLD you choose:
COM $9.99
NET $12.99
ORG $8.99
If you are looking for a service mainly focused on domain name registration services, Hover should be a great choice. It's an easy-to-use and register service that offers strong and reliable customer support and many other features and tools. The following processes are applied to the new WordPress domain name registration:
COM $13.99
NET $14.99
ORG $19.99
Along with offering the possibility to buy a WordPress domain name, the service provider offers hosting plans, apps for better design, an easy-to-use site maker, 24/7 customer support, etc. When choosing the Namecheap provider to buy a domain name, the following pricing plans should come in handy:
COM $8.98
NET $9.98
ORG $8.98
SiteGround is one more hosting service that also offers domain registration. The service is easy to use and offers many additional valuable services, like web hosting and email hosting. It offers reliable 24/7 customer support. The prices for different domain names start at $15.95+ per year.
How to Register a Free Domain Name for a WordPress Site
WordPress.com lets you register a free domain name. If you want to register a domain name for free, use the following instructions:
Sign up at wordpress.com.
Write the desired domain name.
You will see a list of suggested domain names matching your search criteria. There will be both free and premium options available. Select the free option.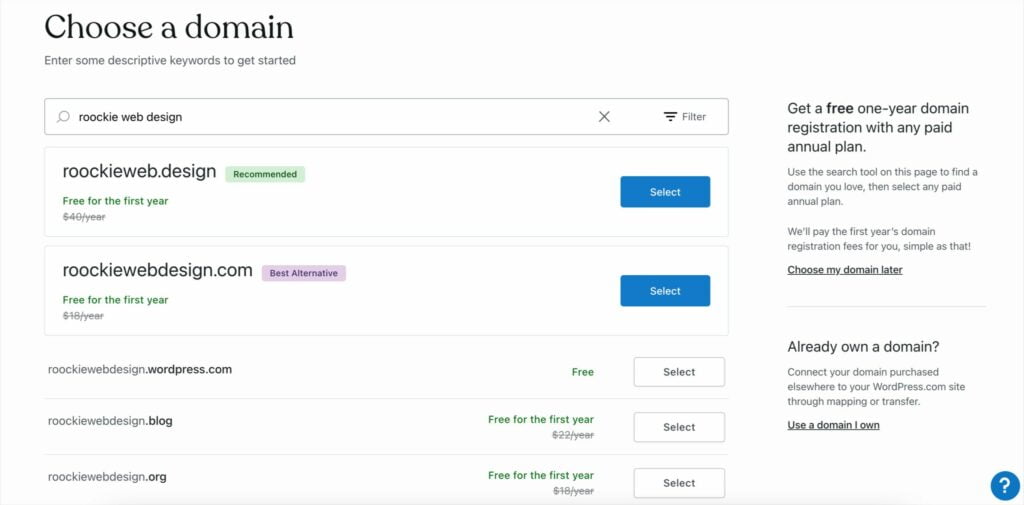 Next, you will be asked to choose a hosting plan. You can also opt for a free WordPress hosting plan.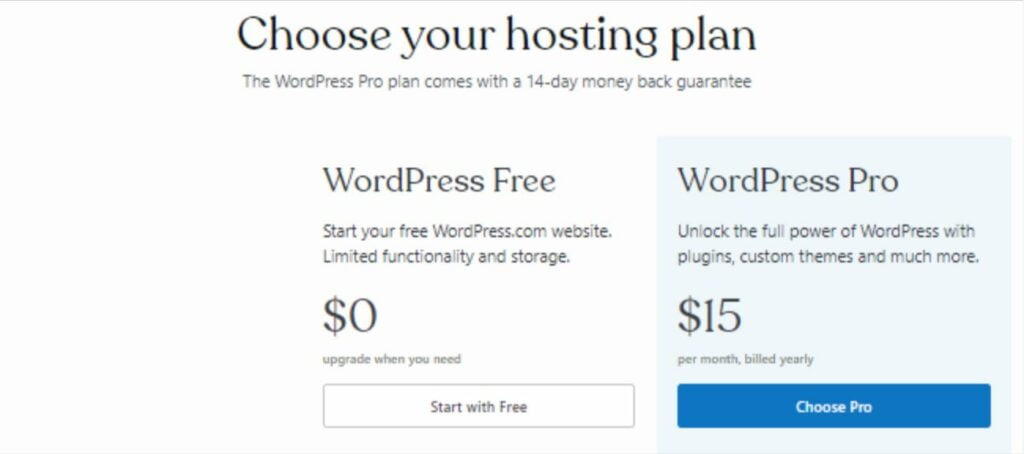 Please mind that when opting for a free plan, the ability to create an online store and use some plugins and themes won't be available to you. The free plan lets you store only 0,5GB of data. Your website's maximum number of monthly visitors wouldn't exceed 10,000.
The PRO plan should be a better choice if you need more features than the free plan offers. It allows you to store up to 60GB of information and 100,000 visits for only $15 per month.
You can also opt for any WordPress domain registration providers listed above and buy a domain name from them.
That's it! Registering a WordPress domain name is a simple process. There are many ways to get one for free or after paying a fee. If you do everything right, you can launch a website that would appeal to your target audience and leave competitors behind.
FAQ on WordPress Domain Names
Should you choose a free or paid WordPress domain name?

The best WordPress domain name choice depends on many factors, including your goals, audience, budget, etc. A free domain name should be a good option for a blog or a portfolio website storing no more than 0,5GB of data and no more than 10,000 monthly visitors. A paid WordPress domain should be a better option for a business website that aims to look more professional and reach a wider audience of users.

How to buy a WordPress domain name for your website forever?

It's impossible to buy a domain name that would forever belong to your website. You can only buy a domain name for some time and renew it yearly or monthly, depending on your chosen license. If you don't renew your domain name, you won't be able to use your website after the expiration day.