How to Create WordPress Social Network like Facebook
The total number of social media users reached more than 57% of the total global population in summer 2021. The power of social media is unparalleled and undisputable. Checking out the news feed on Facebook, Instagram, and Twitter is the first thing many people do when they wake up or have a spare minute at work. Would you like to create a social network with WordPress and boost users' engagement on your site? You can create a WordPress social network using WordPress social media plugins like BuddyPress.
In this article, we will discuss how to make a website like Facebook using WordPress. The CMS is impressively flexible and easy to use. Besides, many WordPress plugins let you transform your site in a variety of ways and make your web page work just the way you expect.
The easiest way to create a WordPress social network is to use the BuddyPress plugin and WordPress BuddyPress themes, which let you create and manage a social network to communicate with your audience.
What is BuddyPress?
BuddyPress is a free WordPress plugin, which contains a suite of components common to a typical social network. It lets you build a WordPress social network and build an online community of users with whom you can communicate without leaving your site. Some of the most notable BuddyPress features are the following:
The social network plugin lets users register on your site;
People can create extended user profiles;
You can create sub-communities with user groups;
Registered users can add each other as friends and exchange messages;
Activity streams allow users to follow site-wide updates;
The plugin is compatible with any standard WordPress theme;
BuddyPress is compatible with third-party plugins.
BuddyPress Configuration
To get started, you need to install and activate the BuddyPress WordPress plugin on your site. You can find it through your WordPress dashboard while clicking on Plugins > Add New > Search and typing BuddyPress in the search field.
Upon the plugin's activation, click Plugins → Installed Plugins → BuddyPress → Settings to proceed to the configuration.
The plugin's settings page features four sections, namely Components, Options, Pages, and Credits. The default settings are already configured. However, you may feel free to adjust the plugin's configuration according to your personal and business needs. Let's take a closer look at the options included in every tab.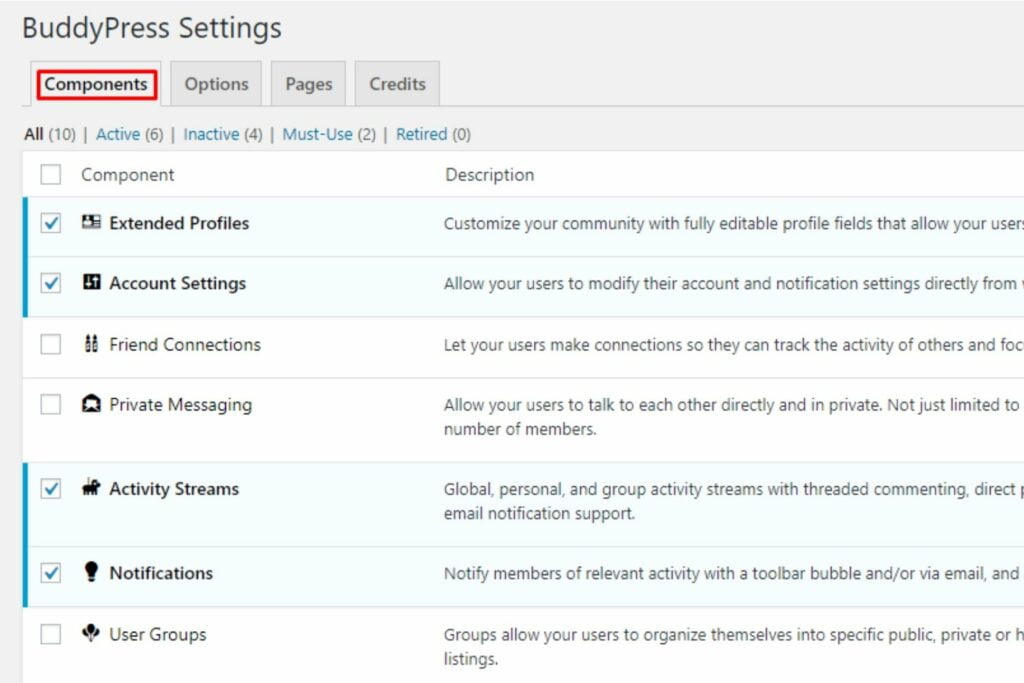 In the Components tab, you can check the following options:
While enabling Extended Profiles, you can add custom fields to the user profile;
Account Settings let your customers manage their accounts and notifications in their profiles;
Enabled Friend Connections option allows users to send user requests to other people registered on your site;
Private Messaging welcomes the registered members exchange direct messages using the respective functionality of your site;
Activity Streams option lets users check the recent activity of their friends on WordPress social network, including their comments, mentions, threads, direct posting, and favoring;
The Notifications option lets users stay informed on their friends' activities;
With the enabled User Groups option, people can create private, hidden, or public groups;
Site Tracking records user activity related to publishing new posts and comments.
Options
In the Options tab, you can enable or disable certain actions that registered users can perform.
Activity auto-refresh. It's the most popular and essential feature of social networks. It lets users see their friends' updates without refreshing the page every once in a while. The feature is enabled by default.
Profile Syncing lets users link their WordPress profiles with their BuddyPress profiles.
Post Comments, which enables users to add posts and comments to their activity stream.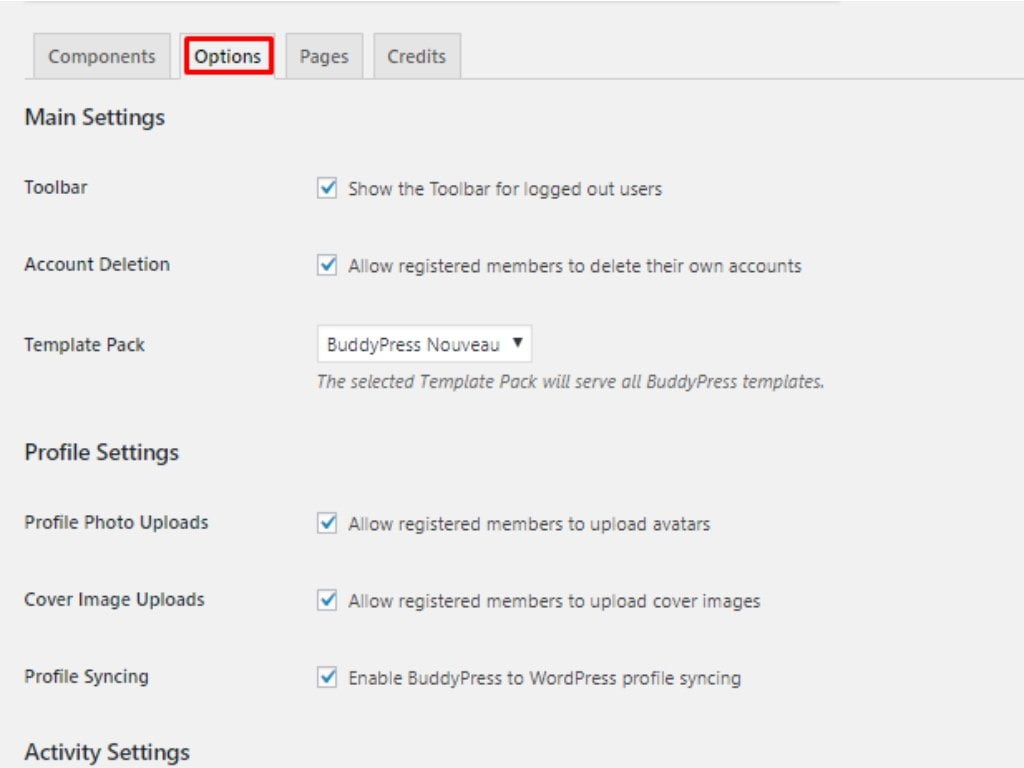 Pages
The Pages tab lets you create Registration and Activation pages for your WordPress social network.
There is a default registration form available in BuddyPress. To set it up and let it work properly, you need to assign it a sign-up form while creating a new page in the WordPress dashboard. To create the Registration page on your site, click Pages > Add New.
BuddyPress also features a default activation process. To add one to your site, create a new page in your WordPress dashboard. To create the account activation page, click Pages > Add New.
Next, click Settings > BuddyPress > Pages and associate WordPress pages with BuddyPress registration and activation pages. Save Changes when you finish.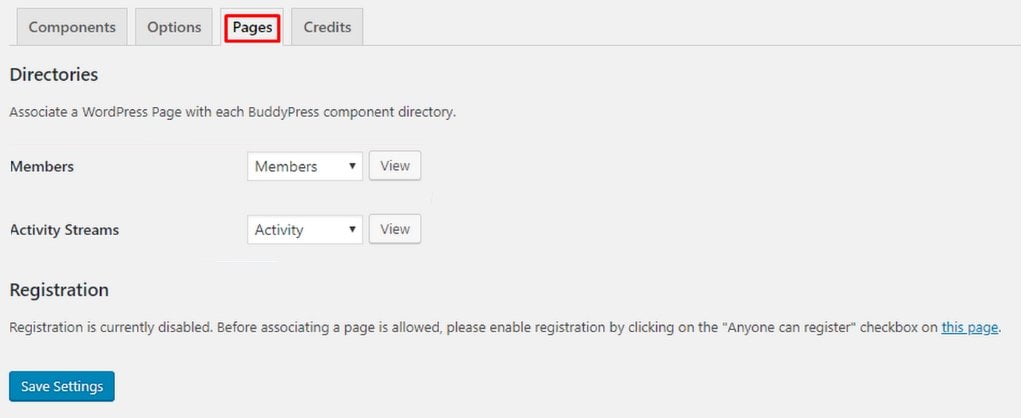 How to Display BuddyPress Pages on Your Site
After you fining the BuddyPress plugin configuration and visiting your site afterward, you still won't see any changes there. To apply modifications to your site, you need to add BuddyPress pages to the navigation menu of your WordPress site.
In your WordPress dashboard, click Appearance > Menus. In the left column, choose BuddyPress pages that you've just created and click Add to Menu.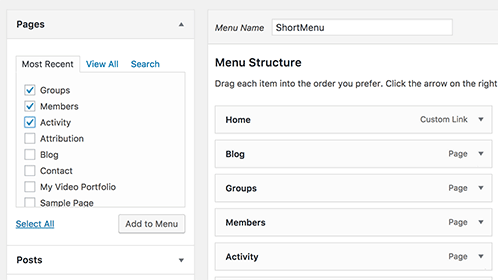 Save changes and visit your site to see your links in action. By clicking on any of the links in your site's main menu, you'll be taken to a dedicated BuddyPress page. For instance, the Activity link will take you to the Activity page that reveals what registered members do on your site. The thread may include notifications about your friends joining groups on your site, sending messages, or adding friends.
How to Manage WordPress Social Network in BuddyPress
BuddyPress comes loaded with many handy tools and features that you can take advantage of on your site. For instance, it uses Akismet to help you detect and fight spam on your WordPress social network. If you open your WordPress dashboard and click on the Activity page, you will see the full list of activities that registered users performed on your site. As the administrator of your site, you can sort activities by actions and remove those items that look spammy. If you come across any suspicious users' profiles, you can either remove them or mark them as spam.
The manage signups page lets you take control of new users' signups. If your WordPress social network doesn't feature a large community of users yet, you may choose to activate new users by yourself directly. You can also automate the signup process while sending them activation codes via emails.
How to Create Groups in BuddyPress
The BuddyPress plugin lets you and the users registered on your site create groups. Like groups created on popular social media platforms, groups on WordPress social networks have members and activity streams.
To create a new group, open the dashboard of your WordPress site and click on Groups > Add New.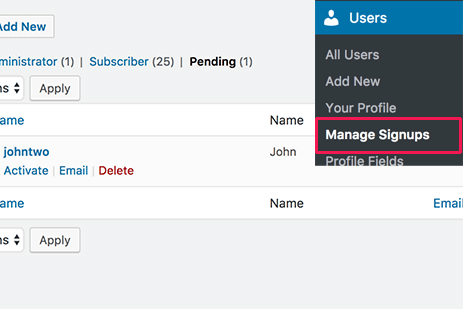 How to Create Groups in BuddyPress
The BuddyPress plugin lets you and the users registered on your site create groups. Like groups created on popular social media platforms, groups on WordPress social networks have members and activity streams.
To create a new group, open the dashboard of your WordPress site and click on Groups > Add New.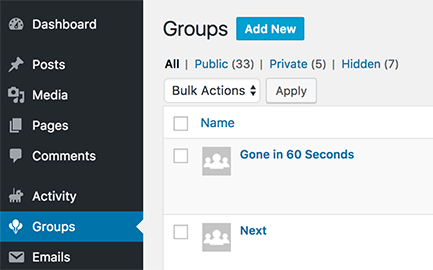 The Add New Group page will show up. Fill in the required fields – the Group Name and Description. Once done, click on the Create Group and Continue button.
In the next step, you need to manage the group's privacy settings. In BuddyPress, you can create private, public, and hidden groups.
Users can join Private groups upon join request. They can view all contents of the group after the approval. Such groups are listed in the groups' directory.
Public groups are seen by all members of your WordPress social network and can be joined by all of them.
Hidden groups can be seen only by users who are part of the group. They are not listed in the groups' directory and users cannot find them in search results.
When you finish adjusting the privacy options of your groups, click Next to add a group's profile photo and invite other registered members on your site to join the group.
How to Set Up Email Alerts
The only way for registered users on your website to learn about new activities in their social streams is by sending them email notifications. BuddyPress lets you create customized email messages that will keep users more engaged with your WordPress social network activities.
To create branded emails, open the dashboard of your WordPress site, click on Emails > Add New or Edit the default emails that are sent from your site. Whatever option you select, you will be redirected to the email editor where you can adjust the color, header, and footer area of your email template.
BuddyPress WordPress Themes
You can install BuddyPress on any WordPress theme or use BuddyPress WordPress themes specifically designed for the plugin or feature full compatibility with its major functions. Let's take a look at some of them.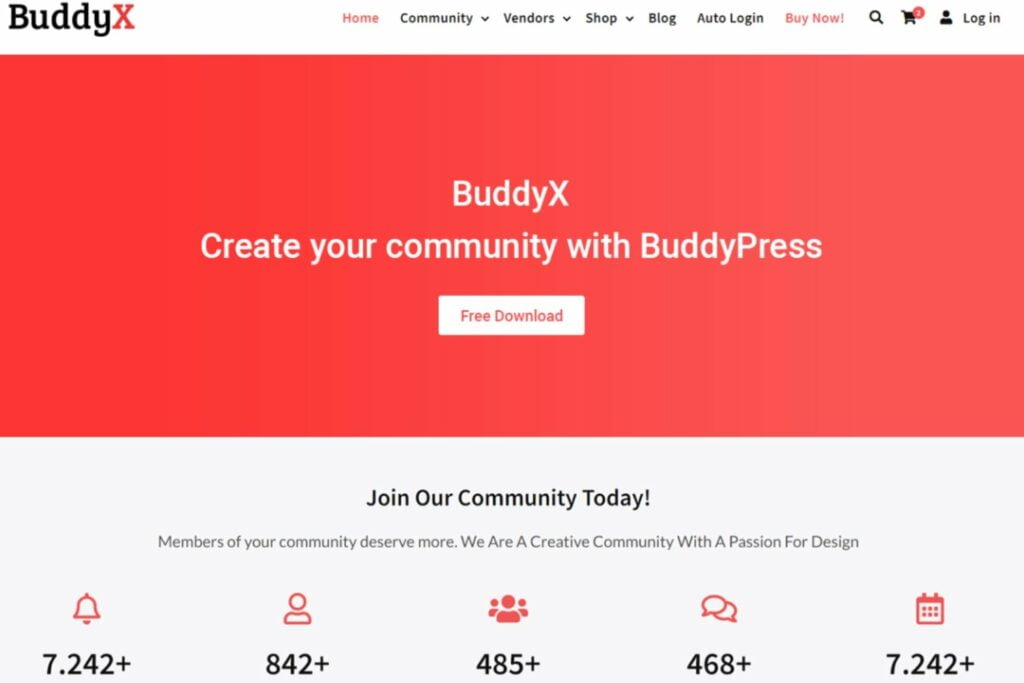 BuddyX is one of the best free WordPress social network themes. It features full compatibility with the BuddyPress plugin. Besides, it seamlessly integrates with other popular WordPress extensions, like LearnDash, LearnPress, WC Vendors, etc. The lightweight and responsive layout of the theme is SEO-friendly and translation-ready. It's easy to edit due to the full compatibility with Elementor and Gutenberg. The free WordPress theme can also solidify blogs, marketplaces, and social learning websites.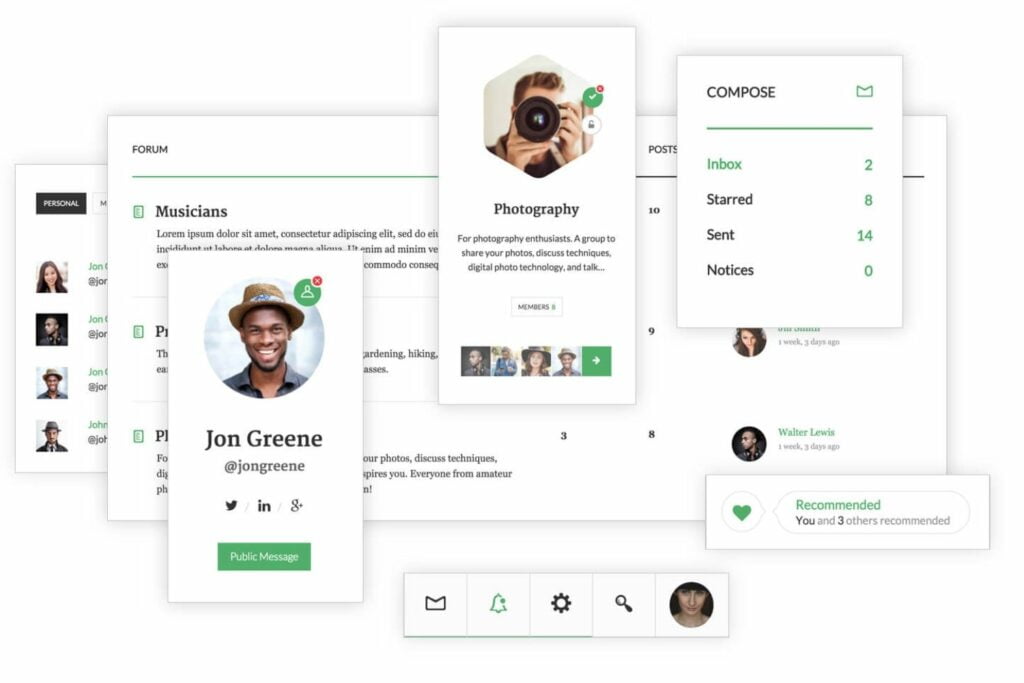 OneSocial is a responsive WordPress BuddyPress theme that is built with a focus on usability. It re-thinks how BuddyPress should be displayed on your site and help you achieve more outstanding results on your site. OneSocial theme is a great choice for WordPress social network websites that you'd like to build with focus on usability. The theme's minimalist design is a perfect solution for building a community website that delivers a better user experience to the users. The theme is social media ready and seamlessly integrates with 26+ social networking websites.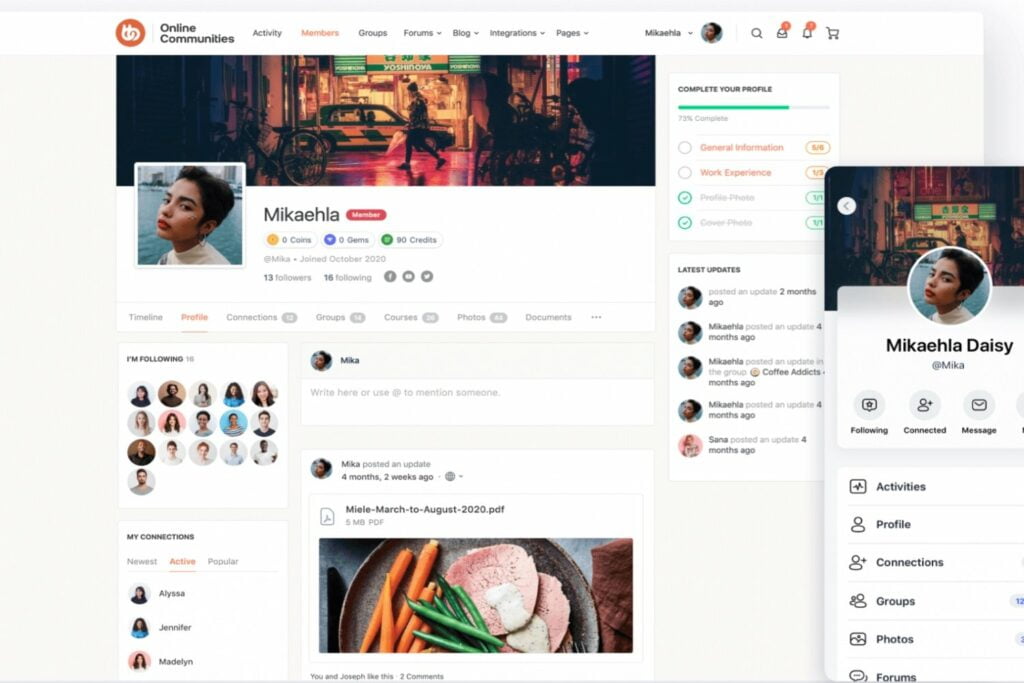 Online Communities WordPress theme is designed to be used for launching community and membership sites. Install it on your site to let your audience seamlessly connect with your brand, share their feedback, and increase customer engagement. The theme's demo importer feature lets you create the exact copy of the theme on your site. You can also take advantage of a series of advanced features like push notifications, customized emails, group messaging, etc.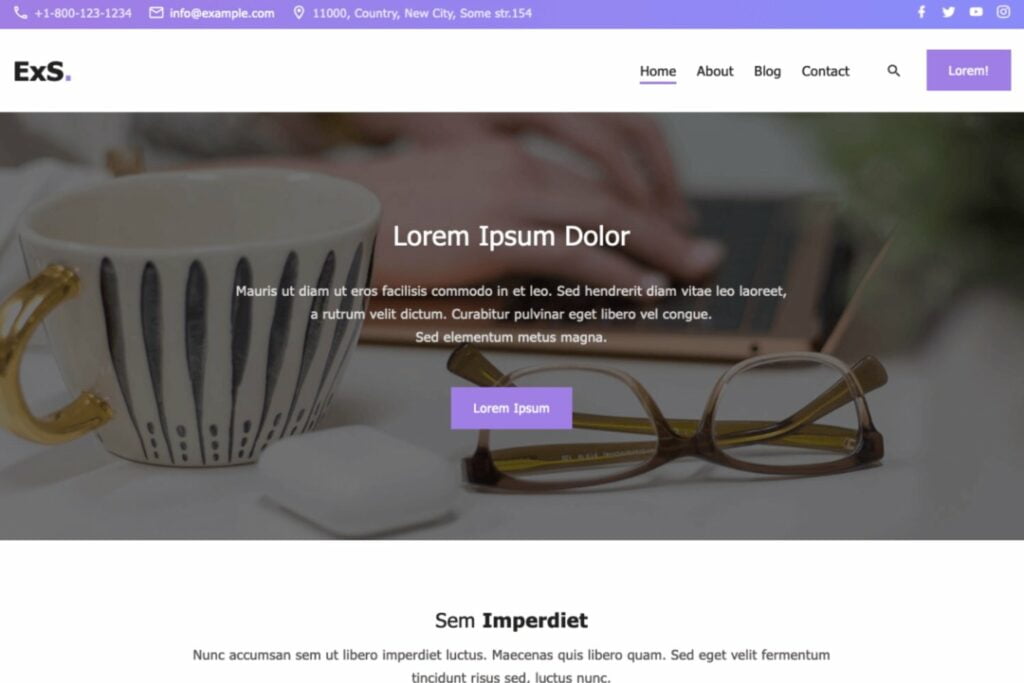 ExS is a clean and simple free WordPress theme designed to have 100% Google Page and LightHouse speed. It's a multipurpose web design that will also fit for the launch of WordPress cosil media networks. The theme supports a wide range of plugins, which lets you build a speed-optimized web resource with ease. ExS offers unlimited color options, multiple header and footer layouts, 15+ blog layouts, and more handy features.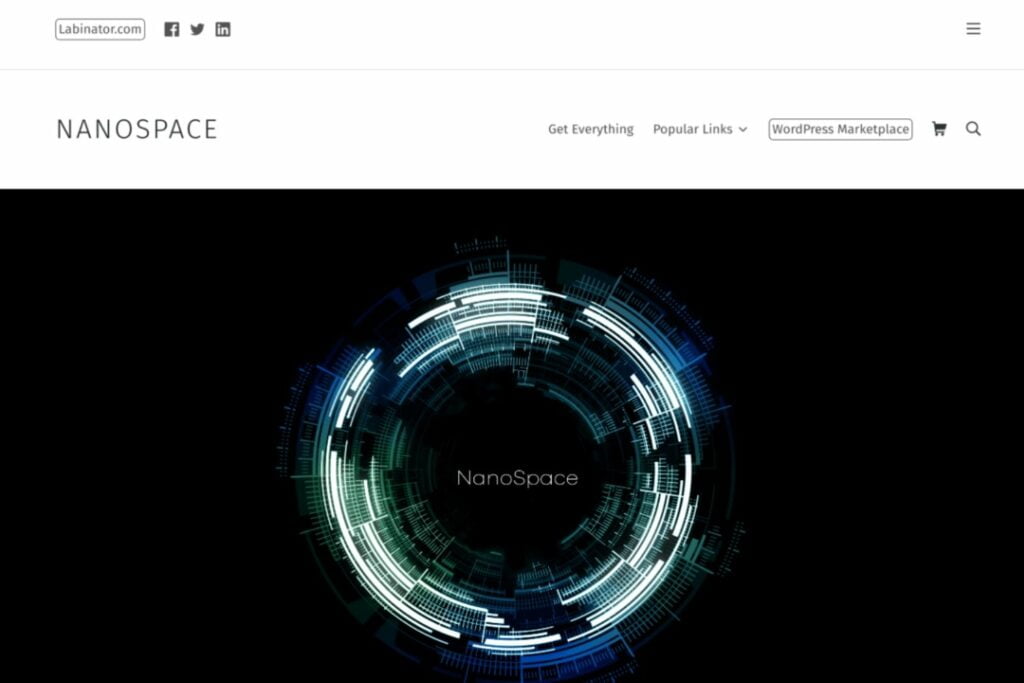 NanoSpace is a modern and lightweight free WordPress theme compatible with many popular WordPress extensions, like BuddyPress, bbPress, WooCommerce, and Elementor. It features a simple minimalist design that looks stunning all over the web. The theme is perfectly suited for launching personal blogs, small business websites, and online community platforms.
WordPress Social Network Plugins
Besides BuddyPress, you may consider working with other free and premium WordPress plugins to create a social network on your site.
It's another popular WordPress plugin suited for launching a WordPress social network. It's a fully editable and extremely customizable solution for building a multi-lingual website. Some of the most advanced plugin's features include advanced profile security, a notification bar, chats, connections, etc.
Key Features:
Customize Email alerts
Login/Redirect, add restrict access to WordPress dashboard
System Messages
Allow users to choose activity recipient(s)
Let users create activity share lists (requires above to be activated)
Add images to activity posts
Automatically show Soundcloud on activity
Automatically show YouTube videos when URL included
PeepSo is a free, super-light WordPress plugin that features everything needed for the launch of an online community similar to Facebook inside your WordPress site. It includes features like customizable profile images, widgets, and profile configuration. The plugin comes with a built-in PeepSo Integration, which allows importing some user profile information like: Name, Last Name, Birthdate and avatar from the providers who allow such imports.
Key Features:
Elegant Clean Look to User Profile and Activity Page
Ultimate Unlimited Color Options Beautiful Typography
Beautiful Header Options And Comes With Multiple Header Layout
Multiple Member & Group Header Layout
Ultimate Member is a free WordPress social network plugin that comes in handy for creating advanced online communities. It's a lightweight and highly extendable solution that lets you add stunning user profiles to your site. The registered users can personalize such profiles just the way they want. With the help of the plugin, you can create any type of website that welcomes users to join.
Key Features:
Front-end user profiles, registration, and log-in
Custom form fields
Conditional logic for form fields
Drag and drop form builder
User account page
Custom user roles
Member directories
User emails
Content restriction
As the name of the plugin suggests, it lets you create a fully-featured WordPress membership website. It lets you set up and charge your clients to become members of your site. You can easily create and track membership subscriptions with its help. The simple payment gateway integration lets you easily manage payments from your site's members.
Key Features:
Easy setup
Build and sell courses
Premium community forums
Pretty pricing pages.
Compatible with any WordPress theme
Clear and relevant reporting
Simple payment gateway integration
Full-blown subscription management
Bottom Line
In a nutshell, WordPress features an impressive online community of web developers and web design studios that let you make a website like Facebook using WordPress. BuddyPress and similar plugins that work with dedicated WordPress themes and all compatible free and premium WordPress designs make it so much faster and simpler for you to create a fully-fledged WordPress social network. The WordPress dashboard's advanced functionality and customization settings let you build fully-fledged online communities that will engage more people to join.