How to Make Private WooCommerce Site with a Plugin
The possibilities of WooCommerce as one of the leading eCommerce platforms powering more than 28% of websites worldwide are limitless. Once installed and activated on your WordPress site, WooCommerce lets you turn it into a fully-fledged online store where your clients can enjoy a seamless online shopping experience and take full control over their orders. Besides, you can easily build a private WooCommerce that will be accessible only to a selected group of users. Though it's not set as the default functionality, you can build private WooCommerce stores using dedicated plugins listed below in this article.
Before we dig deeper into details on shielding your WooCommerce individual products and the entire store, let's find who will benefit from this functionality the most.
Who Can Benefit from WooCommerce Private Store
Although one of the primary goals that every store owner follows is driving more traffic to attract more potential customers, restricting access to online stores partially or entirely also has certain benefits for business owners. Let's highlight the major reasons why creating a private WooCommerce can benefit your business.
Selling Customer-Specific Products
There are cases when companies sell products and services that do not target users of all age groups. It deals with businesses selling alcohol and tobacco products, which younger users shouldn't access.
If your company sells to retailers only, building a private WooCommerce store should help you restrict access to your inventory from individual customers. More specifically, it's important to enable access to certain products for specific retailers. If your company sells outfits to one sports league, you might need to restrict access to the catalog and prices to other teams.
Service-based Businesses
Suppose your company sells products of different price levels, thus targeting multiple user groups. In that case, you may consider taking advantage of building a private WooCommerce to let VIP clients see your premium goods, and let one-time buyers access only those products that are sold at a regular price.
Memberships
If you own a membership web store and want to sell exclusive items to your members, you can provide authorized users with the possibility to view and buy your special deals.
Does your business fall under any of these categories? If you want to restrict access to certain items to selected users, creating a private WooCommerce site should help you get things done easily. The easiest way to build a private store is using a dedicated WordPress plugin. The following list showcases a hand-picked collection of the pest WooCommerce private store plugins that let you shield selected items, product categories, or the entire online store.
Best WooCommerce Private Store Plugins
The flexibility of WooCommerce stores is one of the major reasons why so many businesses rely on it to build their official web resources. If your company prefers selling to specific customers, the following private store WooCommerce plugin will help you set up restricted access for certain user groups.
Price: starter license starts at $99
It's one of the most popular WooCommerce private store plugins, which offers extensive settings to create a private store or a member's area on your site. It's easy to use and lets you set up private website areas that won't be accessible to search engines.
The plugin lets you grant access to certain pages of your store only after entering login credentials. A separate login page enables you to rest assured that certain groups of products will be truly accessible to the members of your site.
Price: $49 for a single site license
The plugin lets you create private access to selected customers. It restricts guest clients from accessing your private products. Using the private store for WooCommerce plugin, you can apply private access settings to specific products, tags, or categories, or the entire store. You can also restrict access to certain items for guest authors from specific countries. You can also send email notifications to your loyal customers when any changes are applied to the capabilities of their accounts.
Price: $199 for a single site subscription
The WooCommerce Memberships plugin lets you create memberships on your store, limiting access to certain pages of your online store. More specifically, the plugin lets you create discounted offers and free shipping available only to members on your site.
The advanced settings let you apply different levels of memberships to your users. You can also schedule the content access of your site's members based on their membership levels. You can either hide specific product types from non-members or provide them with the purchase capability only after signing up for your membership.
Price: starring at $99
The plugin lets you create restricted access to content and products provided on your WooCommerce site. It enables you to create product access restrictions based on product categories or users; membership levels. There is also an add-on available, letting you offer discounts only to specific site members. The plugin offers extended reporting features to track and understand different metrics.
Price: $39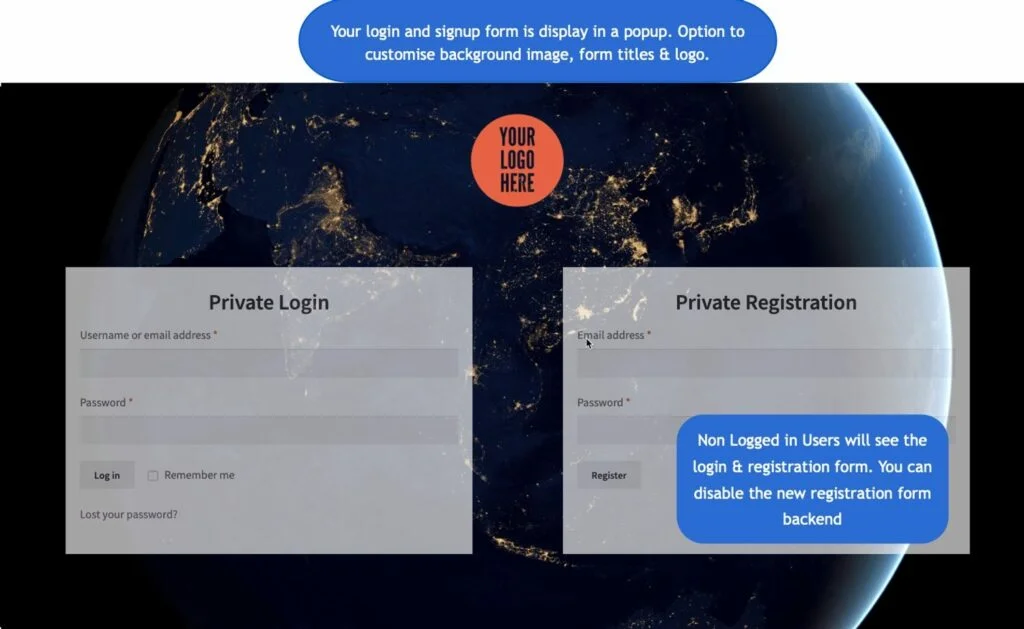 As the plugin's name suggests, it's intended to encourage users to register in your store and allow them to get access only to selected items or the entire store. The plugin lets you modify login forms and manage how users' registration is confirmed (manually or automatically). It lets you modify the default registration forms and adjust whether you want your site to be exposed to search engines or not.

Some of the most popular plugins let you restrict access to selected users or certain product categories. If you wonder how to make a private WooCommerce site, go ahead and use any of these solutions on your store to see them in action. You can also opt for free alternatives like Private Store for WooCommerce B2B to check if your store's respective functionality will work well.
Contact
Feel free to reach out! We are excited to begin our collaboration!
Send a Project Brief
Fill out and send a form. Our Advisor Team will contact you promptly!