Build or Buy? Custom WordPress Themes vs. Premium WordPress Themes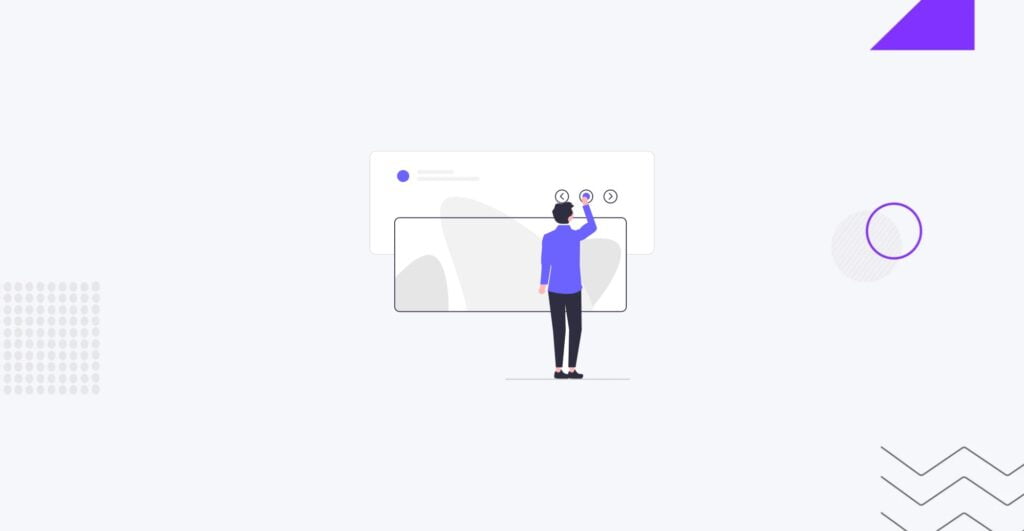 Custom design WordPress themes offer unparalleled uniqueness and branding alignment, tailored meticulously to a website's specific needs and aesthetics. In contrast, while versatile and feature-rich, premium WordPress themes may need more individuality and precision than custom themes provide. Choosing between them hinges on factors like budget, design aspirations, and long-term goals for your online presence. Should you hire a web development company to make a custom WordPress theme or choose one of the multiple premium WordPress themes? Let's discuss.
What Are WordPress Themes?
WordPress themes are essential for determining the design and functionality of a website. They are available in different types: default, free, premium, or custom themes. These themes are categorized based on purpose, like catering to photographers, eCommerce businesses, authors, etc. You can find them in the WordPress admin interface or third-party marketplaces. Once you have chosen a theme, you can download and install it through the admin dashboard, which will instantly change the appearance of your website. However, it is essential to be cautious, as switching themes may impact your website's existing content and plugins. Once the theme is installed, you have the flexibility to customize the content and color schemes and even add plugins that enhance the functionality of your website.
Default vs. Free WordPress Themes
When you initially install WordPress, you see the default theme. It's the starting point before any design changes or theme installations. This theme includes essential features and can create a basic website.
If you encounter issues with a new theme, WordPress can switch back to the default theme, ensuring you don't lose your entire website.
WordPress offers free themes for download. However, we generally discourage their use due to customization, support, updates, plugins, and security limitations. Free themes often lack a unique and professional appearance compared to premium or custom design WordPress themes, which we'll discuss next.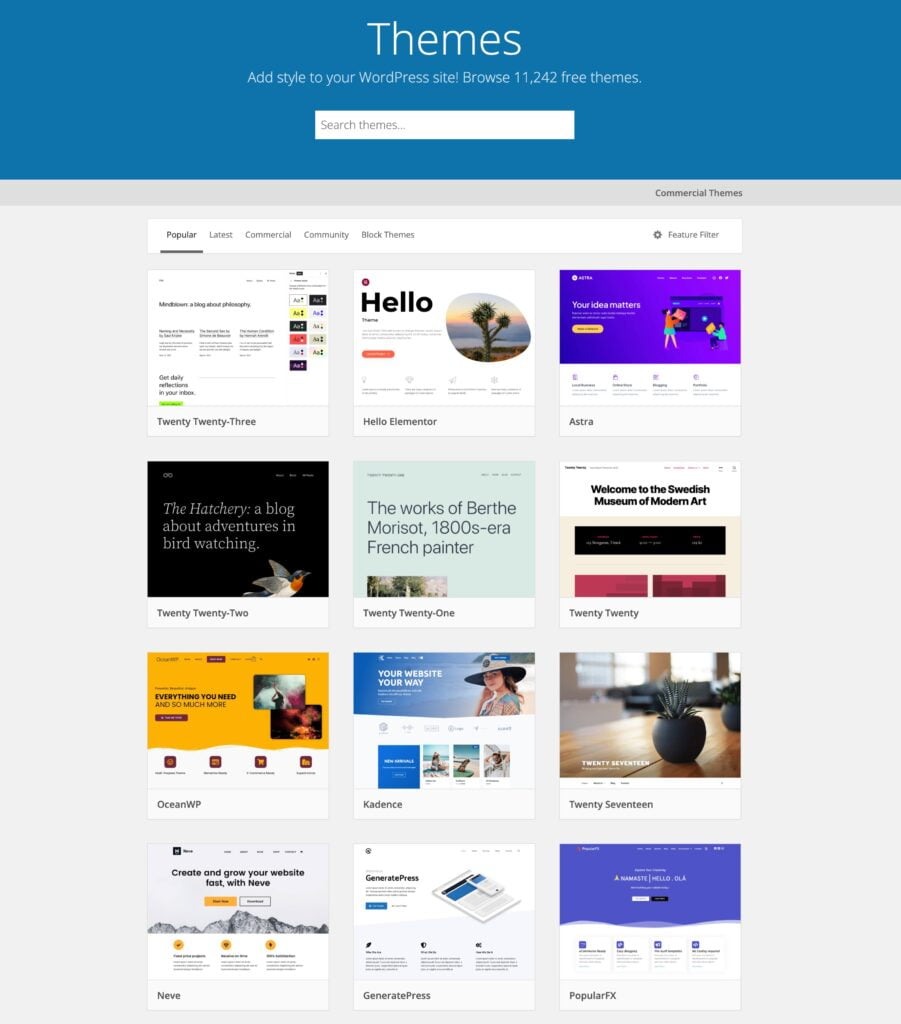 Free vs. Premium WordPress Themes
Free themes offer limited customization options and receive less support for WordPress and plugin updates, making them more vulnerable to hacker attacks and spam. They often have a dated appearance and may not follow the latest web design trends. Free themes are suitable only if your business doesn't operate online, doesn't require a professional online presence, or doesn't rely on web searches to attract customers. However, such businesses are rare, so choosing a premium theme is usually better.
Premium WordPress themes are developed and sold by developers. Prices vary widely, from affordable to over $1,000, depending on features like WooCommerce support, media galleries, customization options, or customer interfaces. Generally, spending more on a premium theme provides more functionality and control. Higher-priced themes also tend to have a more appealing default appearance. However, even premium themes may need some tweaking to match your desired layout and functionality. Many premium themes come with ongoing support, so consider the developer's track record and reviews.
Are Premium WordPress Themes Worth It?
Whether premium WordPress themes are worth it depends on your specific needs and budget. Premium themes can offer several advantages but may not be necessary for every website owner. Here are some factors to consider when deciding if a premium WordPress theme is worth the investment:
Design and Features. Premium themes often come with professionally designed templates and a wide range of features, such as customization options, advanced layouts, and integrated plugins. If you want a unique and feature-rich website, a premium theme can save you time and effort compared to starting with a free theme.
Support and Updates. Premium theme developers typically provide ongoing support and updates. This can be crucial for ensuring your website remains secure, compatible with the latest WordPress version, and bug-free. Free themes may not offer the same level of support and may be less frequently updated.
Customization. Premium themes often provide more extensive customization options, allowing you to tailor your website to your specifications. A premium theme may be more suitable if you have specific design or functionality requirements.
Performance. Some premium themes are optimized for speed and performance, which can positively impact your website's user experience and search engine rankings. However, the right tools and configuration can also optimize free themes.
Documentation. Premium themes usually include detailed documentation and tutorials to help you set up and customize your website effectively. This can be valuable, especially if you're new to WordPress.
Unique Features. Premium themes may include unique features or integrations unavailable in free themes. A premium theme could be worthwhile if these features are essential to your website's goals.
Cost. Premium themes are not free and can vary widely in price. Consider your budget and how much value you expect to derive from the theme. It may be worth it if the theme's features justify the cost and align with your goals.
Long-Term Commitment. You should be prepared for a long-term commitment when choosing a premium theme. Switching themes later can be time-consuming and may require reconfiguring your website. Ensure that the theme you select aligns with your long-term goals.
Demo and Trial Versions. Many premium theme providers offer demos or trial versions, allowing you to test the theme's features and functionality before purchasing. Take advantage of these opportunities to assess whether the theme meets your needs.
Drawbacks of Using a Premium WordPress Theme
​​Using a premium WordPress theme can offer many advantages, but it's also important to be aware of the potential drawbacks. Here are some common drawbacks of using premium WordPress themes:
Learning Curve. Premium themes require more management from the business owner or staff. They involve handling plugin updates, WordPress updates, and security.
Dependency on Third Parties. Premium themes and their associated plugins need regular updates and maintenance from their developers to stay compatible with WordPress and fix errors. Your web presence relies on a third party, often without a direct relationship.
Code Overload. Using numerous plugins to enhance a WordPress website can lead to more backend code and website slowdowns. Increased code and plugins can result in conflicts in HTML and potential website errors. Moreover, excess code and plugins can reduce website speed, negatively affecting your Google search rankings.
Limited Design. Premium themes may not provide a unique website design tailored to your business. They are designed for a broad audience, limiting branding opportunities due to default color palettes and lack of customization.
Inadequate Features. Premium themes may not offer the features needed for specific business requirements, such as responsive maps, CRM integration, lead generation forms, media portfolios, eCommerce capabilities, visual animations, custom website navigation, gated content, or customer/user dashboards. Integrating internal business systems or databases with the website can also be challenging.
Restricts Future Changes and Migration. With premium themes, switching to a different page builder or custom theme can be difficult. Migrating pages and content becomes challenging due to pre-applied shortcodes in the theme that may break during migration.
What Is a Custom Design WordPress Theme?
A custom WordPress theme is a unique theme built from scratch for a specific website or by modifying code from an existing template. It's created by a WordPress web developer to cater to a client's specific needs and branding. This level of customization typically comes at a cost ranging from thousands to tens of thousands of dollars, with eCommerce and high-traffic websites being more expensive.
Advantages of a Custom Theme
Full Customization. A custom theme allows for complete customization, enabling integration with plugins and business systems like inventory management, CRM, and social media management.
Speed. Custom WordPress websites tend to perform better because they include only necessary functionality, reducing reliance on plugins that can slow down a website.
Unique Branding. Custom WordPress designs excel at aligning with brand standards and existing graphics, offering unique layouts, media features, animations, and illustrations.
Tailored Business Needs. Custom websites prioritize conversion rate optimization, tailoring the user experience for specific business goals.
Expert Maintenance. With external maintenance responsibility, custom themes receive expert care for updates, conflict resolution, and streamlined backend management.
SEO and Digital Marketing. WordPress custom designs can be optimized for digital marketing and SEO, improving online visibility and conversion rates.
Drawbacks of WordPress Custom Designs
Higher Cost. Custom development is more expensive than a premium theme, making it less suitable for low-budget projects.
Development Time. Creating custom architecture and ensuring functionality can be time-consuming, involving quality assurance, feedback, and testing.
Client Involvement. Active client involvement is crucial for successful custom theme development, and a lack of resources or input can hinder the process.
Bottom Line
While a premium theme might suffice for some business needs, opting for a custom website is often more practical. Custom websites offer enhanced security, speed, seamless business integration, and user-friendliness. Collaborating with an experienced web development company allows you to tailor your website's appearance to match your brand, align your online presence with your core business, and stay up-to-date with digital marketing best practices.
If you look forward to launching a custom website, IT Monks is willing to help! We are experts at creating custom WordPress websites matching your brand, optimized for security and top-notch performance in all web environments. Contact us to discuss the details of your project!